MotoGP: Rivalries created, miracles happened, divorces were made and new race winners – Your triple-header round up
MotoGP has come to the end of a three-race stint, starting at Brno and finishing with two Grands Prix at the Red Bull Ring in Austria, but what are the talking points as we head to another double-header at Misano?
Starting in Brno, there were many talking points to take on board as the MotoGP paddock headed to Austria. Johann Zarco took pole, clashed with former team-mate Pol Espargaro and absolutely nailed his long lap penalty. And all of that was alongside, Franco Morbidelli's maiden premier class podium and MotoGP's second newest winner, rookie, Brad Binder.
Johann Zarco flies the flag for Ducati
Let's start with the Frenchman. Zarco is eyeing up Andrea Dovizioso's vacant factory Ducati seat. The former Moto2 champion put his name well and truly in the mix when he put his GP19 Esponsorama Racing Ducati on pole position before racing to third after being awarded a long lap penalty for his collision with Pol Espargaro at turn one. This is a talking point because the performance from Zarco was that of a factory Ducati rider. The 30-year-old rider was the top Ducati, ten seconds ahead of next Bologna machine, Andrea Dovizioso in 11th.
Franco Morbidelli gets that illusive podium finish
Another talking point from the Czech Grand Prix was that of the maiden podium for Franco Morbidelli and his PETRONAS Yamaha SRT team. Morbidelli had led the majority of the race before being pipped by KTM's Brad Binder, we'll get on to him shortly. The Italian stormed to second position in the Czech Grand prix, his first MotoGP podium which was a long time coming for the Italian.
Viñales loses touch in the title race?
Maverick Viñales has been another major talking point of recent races. The Spaniard looked strong in the free practice sessions but dropped to 14th position in Sunday's Czech Grand Prix picking up just two points for his championship campaign. However, as we now know, the troubles were only just beginning for the 25-year-old.
Brad Binder becomes a MotoGP winner – on a KTM!
The final talking point from Brno has to be Brad Binder. The impressive rookie who delivered KTMs maiden MotoGP victory and his first win in just his third premier class race. The South African had shown he had pace in both Jerez races, but bad luck and a crash denied Binder of a result worth shouting about. That was however up until Brno, the scene of the famous victory. Binder's late charge impressed the MotoGP paddock, passing Valentino Rossi, Alex Rins, Johann Zarco and eventually Franco Morbidelli before riding into the distance to win by 5.2 seconds; not bad for a rookie.
Moving onto Austria, the talking points didn't stop there, especially in the first of two weekends at the Red Bull Ring.
The longcoming divorce of Ducati and Dovizioso.
Let's start with Ducati, and more specifically their number one rider, Andrea Dovizioso. Undaunted Dovi hasn't had the greatest of seasons in 2020. The Italian picked up a podium finish in the opening round of the season, but until Austria, failed to threaten the top five let alone the podium positions. However, the Italian returned to Austria, a track which Ducati was unbeaten prior to the two race weekends. However, on the eve of what would turn out to be his first race win of the season, Andrea Dovizioso and manager Simone Battistella announced that the partnership between Ducati and Andrea Dovizioso would not continue into 2021.
This then 'freed' Dovizioso, relieving the pressure from the Italians shoulder, he then went on to claim Ducati's 50th Grand Prix victory in the shortened 20 lapper in the opening weekend of the Austrian double-header. But, that wasn't good enough for Ducati. The top dogs 'painted smiles' onto their faces as they applauded the Italian for his race efforts. When Dovizioso rolled into parc ferme, the Italian practically looked through Paolo Ciabbatti and then proceeded to argue with his crew chief about rear tyre grip. MotoGP released a video on their social media at the unseen footage of Dovizioso and Ducati – it's cringe. The pretend acting from Ducati towards Dovizioso is almost heartbreaking to watch. Let's not forget, Dovizioso has been the closest man to beat Marc Marquez over the cause of a season, but ultimately, this isn't enough for Ducati.
Petrucci gives Espargaró a piece of his mind.
Sticking with the first of two visits to Austria, and with Ducati, Danilo Petrucci made a new friend in Q1 in the form of Aleix Espargaro. The Spaniard sliced in front of Petrucci in order to grab a tow from Valentino Rossi which angered the Mugello winner from last year. Espargaro blocked Petrucci in the final two corners, something Petrucci was less than pleased about.
The Italian passed Espargaró into turn four and flicked the bird at the Spanish rider several times – eventually getting a fine for his gestures. This then created a talking point about the current rules and how consistent race direction are when it comes to awarding penalties.
Valentino Rossi revives Yamaha's attack?
Valentino Rossi was top Yamaha in both Austrian races, finishing fifth in the first race and ninth in the second. Yamaha expected to struggle in Austria thanks to their severe straight-line speed deficit. However, Rossi once again fought at the front, finishing inside the top five, just +5.837s behind race winner Andrea Dovizioso. This gave Yamaha the boost it needed after a scary moment earlier in the race.
The Austrian crash that left chills
On lap nine of the Austrian Grand Prix, Johann Zarco and Franco Morbidelli came together in dramatic fashion, resulting in a huge crash at turn two and finishing at turn three. As we all now know, thankfully nobody was severely injured despite crashing at over 150mph, two bikes flying over and in front of the two Monster Energy Yamaha MotoGP riders Maverick Viñales and Valentino Rossi and a heavy tumble for Zarco and Morbidelli, MotoGP had one of its scariest and luckiest escapes in a long time.
Since then there's been many speculation on what could and should happen to Austria's Red Bull Ring in order to make it much safer for MotoGP bikes, something that will be worked on ahead of next year's event.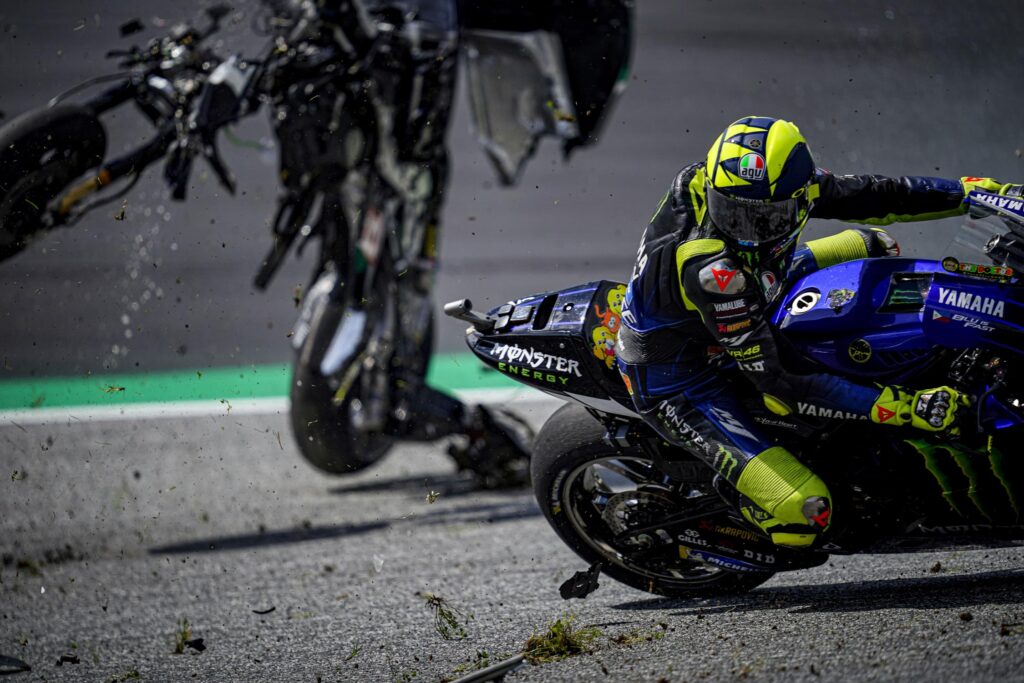 Joan Mir stands on the MotoGP podium
Johann Mir stood on the MotoGP podium for the first time in his career after an impressive 20-lap race aboard his Suzuki. The Spanish super-star passed Jack Miller into the final corner to take second, and nearly backed up his podium performance in the second race, but sadly lost front end grip and rode valiantly to fourth.
Andrea Dovizioso takes his first win of the season
Andrea Dovizioso proved he still has the race winning pace by standing on the top step of the podium at the Red Bull Ring for the first time this season.
The race win came just 24 hours after Andrea Dovizioso's management announced his departure from the Bologna manufacturer.
The much-needed win for the Italian, along with a fifth-place finish in Styria, puts him three points behind Fabio Quartararo in the championship ahead of the double-header in Misano.
Miguel Oliveira and Tech3 Red Bull KTM end Ducati's winning streak
In the second and final race in the Styrian hills, Tech3 KTM's Miguel Oliveira rocked the MotoGP community as he became the fourth different winner in five races. The Portuguese rider became the first rider of his country to win a premier class race as well as taking his team's maiden premier class win and the first victory for KTM in their backyard following the success of Binder in Brno.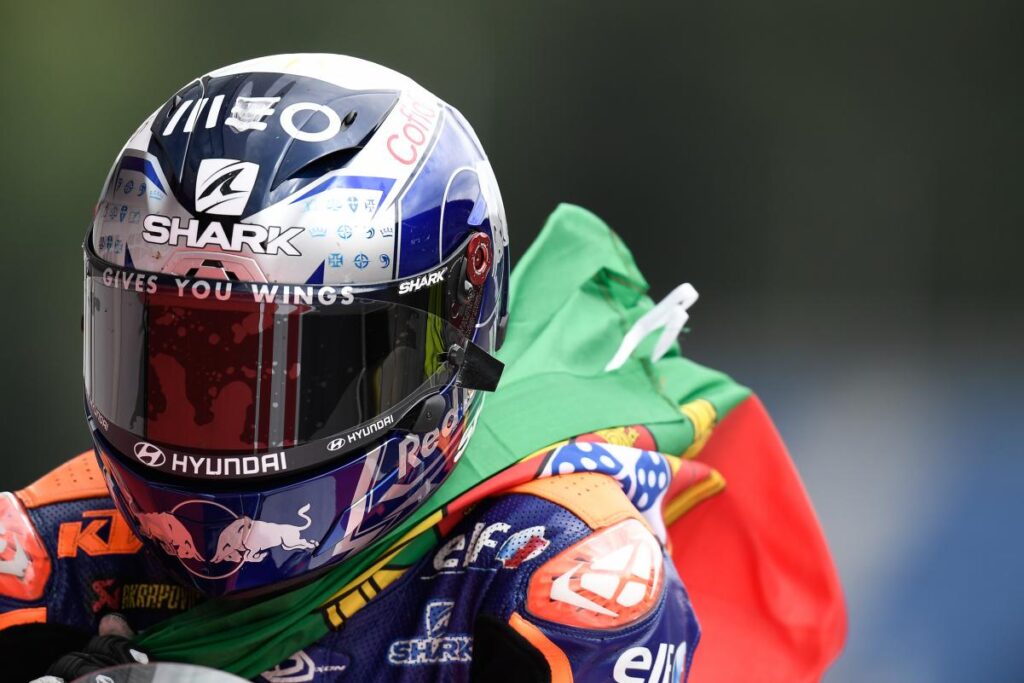 Yamaha's issues continue as Viñales bails out
Yamaha's struggles continued in Styria after Maverick Viñales and Fabio Quartararo both suffered with their brakes costing them good results. Rossi also suggested he had braking issues but worked with Brembo to fix them in both weekends. The issue is, because Yamaha are so much slower compared to their rivals, they are having to make the time back by being more aggressive on the brakes. Thus overheating them and causing them to fade.
We lost count on how many times Quartararo ran off at turn four and how many times Viñales, Morbidelli and Rossi signalled that they were struggling to slow their M1 Yamaha's down into the heavy braking zones.
However, the issue proved catastrophic for Viñales, who had to jump off his YZR-M1 at over 140mph after finding he had no brakes into the first corner. Luckily, no one was injured apart from his Monster Energy Yamaha MotoGP machine.
The MotoGP field now heads to Misano and with Marc Marquez announcing he won't be back for a further two/three months, will there be more talking points from San Marino?
Featured images: MotoGP.com

Looking to update your website?
ThisWebDesign works with small and medium-sized companies from all over the globe. Our focus is on offering visually engaging websites, social media profiles that convert, and branding that creates a powerful and lasting image.
thomas@thiswebdesign.co.uk
---