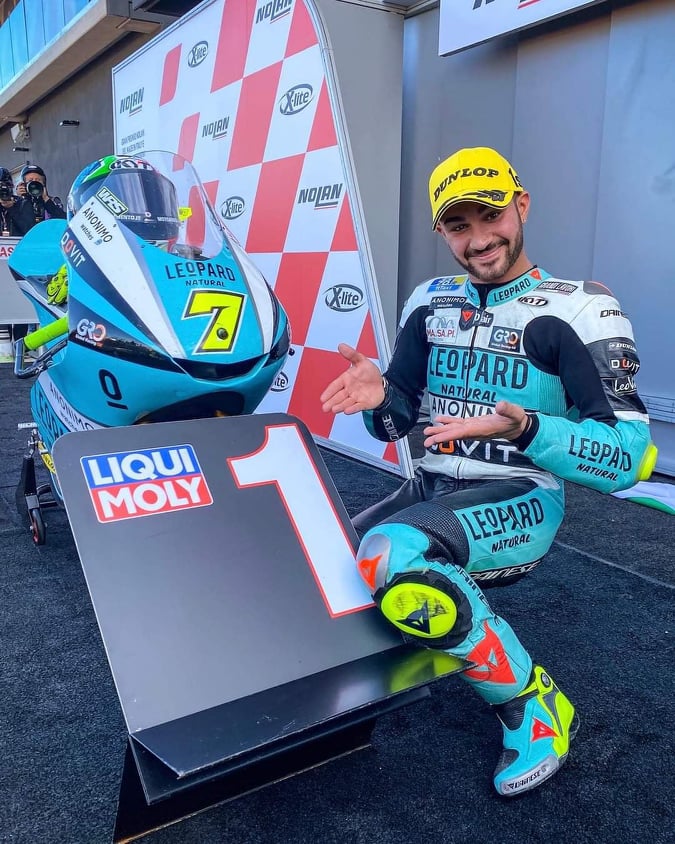 Moto3: Foggia Narrows the Gap In The Moto3 Championship Title Hunt.
Dennis Foggia picks his way through the field to win and narrow the gap to Pedro Acosta in the championship, but the young Spaniard salvaged a third place to reduce the dent into his points lead.
Better conditions than qualifying yesterday at the Misano World Circuit Marco Simoncelli in Rimini for the Emilia Romanga Grand Prix. There were still damp patches around on various parts of the circuit so the riders had to proceed with relative caution.
Pedro Acosta had a shot at securing the world title today if he finished 21-points in front of his Italian rival Dennis Foggia. With Foggia starting in 14th position and Acosta in fifth, Foggia had it all to do today. Niccolo Antonelli rolled up to pole position and as the lights went out, he nailed the start to get to the first corner in the lead. Riccardo Rossi slipped into second with Izan Guevara in third. Stefano Nepa had a strong start and moved his team-mate Rossi aside to move into third.
On lap two there seemed to be a break in the field. Antonelli, Nepa and Guevara created a gap between themselves and Jaume Masia. Pedro Acosta lost a couple of positions off the start and dropped to seventh, and Dennis Foggia held station in 14th.
As they moved into Lap four, the field had closed up again. There was a group of five riders around half a second ahead of Acosta and Darryn Binder. Antonelli and Nepa were squabbling at the front for the lead which helped the second group latch onto the lead five or seven riders. The second group included Dennis Foggia but the gap stretched to over a second on Lap five.
The lead group got all a little bit close going through Tremonto, as Izan Guevara forced his way through on the tall Czech of Filip Salac. Salac was sat up mid-corner but all riders managed to stay upright. Unfortunately, there was a faller in the second group in the same corner. Riccardo Rossi and his bike ended up in the middle of the road after John McPhee stuck his knee and elbow into Rossi's bike, and Rossi fell in a plume of sparks. McPhee stayed on his bike and Rossi walked away unhurt.
Antonelli looked to have the pace to breakaway on his own but Masia had other ideas. He dragged the Top nine with him as Dennis Foggia looked to be attempting to get onto the back of group. He had Andrea Migno in close company and he was slightly faster than Foggia.
John McPhee's poor weekend took another bad turn as he had a spill at Turn one on Lap nine. He's had a cold this weekend and missed Friday completely. He walked away looking understandably dejected.
Dennis Foggia had made his way up to ninth on Lap 10 and set about attacking his team-mate. He looked to be putting a very solid race together to take the championship to Portimao. Acosta was sat in a comfortable fourth behind Stefano Nepa but Darryn Binder was breathing down his neck.
On Lap 12, there was now a group of 11 riders at the head of the field. Tatsuki Suzuki had a crash at Turn 15 – a favorite crashing place across all classes this weekend – as his Honda washed out from underneath him. Back at the front, Antonelli had a huge wobble onto the back straight which hindered him all the way down the straight. He dropped to sixth as Acosta moved to the front. He was then barged wide and lost four places. Guevara went to the front and Acosta dropped to fourth. Foggia was now one place behind the championship leader.
Foggia made even more ground and moved into third. Andrea Migno fell at Turn 16. He looked to be a contender at the beginning of the year but his season started to fall apart with a handful of crashes.
Dennis Foggia moved into the lead as he pulled out of the slipstream of Jaume Masia into Turn one at the beginning of Lap 15. He really started to push to try and break the group up. Acosta looked to be having difficulty stopping his KTM as he batted for fifth with Stefano Nepa.
With eight-laps remaining, Foggia, Masia, Binder and Guevara broke a second clear of the following group, and more importantly Pedro Acosta. He was battling with Antonelli, Nepa and Ayumu Sasaki, and the numerous overtakes allowed the front-four to get into a rhythm and continue to pull away.
With six-laps left, the gap between the two front groups stabilised. Izan Guevara fell at Turn eight, just tucking the front at the apex. His crash halted Darryn Binder and this split him from the leading two riders. Guevara re-joined in 16th.
Romano Fenati had put a very good race together and made his way into eighth from a very poor grid position. He has consistently proven he can ride on his own at a good pace and this allows him to bridge gaps to put very strong races together.
With two-laps remaining, the lead pair were tied together. Masia was looking at the rear of Foggia, looking where he could make his move and take the lead. He was looking to take points away from Foggia, playing the team game for his team-mate Acosta who was mired in fifth place.
Into the final lap, Jaume Masia still hadn't showed his hand. Whether this was a tactic or he just couldn't close was yet to be seen. Binder had fallen into the grips of Pedro Acosta on the last lap and he was passed by Turn 10. At the front, Dennis Foggia held on and crossed the line first ahead of Masia. Acosta finished in front of Darryn Binder and this was a brilliant salvage job for the youngster. Stefano Nepa was fifth ahead of Niccolo Antonelli, Romano Fenati and Ayumu Sasaki.
The championship goes to the next round in Portimao, but a brilliant podium for Pedro Acosta has limited the damage to his lead in the championship. Dennis Foggia isn't giving up on it though and can still win it, just 21 points behind the lead.
It's in the balance…
Featured Images: MotoGp.Com



Looking to update your website?
ThisWebDesign works with small and medium-sized companies from all over the globe. Our focus is on offering visually engaging websites, social media profiles that convert, and branding that creates a powerful and lasting image.
thomas@thiswebdesign.co.uk
---