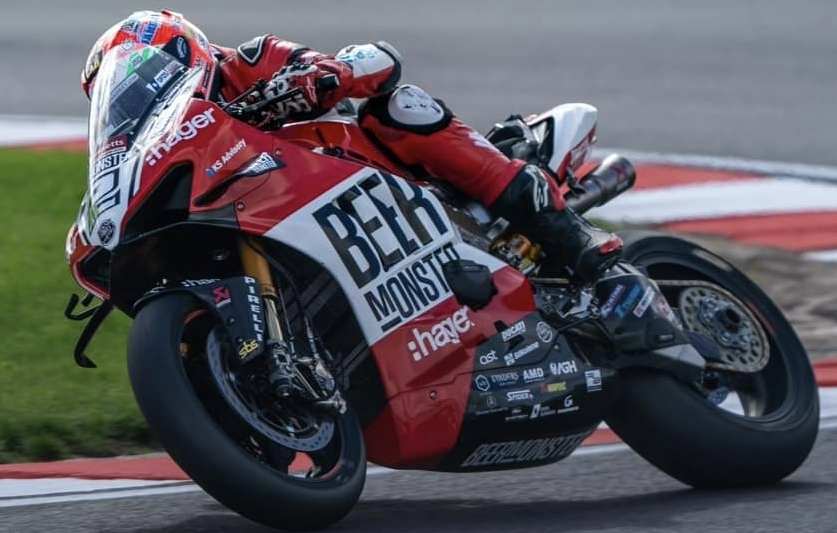 Glenn Irwin held his nerve and did all he could to take the race victory.
As we go into race two BeerMonster Ducati's Tommy Bridewell is leading the championship standings by 10.5 points from Glenn Irwin. Jason O'Halloran was on pole position, Glenn Irwin lined-up in second place, Kyle Ryde rounded out the front row in third place. It was cold but thankfully dry weather conditions at the Kent circuit.
As the Superbike riders lined-up on the grid you could feel the tension in the air. Jason O 'Halloran lead the field of 28 riders into Paddock Hill bend, Glenn Irwin took the lead at Druids. Kyle made his way into second place, Tommy Bridewell was in sixth place.
Glenn and Kyle almost touched at Druids on lap two! Bridewell was up to fourth place. Both Yamahas were on Glenn's tail as the leading trio crossed the start-finish straight. Leon Haslam was in sixth place, the BMW rider was no longer in with a mathematical chance of winning the championship if things stayed as they were.
Bridewell was the fastest man on track after four laps. Kyle was edging closer to Glenn, Jason was coming into play and took second place at Surtees. Tommy was now on the back wheel of Kyle and looking for the slightest space to make his move!
The leading quartet were breaking away from Christian Iddon in fifth place. Jason was lining-up a move on Glenn. Iddon crashed out at Druids which brought out the Safety Car, Christian was stretchered away, we wish him well!
The safety car pulled into the pits with 10 laps remaining to the race, all the riders were now bunched up.
The air once again was tense, Glenn was leading the way, Jason crashed out at Surtees! Bridewell was now in third place. Jason was now out of the championship title hunt.
The leading trio were breaking away from fourth placed man FHO Racing's Josh Brookes. Tommy was battling with Kyle for second place; Kyle wasn't giving the second place position up easily!
Bridewell was in second place on lap15, did Kyle have enough in the tank to get the position back. Kyle ran wide at Druids, he was losing touch with the two Leading PBM riders now.
Final lap time, Glenn was still leading with his team-mate behind him, Kyle was just out of reach in third place. Glenn held his nerve and crossed the finish line in first place, Tommy was a close second, Kyle took the last podium spot, Ryan Vickers finished in fourth place, Lee Jackson finished in fifth place.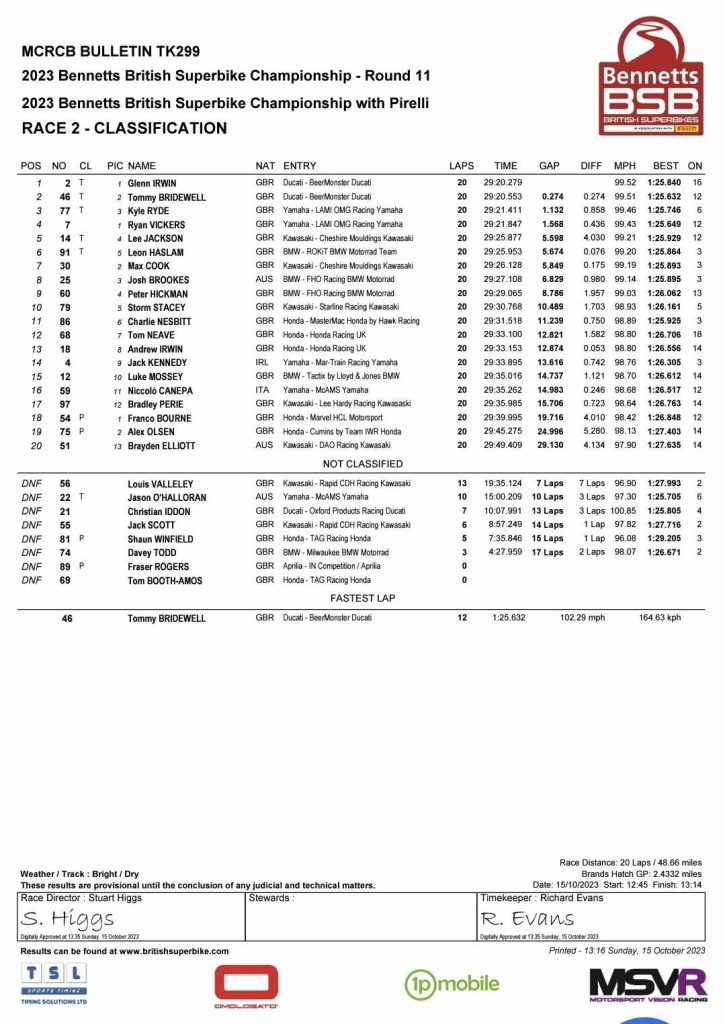 Tommy is leading the standings on 425 points, Glenn is 419.5 points, race three is set to be a thriller!
Featured Image: Olithephoto

Looking to update your website?
ThisWebDesign works with small and medium-sized companies from all over the globe. Our focus is on offering visually engaging websites, social media profiles that convert, and branding that creates a powerful and lasting image.
thomas@thiswebdesign.co.uk
---