BSB: McAMS and Mar-Train Join Forces for 2024 Bennetts British Superbike Championship.
McAMS, the UK's leading motorcycle accident management company, will team up with Mar-Train Racing for the 2024 Vennetts British Superbike Championship.

 The move, which sees McAMS join Mar-Train as title sponsor in a two-year deal, will mark the beginning of a new era for what will be known as the McAMS Racing by Mar-Train team, which will field 2015 Moto3 World Champion Danny Kent in the ultra-competitive BSB series on a Yamaha R1.
 
McAMS first joined the British Superbike Championship as a sponsor for the then GBmoto JG Speedfit Kawasaki team in 2014, before moving up to title sponsorship in 2017 with Yamaha and Raceways Motorcycles. The McAMS Yamaha team would become a dominant force in BSB, winning 46 BSB races and finishing on the podium 112 times as well as becoming 2021 British Superbike Champions.
 
With Raceways Motorcycles scaling back their involvement for 2024, McAMS were on the lookout for a new home in racing and have found it with Northern Ireland's Mar-Train team, who are looking to up the ante in their second year in the premier class.
 
Owned by Tim and Sonya Martin, the Mar-Train team has achieved a great deal of success in 20 years of racing including nine years in the British Championship, securing two British Supersport titles with Stuart Easton and Jack Kennedy. The team stepped up to the Superbike class for the first time in 2023 with Irishman Jack Kennedy finishing tenth in the standings with a best result of fourth.
 
The McAMS Racing team will be headed up on the technical side by former McAMS Yamaha technical director Chris Anderson as they look to push towards the front with Danny Kent, who impressed with his own, family-run private effort in the first half of 2023.
 
It will be a home away from home for McAMS with Steve Rodgers and the Raceways Motorcycles team also coming onboard as a technical sponsor.
 
Kent enjoyed his first run out on the Mar-Train R1 at the Sunflower Trophy at Bishopscourt, taking a trio of podiums. The team will now knuckle down as they prepare for an extensive winter testing programme ahead of the 2024 Bennetts British Superbike Championship getting underway at Navarra, Spain, next April.  

Valentina SlaterSales Director, McAMS 
"I am really excited to be launching the new-look McAMS Racing team in collaboration with Mar-Train team. We were keen to continue in BSB for 2024, but it had to be with the right people as we've had such an incredible journey over the last seven years with McAMS Yamaha.
 
"From the moment we first started discussions, it became clear that Tim and Sonya could provide us with that opportunity in another close-knit, family-run team. We know what the bike is capable of and it's great to have Chris Anderson from McAMS Yamaha in the team too. Not only is Danny a World Champion, but he also really impressed us last year with his own team so we are hopeful of this being a very successful partnership."
 
Tim MartinTeam Owner
"We are delighted to welcome McAMS on board and launch the new McAMS Racing team! Valentina and the guys at McAMS are pure motorcycle racing fans and they have been huge supporters of our sport for more than a decade, so we are honoured to have them on board for 2024 and 2025 as we look to make the next step in the Superbike class.
 
"The very recognisable McAMS logo on the side of a Yamaha R1 has got quite the record in Bennetts BSB, so we will do our very best to represent them at the highest level. The bike looks great, so we can't wait to get started properly."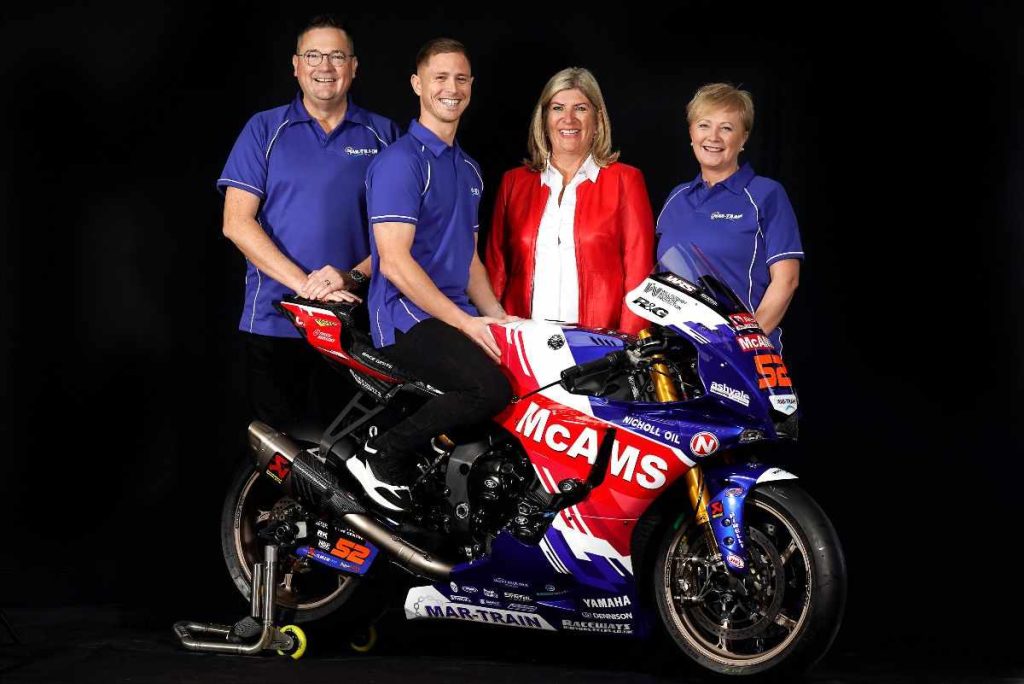 Featured Images: McAMS Racing Mar-Train.

Looking to update your website?
ThisWebDesign works with small and medium-sized companies from all over the globe. Our focus is on offering visually engaging websites, social media profiles that convert, and branding that creates a powerful and lasting image.
thomas@thiswebdesign.co.uk
---