Moto3: Albert Arenas' Lights to Flag World Championship
Albert Arenas led the Moto3 World Championship from start to finish, winning in Qatar to eventually winning the title in Portimão, but how did he do it?
How many had money on Albert Arenas becoming the 2020 world champion ahead of this season? We know we didn't!
The rider who, before this year, had three wins to his name and five podiums, the rider who had never finished higher than ninth in the standings, the rider who proved everyone wrong by becoming the 2020 Moto3 World Champion.
If we rewind to March when the 2020 Moto3 World Championship got underway in Qatar, Albert Arenas emerged on top, taking the opening win of the season by a mere +0.053s over early title challenger, John McPhee. With the season underway, little did we know we'd have to wait over four months before we turned a wheel in anger again.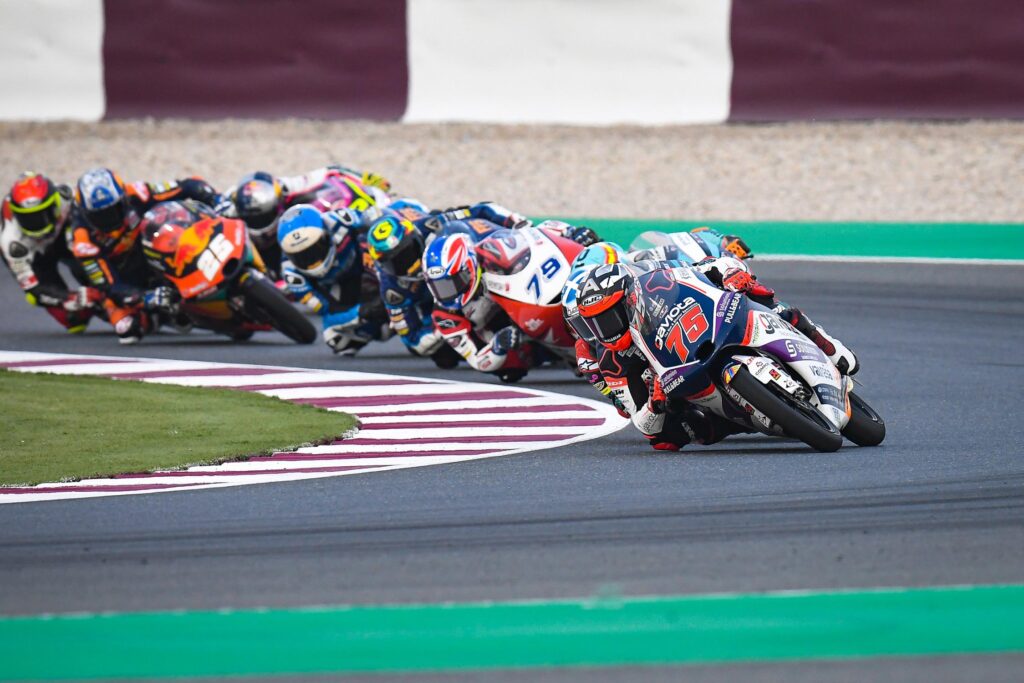 As the COVID pandemic grew bigger and bigger, the world shut down.
Boris Johnson told the people of the United Kingdom to stay indoors, only leaving for essential purposes, the same in Italy, Spain and Germany – countries which saw the virus rip through them. However, as the world began to regain some control, Carmelo Ezpeleta and his team announced that on July, 19th 2020 – lights would go out once again.
A 14 race calendar spread over 18 weeks proposed a tough, challenging but simply remarkable 2020 MotoGP season, especially in Moto3. Arenas' title charge picked up exactly where it left off, winning in Jerez as title challenger McPhee crashed out. However, a third-place in Qatar, backed up by a second-place finish in Jerez, Arenas had a new contender in the form of Japanese youngster, Ai Ogura.
The title charge took a small blip for the Spaniard, crashing out heavily at the Andalucian Grand Prix. Arenas' title lead was cut to just six points, but it wasn't over McPhee or Ogura… It was over Tatsuki Suzuki.
A crash in Brno demoted Suzuki to fourth in the standings whilst Arenas stood on the podium again, continuing his 100% podium record in races he'd finished in this season. With 18 points over Ogura, the Moto3 field headed south to Austria, for another doubleheader.
A superb win in Austria and a DNF for McPhee at the second Styrian round saw Arenas' title lead open to 25 points, a whole race win's advantage. However, it was far from done for the 23-year-old. A crash in the first San Marino race was tied with a fourth-place finish at the Emilia Romagna Grand Prix meant Arenas' early title charge was in doubt but held on to the lead by just two points over Ogura.
Arenas' championship took another blow in Catalunya when an over-optimistic McPhee took the Aspar rider out at turn four. McPhee was trying to pass Arenas but ran in too hot as race leader Tony Arbolino closed the door. This forced the Scot to squeeze the brake harder, losing the front of his PETRONAS machine, wiping the title leader out. This swung the advantage to Ogura, who left Barcelona with a three-point lead over the Spaniard.
Another two tricky races and another two races off the podium, Arenas regained the lead after a tough Aragon double-header for Ogura and McPhee. Still, it was Celestino Vietti and Tony Arbolino, who had missed one of the Aragon rounds due to COVID restrictions which had leapt into title contention.
With just three intense weekends remaining, Arenas' opener was another disaster. On lap two, Vietti high sided out of the podium fight and forced Arenas to slow up, resulting in the Spaniard getting hit in the rear, damaging his bike. Frustrated at another non-points finish, the team repaired the bike and the championship leader took to the track again, controversially messing with the front group – he later received a black flag.
He regrouped and returned to Valencia a week later to take his first points finish at the Cheste circuit, coming home in fourth place and saw Arenas' lead opened to eight points.
As the season reached its endpoint in Portimao, all Arenas needed to do was finish inside the top 15 and hoped Ogura or Arbolino doesn't finish better than seventh and fifth, which was the case…
The season finale gave us everything, close battles and edge of the seat fightbacks saw Arenas finish 12th, Arbolino fifth and Ogura eighth, giving Arenas the title by four points over both chasing riders.
There's no question that Arenas is the deserving champion, leading it from start to finish, albeit losing it briefly after Barcelona. The rider from Girona showed his mental strength, and despite losing his head a few times, always overcame the challenge and eventually rose to the top.
The next adventure for the Spaniard comes in Moto2 as he steps up to replace Hafizh Syahrin, remaining in the Aspar family.
Featured image: MotoGP.com

Looking to update your website?
ThisWebDesign works with small and medium-sized companies from all over the globe. Our focus is on offering visually engaging websites, social media profiles that convert, and branding that creates a powerful and lasting image.
thomas@thiswebdesign.co.uk
---