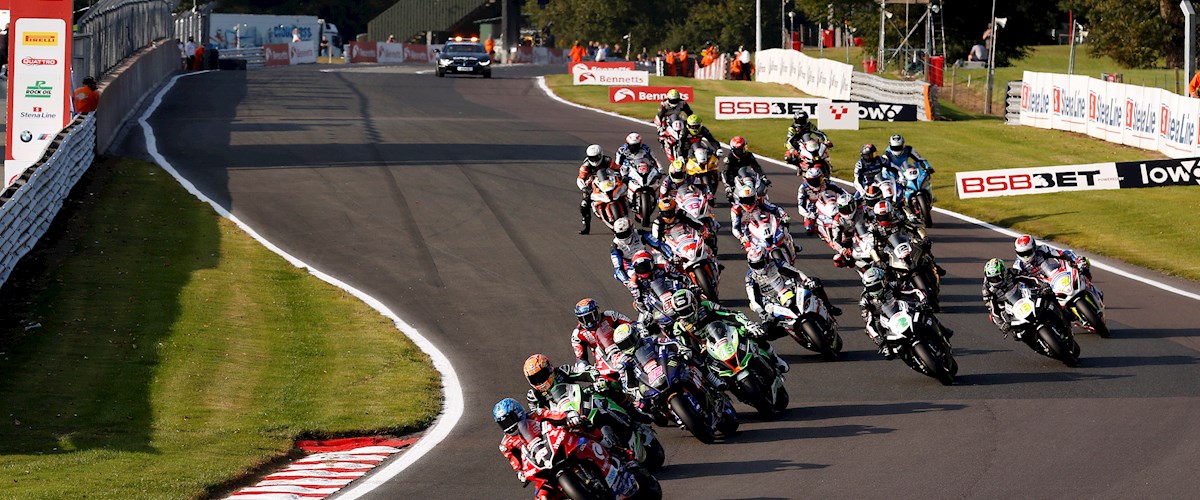 BSB: The 2021 Bennetts British Superbike Paddock Is Nearly Complete With Only Paul Bird Motor Sports and All-new Team RAPID CDH RACING To Officially Announce Their Rider Line-up.
The 2021 Season Looks Slightly Different To Last Season With Several Riders Switching Teams And Manufacturers.
As we are on countdown for the Bennetts British Superbike season to start, six riders have switched teams. Twelve teams will be fielding brand new motorcycles, as well as three rookies joining and aiming to make an impact in the Superbike Class.
Current manufacturer title holders Ducati are likely to maintain their partnership with Paul Bird Motorsports, as of yet there has been no official rider line-up announcement, but it's looking very unlikely to change from last seasons line-up of current Champion Josh Brookes and Christian Iddon. Whilst Tommy Bridewell will be riding for Oxford Products Racing Ducati for his third consecutive season.
The McAms Yamaha rider line-up remains the same for 2021 with Jason O'Halloran and Tarran Mackenzie fielding the Yamaha YZF-R1 motorcycle.
Honda Racing UK's rider line-up has changed slightly for 2021, Glenn Irwin remains with the Honda Racing Team for his second consecutive season, he has a rookie all-new team-mate with Japanese rider Ryo Mizuno. Tag Racing have switched manufacturer from a Yamaha to a Honda for their season campaign with former Honda rider Dan Linfoot.
Manufactures BMW will be running the all-new BMW M 1000RR for the 2021 season. Rich Energy OMG Racing BMW have two all-new riders on-board, consisting of Kyle Ryde and Brad Ray. SYNETIC BMW Motorrad also have two all-new riders; Andrew Irwin and Danny Buchan. There is an all-new team in the paddock FHO racing BMW, which has been formed from the foundations of The Smiths Racing Team, riding for the team will be Peter Hickman, Xavi Forés and International Road Racer Brian McCormack. PR Racing BMW have re-signed Joe Francis for another season a long side new rookie signing Brad Jones. Australian rider Lachlan Epis completes the BMW riders, riding for NP Motorcycles Lextek BMW.
Kawasaki have new machinery for the 2021 season with six teams fielding the all-new ZX-10RR. FS-3 Kawasaki Racing Team have signed rookie and the 2020 Supersport Champion Rory Skinner who is partnered by their 2020 season rider Lee Jackson. Luke Mossey has switched teams and manufacturer; he now rides for The DB Racing Kawasaki Team. CDH Racing have kept their previous season rider Josh Owens. Lee Hardy Racing have re-signed Ryan Vickers for a third season on the bounce. Silicone Engineering Kawasaki have also kept their 2020 season rider Dean Harris for their season campaign.
All-new Kawasaki racing team RAPID CDH RACING has announced they will be taking part in the 2021 British Superbike Season but have yet to confirm their rider line-up.
Buildbase Suzuki keep Gino Rea in their team with new signing Danny Kent. All-new team Powerslide/Catfoss Suzuki will have Bjorn Estment fielding the Suzuki GSXR 1000 for their 2021 season.
With 28 riders across five manufacturers so far, the Bennetts British Superbike Championship looks to be spectacular once again! 2021 sees the return of the showdown and a different format of qualifying from the previous season. Round one is to be held at Oulton Park from 29 – 31 May.
Featured Image: Bennetts British Superbike.com (credits to original photographers).

Looking to update your website?
ThisWebDesign works with small and medium-sized companies from all over the globe. Our focus is on offering visually engaging websites, social media profiles that convert, and branding that creates a powerful and lasting image.
thomas@thiswebdesign.co.uk
---