BSB: Honda Racing's Glenn Irwin Tops The Time Sheets On day Two Of The Bennetts British Superbike Testing At Silverstone.
Glenn Irwin Put The Fastest Time On The Timing Sheets and set the fastest ever Bennetts British Superbike lap around the Silverstone Circuit On The Final Day Of Testing At Silverstone.
For day two of the Bennetts British Superbike testing at Silverstone the Superbike Class were joined by The HEL Junior Supersport class, the Honda British Talent Cup, the Pirelli Junior Superstock and the Ducati TriOptions Cup Class. Track conditions were slightly warmer than yesterday.
For the first Superbike session of the day it was Honda Racing's Glenn Irwin who was in the top spot until McAMS Yamaha's Tarran Mackenzie over took the Honda man for first position. RICH Energy OMG Racing's Kyle Ryde put his BMW into the top spot after completing 12 laps, with Tarran just 0.011s behind him. FHO Racing BMW's Peter Hickman had a better start to proceedings, getting into the top ten from the off, but only managed a 14th place finish.
Builbase Suzuki's new sighing Danny Kent put in a strong performance, ending his first session of the day in sixth position. Ducati riders Christian Iddon and Tommy Bridewell had a slow start, both being out of the top 20, until Christian Iddon topped the time sheets with three minutes remaining in the session but was knocked off the top spot by Kyle Ryde with seconds to go, just 0.005s between them. Yesterday's rider of the day McAMS Yamaha's Jason O'Halloran had to settle for third position, with VisionTrack Ducati's Josh Brookes finishing in fourth place.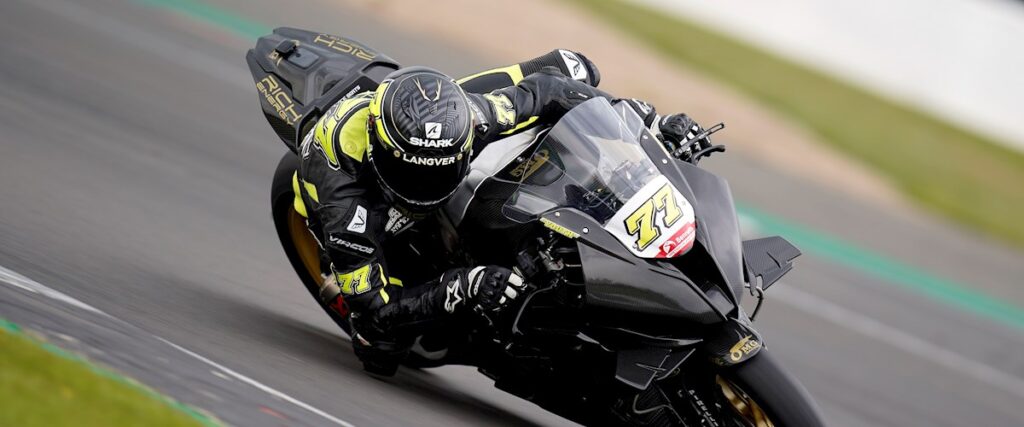 As the second session of the day got under-way it was Josh Brookes who held onto the top spot until rain was reported in sector four, so most riders returned to the pits. Honda Racing's all-new riders Ryo Mizuno and Takumi Takahashi were finding their feet during the early laps, riding in the top ten. Honda's Glenn Irwin was in first place for a few laps until McAMS Yamaha's Jason O'Halloran was back in charge of the proceedings in first place.
Oxford Racing Ducati's Tommy Bridewell had a better session getting inside the top ten. With just over three minutes to go the session was red flagged due to NP Motorcycles BMW rider Joey Thompson crashing at Brooklands. The session was re-started and it was Builbase Suzuki's Danny Kent who finished the session in first place just 0.109s off second place rider Kyle Ryde, Danny's team-mate Gino Rea finished in third place. Jason O'Halloran ended his session in fourth place. Iddon finished in fifth place, just above his team-mate Josh Brookes. FHO Racing BMW's Xavi Forés finished in seventh position and SYNETIQ BMW Motorrad rider Danny Buchan finishing in eighth place. Ducati's Bridewell was pushed back to tenth place.
As the Superbike riders headed out for their third session of the day it was McAMS Yamaha's Jason O'Halloran that made a sharp start to the proceedings, leading for most of the session. Glenn and Andrew Irwin were hot on the Australian's heels until VisionTrack Ducati's Christian Iddon snatched second place with 14 minutes left to go in the session. Christian's team-mate and reigning Superbike Champion Josh Brookes was down the order for most of the session, he seemed to be struggling to put a fast lap in, with ten minutes to go McAMS Yamaha's Tarran Mackenzie snatched the top spot from his team-mate, with just 0.151s between them.
With under three minutes to go Honda Racing's Glenn Irwin put in the fastest lap of the testing so far with a lap of 53.139s, which is the fastest ever British Superbike lap of Silverstone and claimed the top spot, Mackenzie was only 0.061s adrift in second place, with O'Halloran finishing in third place. RAF Regular & Reserve Kawasaki rider Ryan Vickers finished in a strong fifth place just behind Christian Iddon who ended up in fourth place. Danny Kent was just inside the top ten finishing in eighth place. Josh Brookes finished down in 13th place, with fellow Ducati rider Bridewell also finishing down the order in 15th place.
For the final instalment of testing action at the Silverstone circuit, it was sketchy conditions as rain was falling in all sectors of the race track, but it didn't amount to anything. On his Sixth lap the Honda Racing man Glenn Irwin put himself in the top spot with Tommy Bridewell just 0.045s behind him in second place. SYNETIQ BMW rider Danny Buchan knocked the Irish man Glenn Irwin off the top spot just as the session was red flagged, due to Josh Brookes crashing out at Becketts, Josh was taken to the medical centre for a check up.
Once the session resumed Glen Irwin snatched back the top spot from Buchan with BMW's Kyle Ryde not far behind them in third spot. With seconds to go for the end of the session Kyle stormed into the top spot, with Glenn Irwin 0.082s behind Kyle finishing in second place. Danny Buchan had his best position of the day finishing in third place with his team-mate Andrew Irwin finishing in fourth place. Bridewell and Iddon finished eighth and ninth respectively, with Ryan Vickers completing the top ten.
The next instalment for the Bennetts British Superbike Testing Tour is on May 4/5/6 at Snetterton.
Support Classes Results:
| | | | |
| --- | --- | --- | --- |
| HEL Performance Junior Supersport | Ash Barnes – BarneyRacing | Lap Time: 1:04.155 | Yamaha |
| Honda British Talent Cup | Evan Belford – City Lifting by RS Racing | Lap Time: 1:02.460 | Honda |
| Pirelli National Junior Superstock Championship | Jack Nixson – Santander Salt | Lap Time: 57.309 | Yamaha |
| Ducati Tri-Options Cup | David Jones – Dragon Racing | Lap Time: 56.736 | Ducati |
Featured Images: Bennetts British Superbikes, Impact Images, Double Red Photographic.

Looking to update your website?
ThisWebDesign works with small and medium-sized companies from all over the globe. Our focus is on offering visually engaging websites, social media profiles that convert, and branding that creates a powerful and lasting image.
thomas@thiswebdesign.co.uk
---