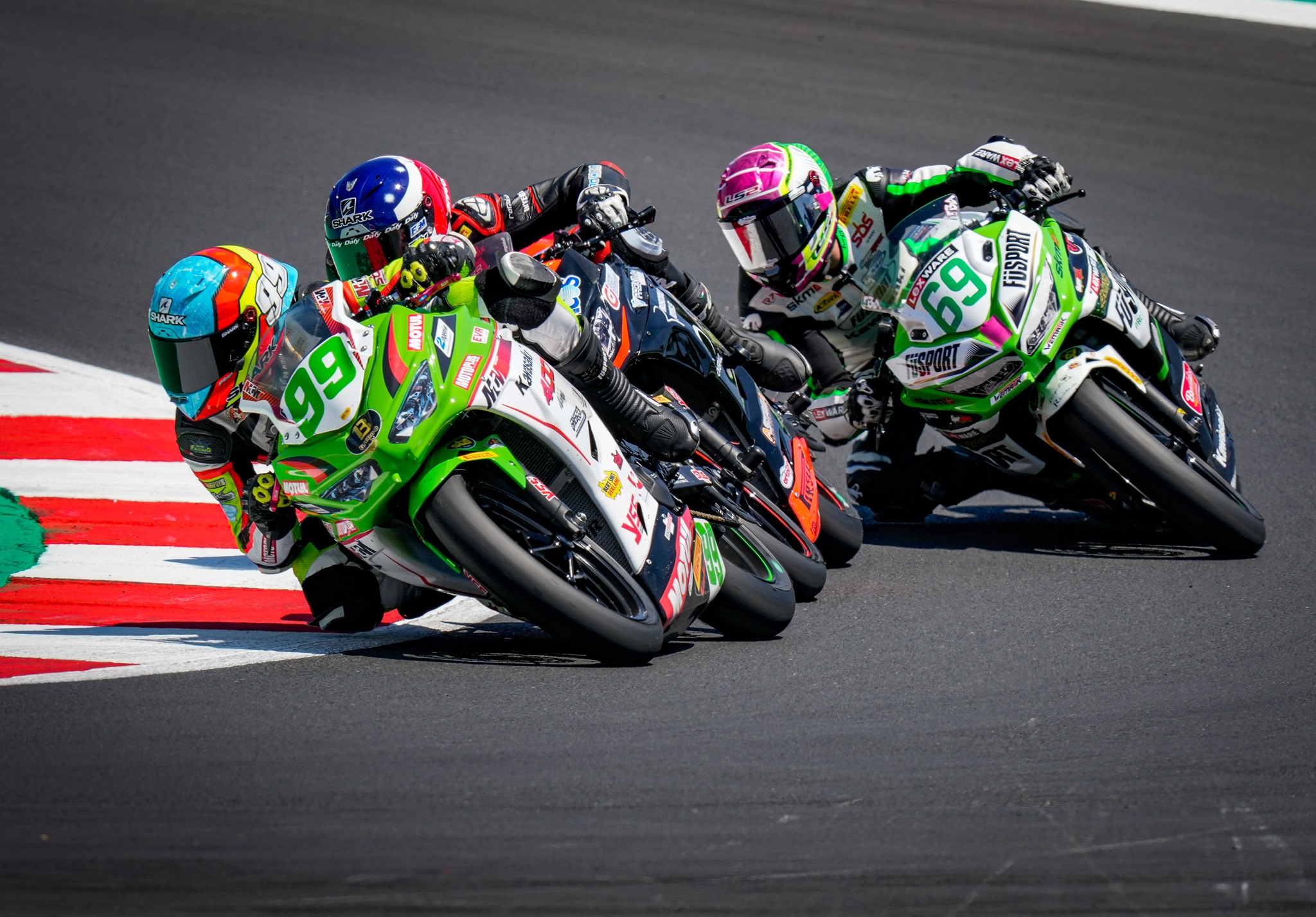 Adrian Huertas took the first win of the weekend, ahead of Tom Booth-Amos and Hugo De Cancellis.
The World Supersport 300 squad return this weekend after a 3-week break, and head to Misano for Round 2 of the 2021 season.
On Saturday's Super Pole session, it was Bahattin Sofuoglu who claimed Pole ahead of Race 1, ahead of Jose Perez Gonzalez and Vincente Perez Selfa. Big names from the Aragon Round Adrian Huertas and Tom Booth-Amos started from P6 and P7, respectively.
With all 3 front-row riders making a strong start off the line, it was Perez Gonzalez who got the holeshot into Turn 1. The opening lap ended with De Cancellis taking to the front, but with the entire 42-strong grid failing to break apart, the remaining 14 laps were still anyone's to claim.
Tom Booth-Amos entered the fight on Lap 2, the Brit made his was up to P2 and began the hunt for De Cancellis. As Booth-Amos took to the front, amidst the ongoing battle at the front, poleman Sofuoglu crashed out of 4th position at Turn 7, after making contact with Victor Steeman, making this the third consecutive DNF for the Turkish rider so far this season.
The Top 4 began to break away from the pack 12 laps to go, as a 3-way battle began between Huertas, Booth-Amos and De Cancellis, with Steeman watching from afar in 4th. With the frontrunners bumping fairings, however, it wasn't long before the lead group grew top a 9-rider fight, all the way back to Ton Kawakami.
As the battle at the front roared on, a mid-pack crash saw front-row starter Perez Gonzalez and title defender Jeffrey Buis get wiped out, along with Samuel Di Sora and Gabriele Mastroluca. While rejoining the race, Buis' chance to score points fell from under him. Di Sora would later retire from the race with a mechanical failure also.
While the race wore on, any further attempts made by the race leaders to break away from their rivals were undone within a matter of corners, the constant paint-swapping made it difficult to report on a specific leader each lap, and continued as such until the penultimate lap, in which the trio consisting of Booth-Amos, De Cancellis and Huertas emerged at the front. Across the start/finish straight heading into the final lap, it was De Cancellis who lead, as the men in green looked set to steal the top spot at any moment.
Despite Booth-Amos looking to line up to take first, it was in fact Huertas who acted first, swooping through at Turn 8 to take second position from the Brit, and soon stole the lead from De Cancellis at Turn 11, managing to hold his own to the flag. In a last-ditch attempt, Booth-Amos managed a final corner overtake to claim second place from De Cancellis, as the Frenchman settled for third at the line.
After an intense Race 1, Adrian Huertas has also taken the lead in the title fight, just 1 single point ahead of race rival Tom Booth-Amos.
With it all to play for yet again today, how will that championship board look in just a few hours' time?
Race 2 begins today at 15:15 Local Time (GMT +2).
Race 1 Top 5:
Adrian Huertas
Tom Booth-Amos
Hugo De Cancellis
Yuta Okaya
Meikon Kawakami
Feature Image: Randy van Maasdijk

Looking to update your website?
ThisWebDesign works with small and medium-sized companies from all over the globe. Our focus is on offering visually engaging websites, social media profiles that convert, and branding that creates a powerful and lasting image.
thomas@thiswebdesign.co.uk
---