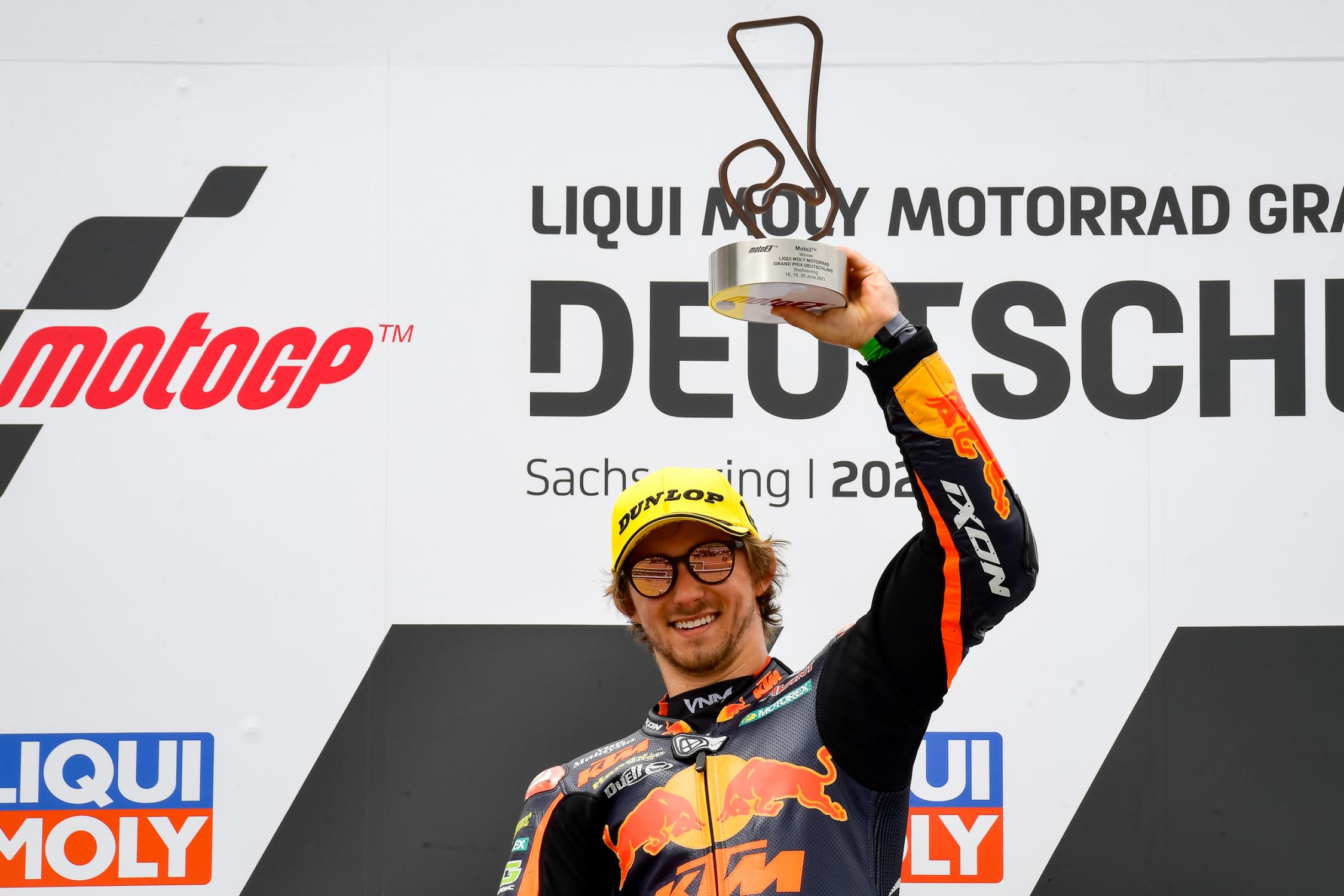 Moto 2: Remy Gardner Wins the 200th Moto 2 Grand Prix at the Sachsenring
Remy Gardner extends his championship lead over Raul Fernandez after a mistake from Raul caused him to retire
Raul got a perfect start off the line, taking the holeshot into turn one with his team-mate Remy Gardner jumping into second from third on the grid. Fabio Di Giannantonio and Xavi Vierge swapped their places from the grid on lap one with the pair being fifth and third respectively. Jake Dixon managed to jump up five positions from 15th position to tenth place. His compatriot Sam Lowes was quite the opposite however, dropping from seventh to eleventh position, a start which really hampered the Brits chances of a podium.
Raul's lead didn't last long when Remy passed him at turn 12 on lap two and set to try and break away from his team-mate, but the Australian was not able to do so with the Spaniard staying with him and the pair had a 3.8 second lead over Xavi Vierge on lap four.
However, the race took a massive turn on lap five when Raul Fernandez lost the front at turn three, giving the Spaniard his first DNF of the season and has dented his chances at the championship. By the end of lap five, Remy had a lead of five seconds over Aron Canet who during the first five laps of the race at managed to get himself from tenth to second with Petronas Sprinta Racing's Xavi Vierge in third; but this was short-lived as Bezzecchi made his move at turn one the following lap promoting himself to the podium a place Marco did not expect to be after Free Practice Three.
Jake Dixon had managed to get inside the top eight, a position the Brit hasn't been in since the opening round of the championship proving the changes of crew chiefs have paid off. However this was also short-lived as Augusto Fernandez tried to go around the outside at turn 12 but unfortunately the two riders weren't able to see each other, causing them to make contact with Augusto crashing with Jake having to take avoiding action through the gravel trap and dropping to last position which was 25th place, ending what looked to be a great return of form for Jake.
On lap 17 Bezzecchi started to come under pressure from his compatriot Fabio Di Giannantonio for the final podium spot; Fabio made an incredible pass at turn 11 getting a great run out of turn 10 to surprise the SKY Racing Team VR46 rider, but Bezzecchi wasn't going down without a fight, immediately making a pass back at turn 12 and made it stick. Fabio retaliated at turn 12 the following lap, but went wide and Marco was able to retake the position.
Ai Ogura looked to get inside the top five for the second time in Moto 2 having taken a fifth place at the Doha Grand Prix. Ai made his move on Vierge at turn 12 on lap 24 and looked set to bring it home, but unfortunately for the Japanese rider, he fell on the final lap of the race at turn eight a bitter end to what was a great race.
Ai Ogura wasn't the only person to fall victim of a crash on the final lap, with Xavi Vierge losing the front at turn one, ending what looked to have been a solid top six finish. Joe Roberts also crashed at turn one having struggled with the track, not suiting his riding style.
It was another stunning ride for championship leader Remy Gardner who crossed the line to win by 6.1 seconds over Aron Canet in second and Marco Bezzecchi finished on the last step of the podium which felt like a victory for him after the nightmare he had at the start of the weekend. Fabio Di Giannantonio finished in fourth with Sam Lowes who was in 14th at one point gained huge profits from the mistakes from riders in-front of him to take fifth.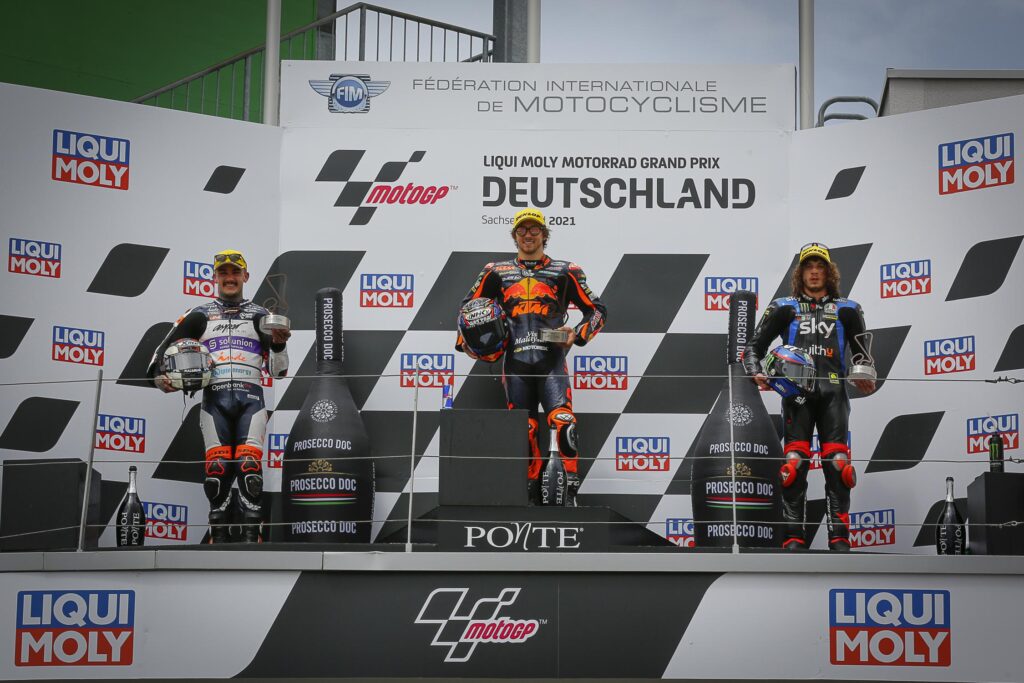 Marcel Schrotter finished in sixth place in his home Grand Prix, Jorge Navarro finished seventh, Albert Arenas took his first top eight in a race in Moto 2, and the American Racing Team rounded out the top ten with Ramirez ahead of Beaubier with both riders coming from 16th and 25th on the grid.
Nicolo Bulega, Alonso Lopez, Bo Bendseyder, Barry Baltus and Celestino Vietti rounded out the point scoring positions; with Jake Dixon finishing in 21st place.
Remy Gardner now leads the championship by 36 points over his team-mate Raul Fernandez with Marco Bezzecchi 47 points from the top and ELF Marc VDS's Sam Lowes 78 points from Remy.
Featured Images: MotoGP.com

Looking to update your website?
ThisWebDesign works with small and medium-sized companies from all over the globe. Our focus is on offering visually engaging websites, social media profiles that convert, and branding that creates a powerful and lasting image.
thomas@thiswebdesign.co.uk
---