Pedro Acosta Wins His fourth Victory Of The Season In Germany.
Pedro Acosta stayed out of trouble in a drama-filled race and held off Kaito Toba and Jeremy Alcoba to cross the line 1st.

Hot and muggy conditions at the start of the race with temperatures of 30°C so the 27-lap race would be difficult for the riders. It would be hardest for Darryn Binder though, because he was handed a ride through penalty after running into the side of replacement rider Joel Kelso in Q1 yesterday.

Filip Salac got a great start but got swamped into Turn Two as Tatsuki Suzuki, Kaito Toba and John McPhee passed him. Toba then gained the lead as they streamed down the Ralf Waldman Waterfall into Turn 12. Pedro Acosta was up to ninth at the end of lap one.

Adrian Fernandez went down at Turn one on lap three as his difficult season continues. Darryn Binder came down pitlane for his ride through at the end of lap three. Dennis Foggia started to try and break away at the front on lap five but Pedro Acosta was hot on his heels chasing down the leading Italian.

Yuki Kunii went down at Turn 13. He was nudged by Jaume Masia towards the outside of the track and he fell off the side of the bike. The accident was immediately under investigation, and Jaume Masia was handed a long-lap penalty two laps later. He took the penalty as soon as he could, carried incredible speed around the loop and re-joined at the back of the leading group. He lost 1.2 seconds which is a very short long-lap penalty.

Pedro Acosta made his way into the lead on Lap six as the leading group of 16 riders were battling behind him. Dennis Foggia started to look really strong in the first couple of sectors of the lap. He looked comfortable at the front for a few laps. Gabriel Rodrigo had another huge high-side in the middle of Turn five on lap 11 and fell out of sixth position. The rear came round viciously and fired the Argentinian towards the air fence. He was unharmed and walked away.

Deniz Oncu and Lorenzo Fellon fell together at Turn one on lap 13. They went down in two separate incidents. Oncu was rammed by Romano Fenati, and was flicked off the bike. Fenati amazingly stayed on. Lorenzo Fellon rode up the rear wheel of Ryusei Yamanaka and went down. John McPhee also went off track and lost lots of time and ended up on his own in 11th. One lap later, Jaume Masia, Ryusei Yamanaka, Stefano Nepa and Romano Fenati all went off in Turn one. Masia had his own accident as he clearly out-braked himself and ran into the back of Dennis Foggia. Foggia did an incredible job of staying on the bike.

Ryusei Yamanaka caused the rest of the riders to fall. He got it completely wrong into Turn one, lost the front really early and collected Stefano Nepa at speed. Fenati was unlucky and ran off through the gravel and re-joined. This was to be reviewed after the race. In amongst the chaos, Pedro Acosta was given a track limits warning as he battled with Dennis Foggia and Tatsuki Suzuki. Darryn Binder managed to make his way into the points after all of the crashing. Romano Fenati was handed a long-lap penalty after causing Deniz Oncu to crash.

Sergio Garcia managed to avoid all of the messy accidents and incidents and made a few really good, calm and collected moves. He worked his way to second by lap 21 as Foggia started to make a break at the front. That didn't last long though as the chasing nine riders reeled him back in. With three laps remaining, fourth placed rider Tasuki Suzuki was handed a track limits warning. Dennis Foggia was still at the front and it felt like this was bubbling nicely for a hectic last few laps.

Jeremy Alcoba came steaming into Turn 12 on the penultimate lap and pushed Garcia wide. He was ordered to drop one place after going onto the green paint down the hill into Turn 12. Foggia was passed by Acosta in Turn one. Foggia retook the lead but went wide at Turn eight and Alcoba and Acosta passed him to get to Turns 11 and 12 in front of the Leopard Racing man. Kaito Toba moved into second in Turn 12 as he barged Alcoba out of the way. Acosta managed to hold Toba off through the last corner and won the race in fine style. Jeremy Alcoba finished third but failed to drop a place so fourth placed man Dennis Foggia was promoted to the podium. Jeremy Alcoba was very reluctant to leave Parc Fermé but eventually moved over for Foggia.

A very quiet Andrea Migno in fifth. Sergio Garcia finished sixth just in front of Tatsuki Suzuki, with Niccolo Antonelli in eighth. The impressive rookies Xavier Artigas and Izan Guevara finished ninth and tenth respectively. John McPhee was 11th as his season woes continue.

What an incredible race from the Championship leader. He stayed out of trouble throughout the race and rode the last lap absolutely perfectly. This kid is special! Fantastic once again from the young Spaniard.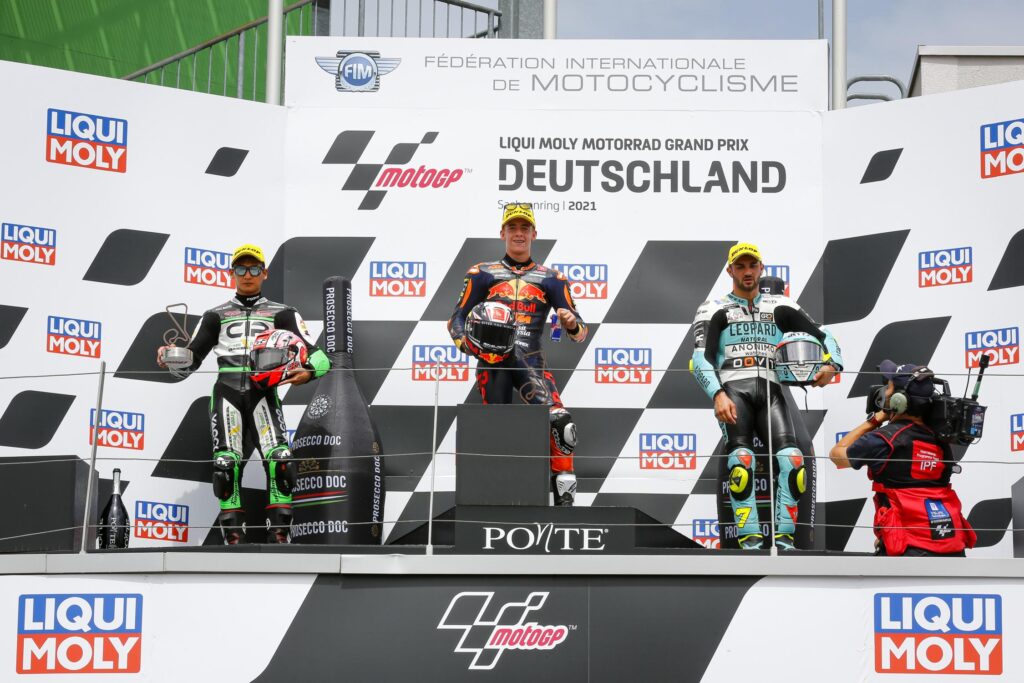 Featured Images: MotoGP.Com



Looking to update your website?
ThisWebDesign works with small and medium-sized companies from all over the globe. Our focus is on offering visually engaging websites, social media profiles that convert, and branding that creates a powerful and lasting image.
thomas@thiswebdesign.co.uk
---