BSB: Tommy Bridewell Leads The Way On Day One Of The Bennetts British Superbike's Opening Round At Oulton Park.
Tommy Bridewell Has Topped The Time Sheets On The Opening Day Of The 2021 Bennetts British Superbike Season.
After what seems like an eternity the Bennetts British Superbike Season has got under-way at Cheshire's Oulton Park. The season has started later than usual due to covid restrictions, 4000 racing fans have been allowed entry to the circuit for the weekend's proceedings. There is a new qualifying format for the 2021 season, the top 12 riders of today's sessions will go straight through to Q2, the rest of the field will go into Q1 and fight it out for the top six places, which will enable them to go into Q2.
Session one of the day was declared a wet session for the Superbike class. FHO Racing BMW's Xavi Forés and Tag Racing's Dan Linfoot both had spills early on in the session, both riders were ok. BMW's Andrew Irwin was leading the way until he had a lap cancelled due to him missing the chicane at Turns seven and eight. McAMS's Yamaha's Jason O'Halloran was leading the session at the half-way mark, with VisionTrack Ducati's duo hot on his heels. Christian Iddon, Tommy Bridewell and Danny Buchan all took a turn of leading the pack.
It was McAMS Yamaha's Jason O'Halloran who finished the first session of the day in first place with a lap time of 1:46.353, SYNETIQ BMW's Andrew Irwin finished just 0.030s behind in second place, Honda's Glen Irwin was in third place. Iddon and Brookes slipped down the order finishing in eighth and 12th respectively.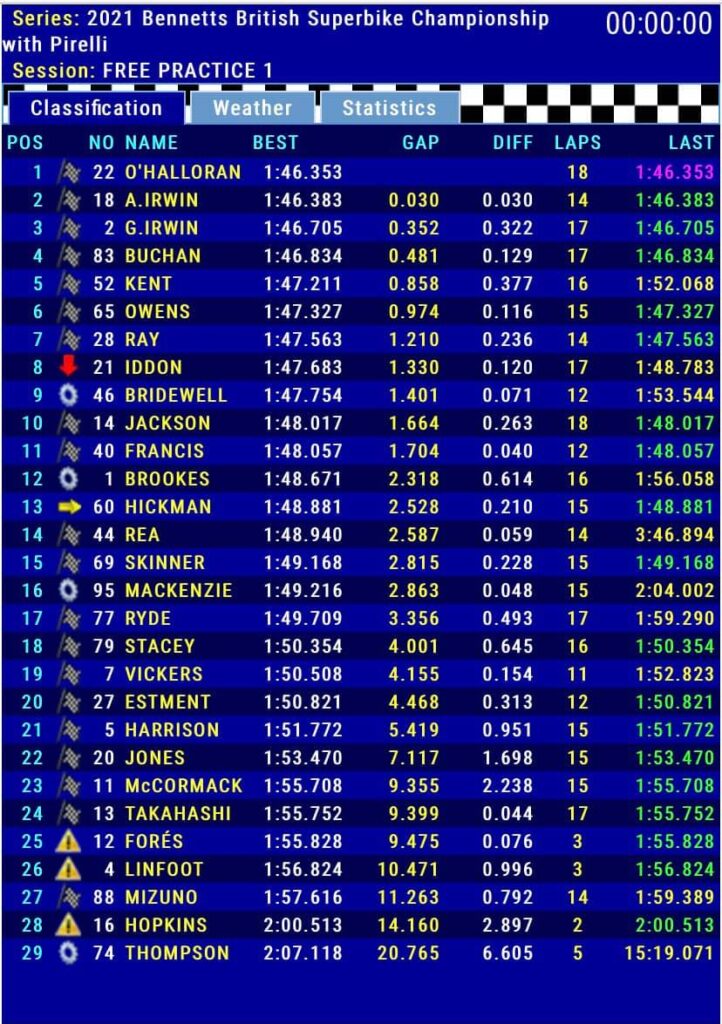 Free Practice Two conditions were cloudy but dry as the Superbike riders headed out on track. RICH Energy OMG Racing BMW's Kyle Ryde made a sharp start to proceedings leading the way in the first few minutes until the session was red flagged seven minutes in, due to Fs-3 Kawasaki's Rorry Skinner crashing at Old Hall Bend. Brad Ray was in pursuit of his all-new team-mate in second place until VisionTrack Ducati's Josh Brookes put a flying lap in and topped the time sheets. That wasn't for long as Brad Ray knocked the regaining champion off the top spot.
As the session made it's half-way mark it was red flagged again as NP Motorcycles Lextek's Joey Thompson had a technical problem at Druids and the track needed to be inspected for any contamination. The session resumed after the sidecars had their Free Practice session.
The session was restarted and leading the way for the last 20 minutes of the day was Jason O'Halloran until SYNETIQ BMW's Danny Buchan took the top spot, Jason didn't let Buchan stay there for long as he reclaimed first position with six minutes remaining. Oxford Products Racing Ducati's Tommy Bridewell stormed into first position with minutes remaining and that's how the session ended. O'Halloran finished second with Ducati's Iddon in third place, fourth was Brad Ray, Danny Buchan put his BMW in fifth place with fellow BMW man Peter Hickman in sixth. Josh Brookes had to settle for 10th place, Suzuki man Gino Rea got the last Q2 spot finishing in twelve place.
The rest of the field from 13th onwards will have to fight it out for the top six places in Q1 which will enable the top six to go through to Q2. BMW's Kyle Ryde finished down in 13th place so he will have some work to do tomorrow during Q1! Qualifying starts tomorrow at 1.15pm.
Featured Images: Bennetts British Superbikes, Oxford Products Racing Ducati.

Looking to update your website?
ThisWebDesign works with small and medium-sized companies from all over the globe. Our focus is on offering visually engaging websites, social media profiles that convert, and branding that creates a powerful and lasting image.
thomas@thiswebdesign.co.uk
---