BSB: Jason O'Halloran Wins The First Race Of The 2021 Season.
McAMS Yamaha Jason O'Halloran Claims The First Victory Of The Bennetts British Superbike 2021 season.
It was glorious conditions at the Cheshire circuit of Oulton Park for this very much anticipated first race of the 2021 season.
Christian Iddon got the hole shot into Old Hall bend, followed by McAMS Yamaha's Jason O'Halloran. Bridewell was pushed back to third with Tarren Mackenzie hot on his heels. OMG Racing BMW's Brad Ray pulled into the pits after just two laps with a mechanical problem. The top five riders pulled a gap from the rest of the pack from Iddon to FHO Racing BMW's Peter Hickman in fifth place.
Joe Francis crashed out at Lodge Corner on lap three followed by BMW's Andrew Irwin who crashed out at Old Hall Bend on his fourth lap. Danny Kent followed suit and also crashed out Lodge Corner on lap five. Tarran Mackenzie slipped back to fifth after having nearly lost the front at Hislops.
Jason O'Halloran made it past Iddon to claim first place on lap eight, FS-3 Kawasaki's Lee Jackson and Suzuki Gino Rea were having a battle for eighth place lower down the field. Honda's Takumi Takahashi retired to the pits on lap 9 due to still being injured from a testing crash Donington. Dan Linfoot got a long lap penalty due to forcing FHO Racing BMW's Brian McCormack off track at Hislops.
Reigning champion Josh Brookes was having a mediocre first race of the season down in 11th place, Powerslide/catfoss Suzuki's Bjorn Estment was having a good race in 15th place. O'Halloran set the fastest lap of the race on lap 13, giving him the top spot on the grid for tomorrow's race.
Jason O'Halloran kept hold of first place and won the first race of the 2021 season, closely followed by Iddon in second with pole man Tommy Bridewell in third, Peter Hickman finished fourth, a great result for Burton-Upon-Trent rider! New BMW rider Kyle Ryde crossed the line in seventh place with Lee Jackson getting the better of Gino Rea and finishing in eighth. VisionTrack Ducati's Josh Brookes rounded out the top ten in tenth place.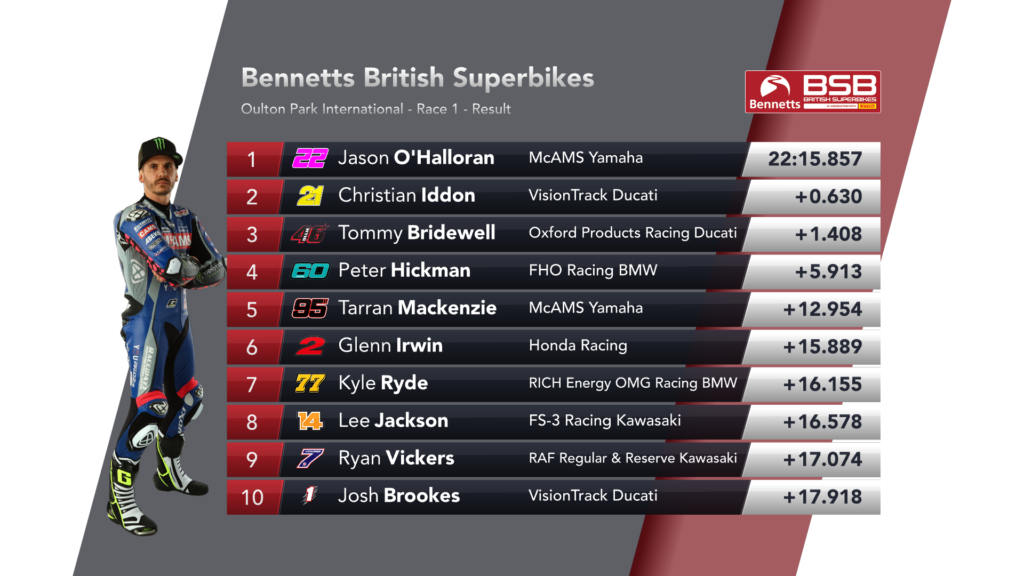 Can Jason O'Halloran do the double and win the first race of tomorrow? Race Two is at 13:45
Featured Image: Yamaha Racing, Bennetts British Superbikes.

Looking to update your website?
ThisWebDesign works with small and medium-sized companies from all over the globe. Our focus is on offering visually engaging websites, social media profiles that convert, and branding that creates a powerful and lasting image.
thomas@thiswebdesign.co.uk
---