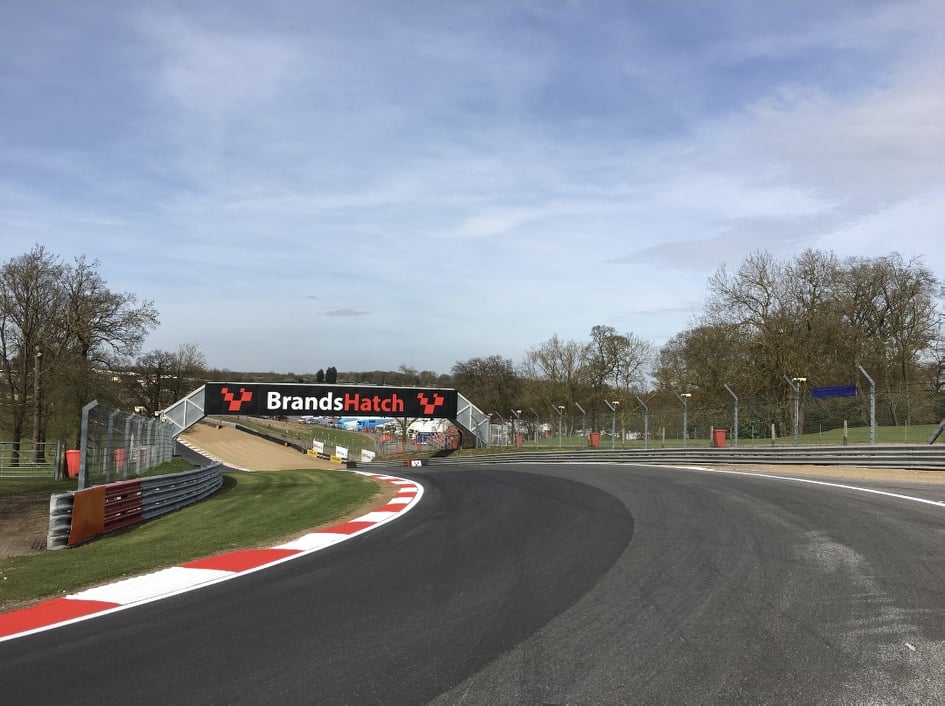 BSB: Bennetts British Superbikes Heads To Brands Hatch For Round Three.
There Has Been Three Different Race Winners So Far, Will We See A New Race Winner At Brands Hatch?
The Bennetts British Superbike Championship heads to the iconic circuit of Brands Hatch for round three of the 2021 championship, the Kent circuit is 4.207km in length and has nine turns. Crowd restrictions have now been lifted so we will see a full capacity of racing fans enjoying their beloved sport!
The VisionTrack Ducati Team had mixed fortunes at Knockhill, Christian Iddon claimed his first victory of the 2021 season, with a further two fourth place finishes, leaving the Stockport rider leading the championship with 111 points and 14 podium credits in the bank. Reigning Superbike champion Josh Brookes is really struggling, he finished in tenth place for race one, 12th in race two and 13th in race three, he is in 11th place in the standings with 38 points. Not the form we are used to seeing from the two-time champion! Brands Hatch is usually a strong circuit for Josh, will he be able to claim some vital championship points and podium credits at the Kent Circuit?
McAMS Yamaha riders have started their season on the front foot, Jason O'Halloran got Pole Position and finished on the podium in second place in race one, unfortunately he crashed during race two and got a sixth place finish in the third race, Jason is in second place in the championship, just six points adrift from Iddon. The Australian rider has 18 podium credits, which is the highest credits of any rider so far. Tarran Mackenzie had a fast crash during Q2 but that didn't affect his weekend's proceedings, he finished sixth in race one, he got third place in both race two and race three, earing him two podium credits, Tarran is in fourth place in the championship standings with 76 points.
SYNETIQ BMW Motorrad's Danny Buchan stormed to a double victory at Knockhill, the Essex rider got a third place finish in race one, he rode two incredible races in race two and race three to claim top spot on the podium! Danny has always had good form at the Scottish track and he certainly didn't disappoint! The SYNETIQ BMW team were thrilled as the team had never won at the circuit before. Danny is in third place in the championship standings with 91 points and a healthy 11 podium credits. Team-mate Andrew Irwin doesn't seam to have jelled the same with his BMW machinery, he finished down in 15th place in race one, 14th in race two and 15th in race three, the Irish rider is in 16th place in the standings with five points.
FS-3 Racing Kawasaki had a weekend to remember in Scotland, home rider young rookie Rory Skinner was named rider of the weekend, he finished race one in fifth place, race two and race three saw Rory claiming two second places, he rode the perfect races and didn't let his inexperience in the Superbike Class get in the way of earning himself and the team valuable points and podium credits. Rory is in fifth place in the standings with 61 points and has six podium credits in his back pocket. Lee Jackson finished ninth in race one, eighth in race two and 10th in race three, Lee is in eighth place in the standings, which is a great start for the Lincolnshire rider.
Oxford Products Ducati's Tommy Bridewell had a steady round at Knockhill, not quite managing a podium place, he finished race one in eighth place, race two in fifth and race three in seventh. Tommy did say the team had a few issues throughout the weekend with the set-up of the Ducati machinery, he is in sixth place in the standings with 60 points
FHO Racing BMW had a disappointing Round Two, Xavi Forés was declared unfit to ride by the medical staff, Xavi was very frustrated by the decision as he felt as though he was fit to ride, the Spanish rider crashed at the previous round and broke his scaphoid, the team and Xavi will be hoping that he will be able to be ride this weekend at Brands Hatch. Peter Hickman was in-line for a fourth place finish in race one but he had a mechanical issue on the last lap and couldn't finish the race! He finished seventh in race two and in eighth in race three, Peter is in seventh place in the standings with 57 points. International Road Racer Brian McCormack didn't finish in race one and race three, he got a 20th place finish in the second race.
RAF Regular & Reserve Kawasaki have made a very positive start to their season, Ryan Vickers is always in the mix with the other riders at the sharp end, he got a seventh, sixth and a ninth place. Ryan is in ninth place in the standings, you can't help thinking a podium place finish isn't too far away for the Thetford rider!
RICH Energy OMG Racing BMW had a positive round at Knockhill, especially with their rider Brad Ray, he got a great fourth place finish in race one followed by a ninth place finish in race two and a fifth place in race three, Brad's team-mate Kyle Ryde was mid-pack in the order with an 11th place finish, a 15th and a 17th place finish, Kyle is struggling slightly with his pace but it's early days for the Nottinghamshire rider, who I'm sure will be a podium finisher before the end of the season. Brad is in tenth place in the standings whilst Kyle is in 14th place with 25 points.
Honda are still on the back foot in their championship campaign, Glenn Irwin in in 12th place in the standings with 32 points, his highest finish at Knockhill was an 11th in race two, unfortunately Glenn crashed in race three causing the race to be red flagged. Glenn is suffering from some sort of illness at the moment, where he has no energy whilst riding, making it difficult for him to fight at the front end! The two new rookies Ryo Mizuno and Takumi Takahashi are still learning the British circuits, Ryo is in 21st place in the standings and Takumi is in 28th place.
Builbase Suzuki are having a steady start to the season, Gino is in 13th place in the standings with 27 points, he got a 13th, 10th and 11th place in the races at Knockhill, Danny Kent is struggling a bit he had two DNFs and a race finish of 14th in race three, he is currently in 17th place in the standings.
TAG Honda had a steady round at Knockhill, Dan finished all three races putting him in 15th place in the standings. He got a 14th, 13th and a 12th place in the races. Dan and the Tag Honda team were happy how their weekend had gone.
Dean Harrison and the Silicone Engineering Racing Kawasaki team did not take part in the Knockhill round, they will be back in racing action at Brands Hatch. Dean is currently in 18th place in the championship standings.
New-comer Luke Hopkins is in 19th place with 2 points, he finished two races with a DNF in race two.
All-new team Powerslide/Catfoss Suzuki had a difficult second round, South African Rider Bjorn finished race one but unfortunately didn't finish race two and three, Bjorn is in 20th place in the championship standings. The team are all geared up for Brands Hatch.
Iforce Lloyd & Jones BMW riders Brad Jones and Joe Francis are in 23rd place and 25th place respectively in the championship standings, Brad finished all-three races, whilst Joe only managed to finish two races, Joe made a great save during race three but it left him with mechanical issues so he was unable to finish the race.
Team LKQ Euro Car Parts Kawasaki's Storm Stacey is in 27th place in the standings, Storm finished all three races with a best place finish of 16th place, he is 27th place in the championship standings.
Rapid CDH Racing's Josh Owens and NP Motorcycles BMW's Joey Thompson had issues in the Free Practice sessions and were unable to continue with the weekend's proceedings. Josh suffered a broken arm in the crash that he had so we wish him a speedy recovery.
Who will be leaving the Brands Hatch circuit with the 'Brands Hatch Monster Energy King Of Brands' crown? Catch all the racing action on 23/24/25 July.
Featured Images: Bennetts British Superbikes, Christopher Brown, Impact Images (all credits to original photographers).

Looking to update your website?
ThisWebDesign works with small and medium-sized companies from all over the globe. Our focus is on offering visually engaging websites, social media profiles that convert, and branding that creates a powerful and lasting image.
thomas@thiswebdesign.co.uk
---