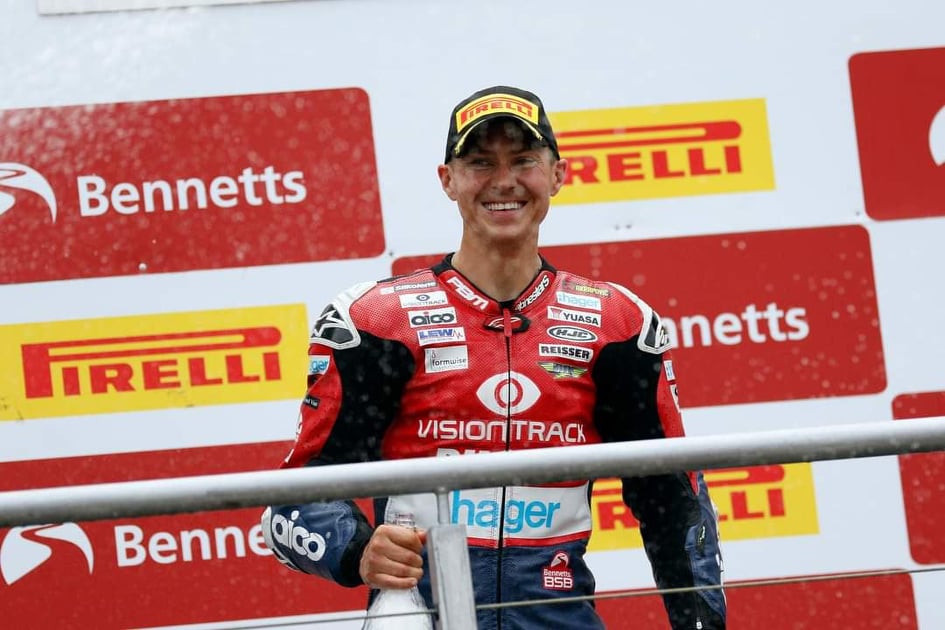 VisionTrack Ducati's Christian Iddon Takes His second Victory Of The Season At Brands Hatch.
It was mixed weather conditions for race three at Brands Hatch, the race was declared a wet race, there was a varied choice of tyres for the riders and teams throughout the Superbike grid.
As the race got underway it was O'Halloran leading the tentative pack of riders into Paddock Hill Bend but it was the reigning British Superbike champion who got the best start charging to the front from his 16th place grid position. Josh had chosen full wets for both front and rear. Honda's Glenn Irwin was in fifth place just behind Gino Rea in fourth.
Race two winner O'Halloran had been pushed back to seventh place with team-mate Mackenzie in 12th. TAG Racing's Dan Linfoot got into third place after three laps, Ryan Vickers was also on the move in fifth place. By lap three the rain flags were withdrawn so the track conditions were drying. Buchan got into first place, Iddon was on the move in fourth place, O'Halloran was in fifth by lap eight. By lap 12 Iddon made it up-to second place and had Buchan's first place in his sight.
Suzuki's Gino Rea's bike suffered a serious mechanical fault and the race was red flagged. The race was to be re-started with the grid positions to be what position the riders were in at the time of the red flag.
The race was re-started and you could feel the tension in the air, Buchan got a good start with Glenn Irwin flying into second place. Christian Iddon took the lead at Sterlings, there was a battle of wills taking place between Andrew Irwin, O'Halloran and Mackenzie for fifth place. Bridewell had an issue with his chain on the second lap and had to withdraw from the race.
Brookes was in fourth place defending his position from Mackenzie, Buchan was pushing Iddon at the front. Andrew Irwin crashed out at Druids on lap four after having such a promising start. Mackenzie got into third place and was chasing the leading two riders of Iddon and Buchan with just two laps remaining. On lap six Iddon and Buchan were dicing with each other, of which Buchan got to the front.
On the final lap Iddon took first place at Paddock Hill Bend, Tarran was on the tails of the leading two resulting in Tarran taking the second place off Buchan, O'Halloran slid his R1 underneath Buchan at Sterlings forcing the Essex rider wide and snatching third place., and that's how the thrilling race ended. Iddon claimed his second win of the 2021 season with Mackenzie in second and O'Halloran in third place.
Josh Brookes finished in fifth place, a much better result for the former champion, FS-3 Racing's Lee Jackson and Rory Skinner finished in eighth and ninth place, with Danny Kent rounding off the top ten.
The Monster Energy King Of Brands trophy went to McAMS Yamaha's Tarran Mackenzie after having an outstanding weekend! Christian Iddon is leading the championship from Jason O'Halloran, there is just six points between them, Tarran is in third place, 20 points adrift from his team-mate. Round Four is at Thruxton on 30th July-01 August.
Featured Images: Mike Petch, McAMS Yamaha Racing Team.

Looking to update your website?
ThisWebDesign works with small and medium-sized companies from all over the globe. Our focus is on offering visually engaging websites, social media profiles that convert, and branding that creates a powerful and lasting image.
thomas@thiswebdesign.co.uk
---