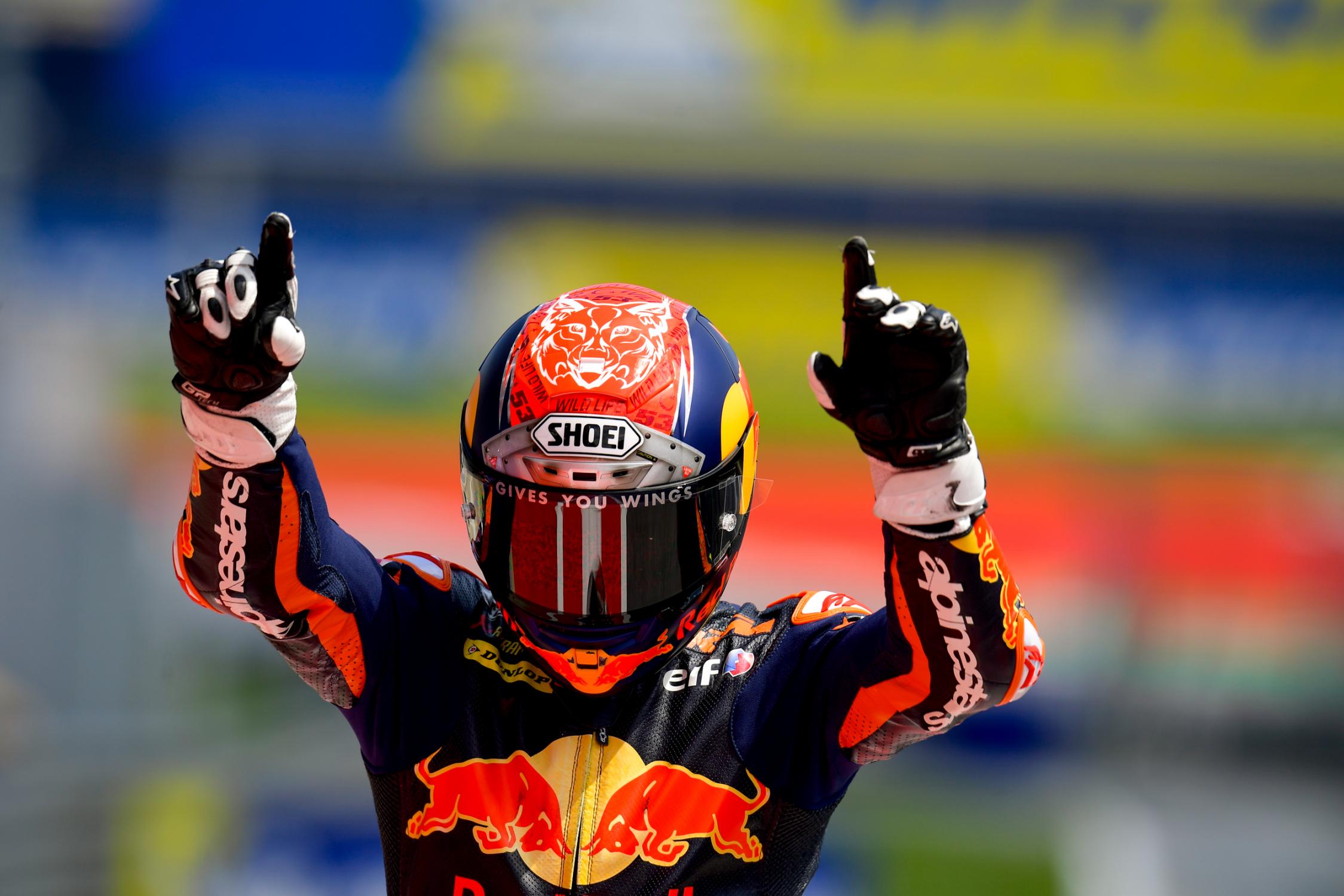 Deniz Oncu takes his first pole ahead of Sergio Garcia, as Pedro Acosta strongly qualifies in fifth.

Plenty of strong riders in Q1 attempting to get through to the Qualifying final. two minutes passed before anybody was on the track and with less than 13 minutes to go, the Honda Team Asia duo of Andi Farid Izdahar and Yuki Kunii crossed the line to start their laps as the rest of the field sat in their pit boxes. The need for a slipstream outweighed the need to get a banker lap in at the start of the session.

Alberto Surra's replacement David Salvador on-board the Rivacold Snipers Honda had done enough waiting and made his way out onto track alone with less than 10 minutes to go, but still the rest of the field waited. The Leopard Racing pairing of Dennis Foggia and Xavi Artigas set off out to track with seven minutes to go, and the rest followed suit.

The first of the 'big-hitters' to set a lap was the Japanese rider, Tatsuki Suzuki. He was using Gabri Rodrigo for a tow and it worked very well. Romano Fenati went second will a lap completed all on his own followed by Ryusei Yamanaka. Dennis Foggia had hold of the final Q2 spot with two minutes to go.

With a minute to go, Gabri Rodrigo went second and Xavi Artgas went fourth knocking Yamanaka out of the Top four Q2 positions, but these were all in a group along with Tatsuki Suzuki. They all started attacking each other into the final series of corners, tripped each other up, thus losing time. Dennis Foggia was latched on to the back of this scuffle and got himself into top spot to end Q1. Tatsuki Suzuki was second with Gabri Rodrigo holding onto third and Romano Fenati in fourth.

No hanging about in pitlane for Q2, as the majority of the field made their way onto track as soon as the pitlane light was out. The Petronas Sprinta pair of Darryn Binder and John McPhee stayed in pitlane for a further minute. Fastest man in FP3 Ayumu Sasaki had his second crash today at the beginning of Q2 as he had a spill at Turn three. He managed to cling onto his clutch and continue in the session.

Niccolo Antonelli set the benchmark lap but was displaced by Izan Guevara. Antonelli then had a crash on the exit of Turn 10. The rear moved and dumped the Italian onto the tarmac, with the bike giving him a whack for good measure as he slid across the grass. He looked a bit shaken but walked away unharmed. Pedro Acosta made moves with five minutes to go and went top. He knocked his fellow rookie off the top, beating Guevara's lap time by 0.033 seconds. Acosta was still pushing as a lull in proceedings ensued in the final four minutes of Q2.

Sergio Garcia was circulating alone and managed to pinch top spot with three minutes left. He was only 0.031 faster than the Red Bull Ajo KTM championship leader but that is the close nature of the Moto3 class. Garcia went slightly faster again with his following attempt. He then pushed even harder and crashed at Turn three. He had an off-throttle high-side on entry and hit the floor hard. He looked tender as he was gingerly escorted to the barriers by the marshals.

Deniz Oncu went top before the chequered flag and after the yellow flag following Sergio Garcia's crash and took pole position. His best qualifying result is eighth before today and he was clearly happy to take his first pole.

Sergio Garcia took second but might feel a bit second-hand tomorrow with Romano Fenati in third. Jeremy Alcoba snuck into fourth ahead of Pedro Acosta in fifth. Izan Guevara was sixth with the KTM of Jaume Masia in seventh. John McPhee ended the session in 12th so has lots of work to do in tomorrow's potentially wet race.
We are all set for tomorrow with a cracking race awaiting us tomorrow. Who wins? There's no calling it!
The Race is tomorrow at 11:00 GMT+2
Featured Image: MotoGP.com


Looking to update your website?
ThisWebDesign works with small and medium-sized companies from all over the globe. Our focus is on offering visually engaging websites, social media profiles that convert, and branding that creates a powerful and lasting image.
thomas@thiswebdesign.co.uk
---