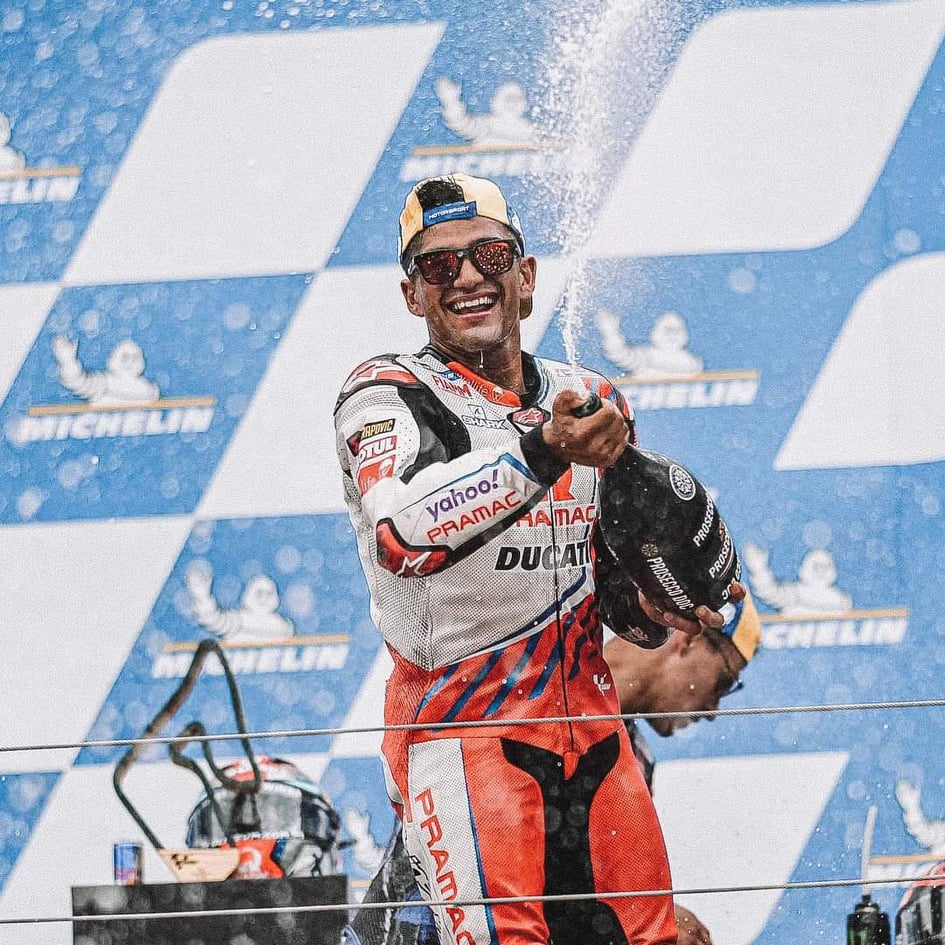 Jorge Martin manages to convert his pole position into his first ever Premier Class win in a re-flag affected race in Styria. He beat the reigning World Champion and the current championship leader to victory.

Dry conditions after the dismal weather forecast for the race at the Red Bull Ring in Austria. Jorge Martin lined up on pole from Pecco Bagnaia and Fabio Quartararo.

As the lights went out Jorge Martin got bogged down on the start seemingly having a couple of attempts to get his Ducati launched into Turn one. Pecco got a great start along with Joan Mir as the front three riders exited Turn one alongside each other. Marc Marquez looked aggressive off the start, came into Turn one and barged the Aprilia of Aleix Espargaro aside. He was in Fabio Quartararo's wheel tracks down the back straight and through Turns four and five, then stuffed it up the inside of the Yamaha at Turn seven.

Quartararo and Vinales squabbled over fifth. Mir made a mistake coming out of Turn four which allowed Marquez up the inside at Turn five. As they braked for Turn six, Mir and Marquez made contact and Quartararo went from sixth to third in a very aggressive series of manoeuvres. Marquez dropped to sixth.

As we got to lap three the race was red-flagged. Turn three was ablaze with fuel all over the track, with Lorenzo Savadori and Dani Pedrosa on the floor. Dani Pedrosa lost the rear at the exit of Turn three. As his stricken bike laid in the track, Savadori clobbered it – unsighted – and burst the fuel tank of the KTM. Pedrosa walked away unharmed but Savadori was stretchered off, and it later emerged he broke his ankle. Very lucky escape for both riders. Aleix Espargaro clearly looked a little bit animated after the red flag, waving his arms around at Marc Marquez, and the arm waving didn't stop when he returned to the garage. He was clearly very angry at the Repsol Honda rider's Turn one antics.

40 minutes later pitlane opened and a quick restart procedure was put in place. As they moved off on their warm-up lap, Maverick Vinales was left behind on the grid after a stall. He was wheeled off to pitlane. He had to start from the end of the exit of pitlane after a bit of confusion at the exit as a marshal stopped him and moved him behind the pitlane start line.

As the lights went out for "start two", Jorge Martin again had a wheelie off the line but this time the bike dug in and he got to the first turn in the lead. Jack Miller slotted into second after being nowhere on the first start with Mir in third. Pecco Bagnaia sat up Marc Marquez mid-corner and he again made contact with Aleix Espargaro who took the carpark route out of Turn one. Maverick Vinales set off when everybody had gone past.

Jack Miller took the lead out of Turn three, and Mir attempted to take second at Turn six. Jorge Martin closed the door on the reigning World Champion and remained in second. Marc Marquez ran wide at Turn one again in the following lap and dropped to 14th. The other Marquez, Alex, had a superb start and sat in sixth, just behind the second of the Pramac Ducatis, Johann Zarco.

Joan Mir took second into Turn one on Lap three but Martin got a good run on the exit and snatched the place back in Turn three. Martin looked racy and wanted to get himself away form the attacking riders behind. He swooped past Jack Miller through Turn two on Lap four to take the lead. Meanwhile behind, Fabio Quartararo went wide on the exit of Turn one, allowing Johann Zarco past, but amazingly the Yamaha rider managed to outbreak his fellow countryman into Turn three to retake fourth. Mir also took Miller into Turn 6 and followed Jorge Martin to try and break Miller, Quartararo and Johann Zarco.

Aleix Espargaro retired on Lap six with a mechanical problem as his weekend got worse. A bad weekend for Aprilia. Fabio Quartararo passed Jack Miller into Turn three on lap seven, but Miller used the power of the Ducati down the straight to repass him into Turn four. He ran a little wide on the exit and retook third from the Aussie. The two LCR Honda riders were having a good scrap in sixth and seventh. Alex Marquez and Takaaki Nakagami were swapping paint and positions on almost every corner.

With 19 laps remaining, Jorge Martin and Joan Mir broke clear of the pursuing riders. Mir looked very comfortable, closing the gaps in the corners, but the Ducati with the flyweight Jorge Martin on board was a rocket ship in a straight line so the gap was yoyoing, albeit not by much.

Pecco Bagnaia looked to be struggling after a really good race before the red flag and was languishing in 12th just behind Marc Marquez. The KTMs looked a little better than this weekend suggested with Brad Binder in ninth and Miguel Oliveira in 10th. Oliveira retired on lap 14 with a tyre issue. According to reports, the tyre had a piece missing, so its entirely understandable why the newly-wed Portuguese rider pitted.

With 15 laps to go Maverick Vinales' race went from bad to worse after he was given a long-lap penalty for exceeding track limits. The Spanish rider was having a miserable race at the back of the field.

Fabio Quartararo and Jack Miller were nailed together in third and fourth, with Miller the faster of the two. Jorge Martin was given a track limits warning with 11 laps left so had to tread carefully for the remaining laps. The lead two were four seconds clear of the chasing two.

With 10 laps left, Jack Miller was looking to make a move on Fabio Quartararo and was all over the back of the championship leader. But as he tipped into Turn seven, the Australian tucked the front and slid down the road. He stuck his elbow and knee into the floor to try and keep the bike upright but to no avail. He was clearly pushing and was very unfortunate to crash. He was absolutely devastated when he took his helmet off in the garage.

Back at the front Jorge Martin was controlling the race brilliantly. He opened the gap to over a second after Mir ran wide at Turn three with six laps to go. Brad Binder was having a sterling ride, pressuring Taka Nakagami and Johann Zarco in the closing laps. They were in quite a battle behind the very lonely Fabio Quartararo in third. As they moved into the final lap, Jorge Martin was 1.6seconds clear of Joan Mir in second. He held off the Suzuki and crossed the line for his first ever win in MotoGP. He looked like his old Moto3-self in the way he controlled the race from the front. Joan Mir came second just in front of Fabio Quartararo in third. An incredible battle for fourth on the last lap. Brad Binder managed to pass Johann Zarco and Takaaki Nakagami in two corners. He finished fourth in front of Takaaki Nakagami and Johann Zarco.

The second Suzuki of Alex Rins finished seventh with Marc Marquez in eighth. Pecco Bagnaia finished ninth but was handed a three-second penalty for exceeding track limits so was demoted to 11th. So, Alex Marquez was promoted to ninth and the wildcard Dani Pedrosa finished in the Top 10 after two and a half years away from racing. Valentino Rossi finished in 13th after his retirement announcement with his replacement team-mate Cal Crutchlow in 17th, just 40 seconds off the leader after not being on a bike since April.

A great race from the Pramac Ducati rider to get him off the mark with MotoGP race wins. Surely the first of many!
We return to the Red Bull Ring next week for the Austrian GP.
Featured Images: BT Sport MotoGP, Jorge Martin Almoguera.



Looking to update your website?
ThisWebDesign works with small and medium-sized companies from all over the globe. Our focus is on offering visually engaging websites, social media profiles that convert, and branding that creates a powerful and lasting image.
thomas@thiswebdesign.co.uk
---