MotoGP: Maverick Vinales is Suspended from the Austrian Grand Prix
Yamaha have decided to suspend Maverick Vinales for the Austrian Grand Prix due to an "Unexplained Irregular Operation" of the bike during the Styrian Grand Prix
Maverick Vinales made headlines earlier in the season just after the Dutch TT in Assen where it was announced he would be leaving Yamaha after the 2021 season despite having signed a two-year deal with the Factory in 2020 to ride for them in 2021 and 2022.
Yamah's decision followed an in-depth analysis of telemetry and data over the last days on his YZR-M1 Yamaha and the team came to the conclusion that the rider's actions could have potentially caused significant damage to the engine of his YZR-M1 Yamaha bike which could have caused serious risks to the rider himself and could have posed danger to the others riders on the circuit.
They have also said that decisions regarding the future races will be taken after a more detailed analysis of the situation and further discussions between the rider and team.
During his media de-brief on Sunday, Maverick reported that in the restart of the Styrian Grand Prix, the team changed his clutch and tyres and this change in clutch caused him to stall on the warm-up lap. Then during the race he didn't know why but when opening the throttle the bike would make stuttering sounds like "boh-boh-boh-boh". He thought he had some kind of problem but continued to stay out until the last laps where the problem occured more.
Despite all this, the team were giving Maverick pit lane messages to his dashboard during the race which Maverick ignored until he retired from the race on lap 27, he also thought it was still saying pit lane whilst being given a warning and long lap penalty, but he is unsure whether he just misread.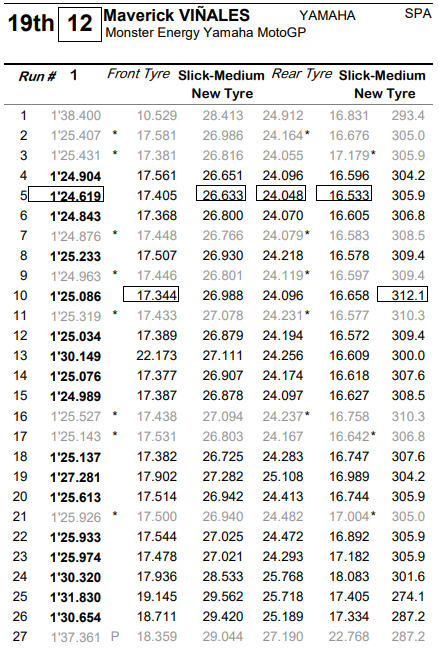 You can tell from looking at Maverick's lap times that he took his long lap penalty on lap 12, but then also began to lose pace on lap 19, meaning that he continued to stay out on the bike for nine laps which had a problem, his speed on the last laps had dropped by 14mh, so it make you scratch your head and question why he wouldn't retire to save the bike and not cause the other riders any danger.
Yamaha have released the following statement: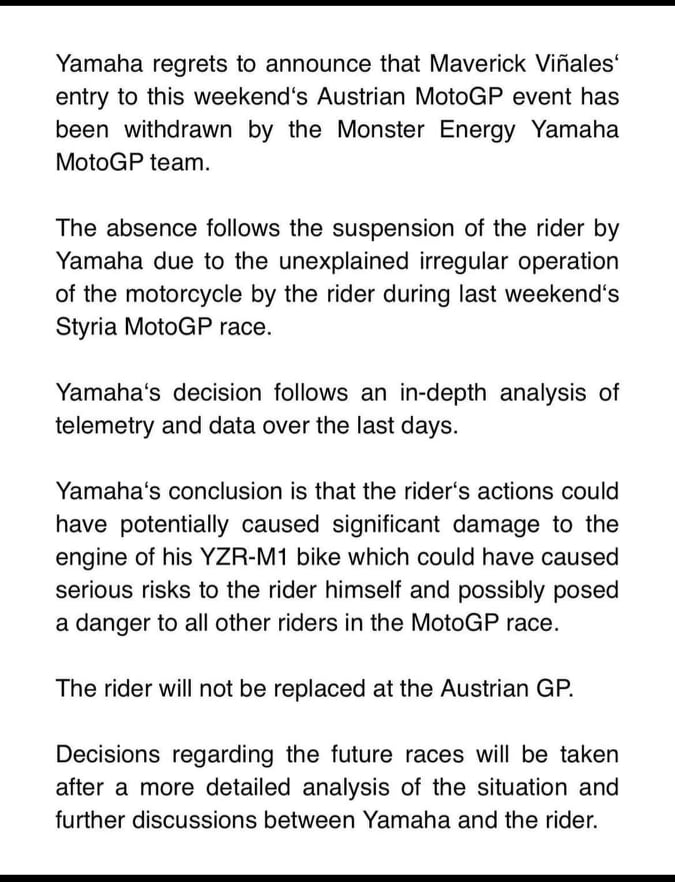 Featured Images: MotoGP.com.

Looking to update your website?
ThisWebDesign works with small and medium-sized companies from all over the globe. Our focus is on offering visually engaging websites, social media profiles that convert, and branding that creates a powerful and lasting image.
thomas@thiswebdesign.co.uk
---