BSB: Jason O'Halloran Wins Race One At Donington Park.
McAMS Yamaha's Jason O'Halloran Claims The First Victory Of Round Five At Donington Park.
The front row of the grid for Race One was headed by McAMS Yamaha's Jason O'Halloran, Peter Hickman in second and Honda's Glenn Irwin in third. The Leicestershire weather was a bit sketchy, the race was declared a dry race.
Jason O'Halloran led the pack of superbike riders into Redgate, Glenn Irwin took the lead at the Old Hair Pin. On lap two Jason got pushed back to fourth place, making way to Tarran Mackenzie and Christian Iddon. Iddon wasn't hanging around as he made a move on Irwin for first place at Roberts.
On lap five the Safety Car came out on track due to Joey Thompson crashing out at Coppice. Glenn Irwin was in the lead as the Safety Car pulled back into the pits. Iddon was in second place, with O'Halloran in third. SYNETIQ BMW's Andrew Irwin was having a sharp ride in sixth place, whilst his team-mate Danny Buchan was down in 12th place.
On lap 10 Jason made his move on Iddon for second place, Iddon was then pushed back to fourth place, O'Halloran and team-mate Mackenzie were having a duel for second place. On lap 13 O'Halloran made his move on Glenn after getting the better of his team-mate Mackenzie.
Mackenzie snatched second place from Glenn, so it was a McAMS one-two, Jason was easing a gap at the front by lap 15. Reigning champion Josh Brookes was down in 17th place, Rorry Skinner was down in 18th place after running off the track at Redgate.
Jason O'Halloran took his eighth win of the season, Glenn managed to pass Mackenzie at Roberts on the final lap to get second place, leaving Mackenzie having to settle for third, Iddon just managed to hang on to fourth place, Ryan Vickers finished a strong fifth. Brad Ray rounded out the top ten with his team-mate Kyle Ryde finishing in 11th place.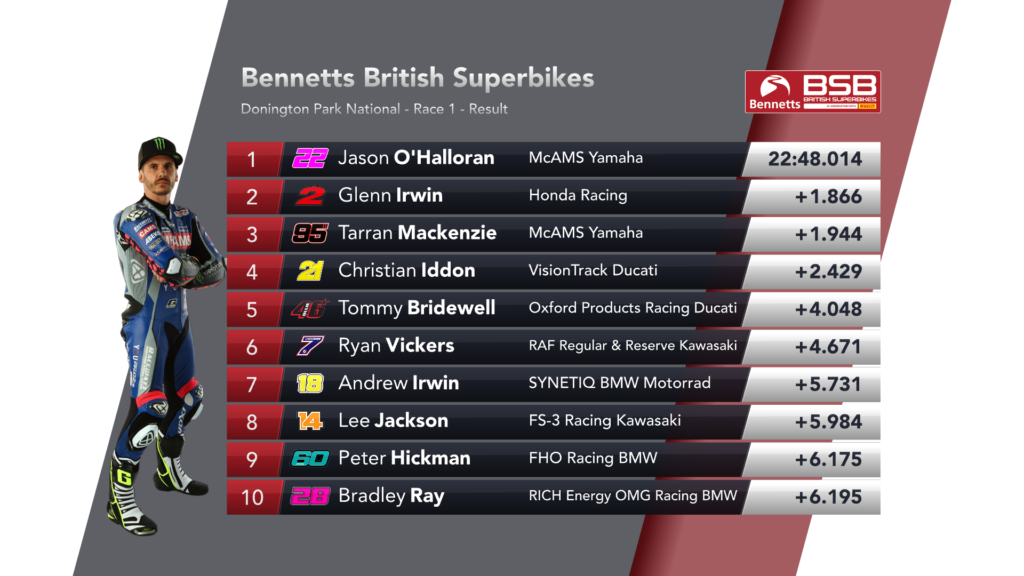 Jason now leads the championship by 54 points from Christian Iddon, Is there any one who can stop the O Show from dominating yet another round of the Bennetts British Superbike Championship?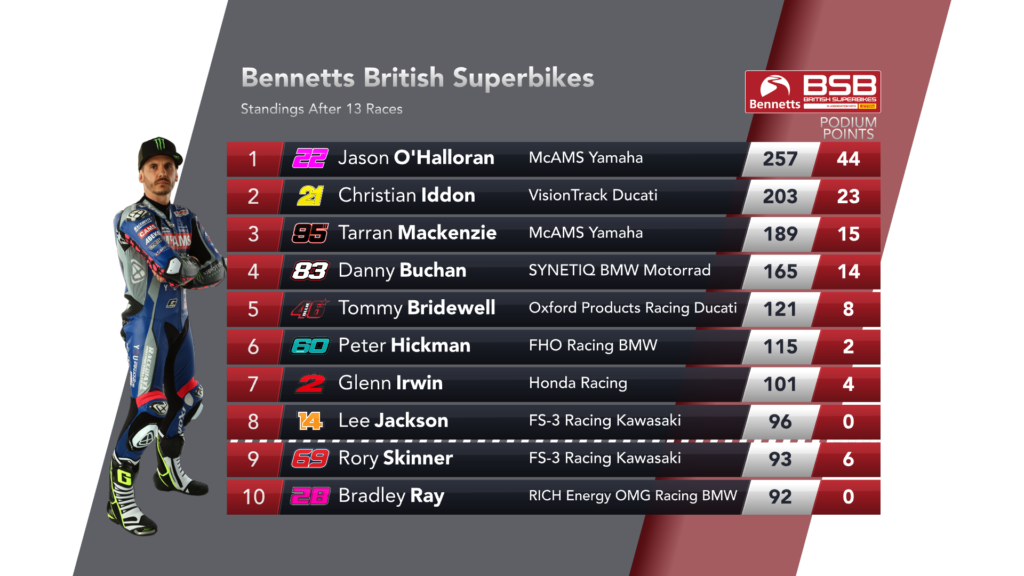 Featured Images: Bennetts British Superbikes, Yamaha Racing Team.

Looking to update your website?
ThisWebDesign works with small and medium-sized companies from all over the globe. Our focus is on offering visually engaging websites, social media profiles that convert, and branding that creates a powerful and lasting image.
thomas@thiswebdesign.co.uk
---