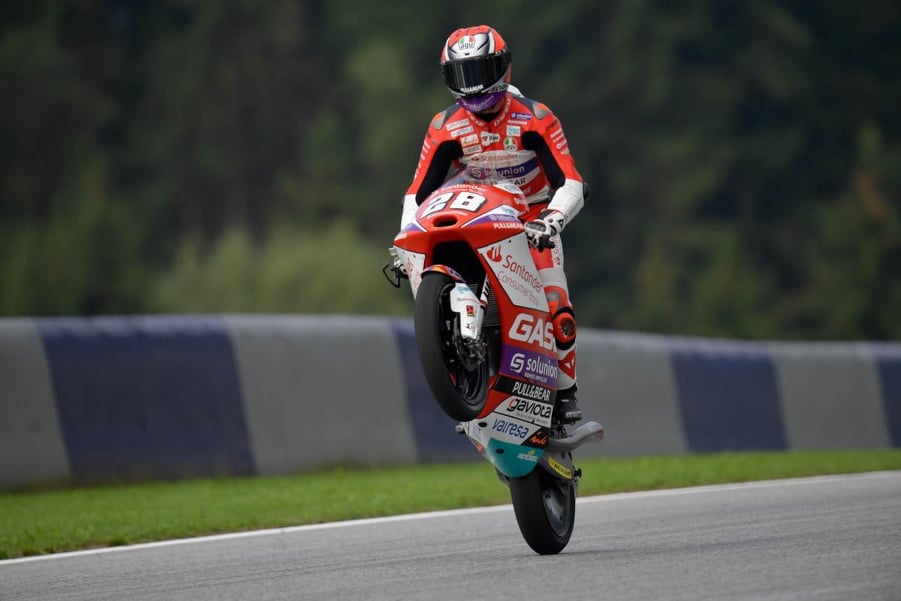 Izan Guevara tops the combined standings for the weekend with a very quick Deniz Oncu hot on his coat tails. Pedro Acosta just managed to get through to Q2 in 14th.

After a downpour yesterday, conditions looked good this morning in Spielberg, Austria.

The couple of things to report this weekend before the action of Saturday started were the missing Xavi Artigas and the disqualification of championship second place man Sergio Garcia. Xavi Artigas tested positive for Covid-19 on his PCR test so will not be allowed to race this weekend. Sergio Garcia was disqualified from FP2 and had a tyre removed from his allocation for using too many last week. He sat eighth in the combined standings going into today.

Darryn Binder was fastest after FP2, followed by Romano Fenati and Pedro Acosta. Rumours ringing around the paddock are that Darryn Binder could move up to MotoGP next year, so this one could be worth keeping an eye on.
It didn't take long for the FP3 session to have a bit of action. Ryusei Yamanaka and Gabriel Rodrigo had a collision at Turn three. Yamanaka ran very slightly wide, but Rodrigo just ploughed into the side of the CarXpert Prustel GP machine and they both went down on the exit. The incident was immediately being investigated by the stewards. There could be a penalty for the Argentinian.

Darryn Binder had a crash at Turn four just over ten minutes into the session. He caught a slipstream down the straight so his approach was a little faster going into Turn four. He looked to lose the rear in the middle phase of the braking and went down at speed. He got up unhurt, remounted and even gave a big thumbs up to the marshals as he made his way back to pitlane.

Filip Salac and Elia Bartolini had a bit of a spat in the middle of the session. Bartolini got in Salac's way into the final sector of the track and the arm waving and head-shaking carried on into the next lap. Pedro Acosta was the first of the "big-hitters" to look like he was going to improve his position. He started setting quick first sectors with new aero on the rear wheel of his KTM.

Ayumu Sasaki had an accident on the exit of Turn one while he was in a group of riders. He pushed the front as he exited the corner, which put him over the kerb. The bike then hopped sideways and dumped him over the top of the bike. Looked a little uncomfortable but rode the bike back to pitlane.

Deniz Oncu looked fast again after his pole position last weekend. He went top of the combined times with just under 20-minutes to go. He did his fair share of barging people out of the way, one of them being Pedro Acosta. Sergio Garcia went third after his FP2 disqualification, so he was back where he belonged quite quickly. Izan Guevara was looking impressive in fifth and seems to be learning his trade in Moto3.

With eight-minutes to go, the field made their way on onto the track. Acosta went out on his own to try and avoid the traffic. Sergio Garcia went out late and ended up coming out in the middle of the big group of riders. No quick laps were set for a good three-minutes as they all jostled for track position. Acosta went around on his own with Max Kofler in his wheel-tracks.

Izan Guevara went top with three-minutes left. Fenati went third briefly and was quickly displaced by Sergio Garcia but nobody really went any quicker on the first flyer once they had sorted themselves out. John McPhee went seventh and Jeremy Alcoba fifth as the next group crossed the line. Tatsuki Suzuki needed to improve quickly as he was sat in the Q1 positions in 15th.

With 10-seconds left, Gabriel Rodrigo went second after a couple of abrasive manouvers in the final couple of corners. He and Yamanaka collided again on the start-finish straight as they bashed handlebars. Rodrigo went wide and Yamanaka carried on.

As the session ended, nobody managed to top Izan Guevara but Deniz Oncu went second with Sergio Garcia in third. Gabriel Rodrigo was fourth, but after swapping paint with quite a few riders in the session you feel he probably won't stay there. John McPhee ended up fifth in front of his not-so-great mate in Jeremy Alcoba. Dennis Foggia managed to get a lap together to get to Q2 in seventh.

Tatsuki Suzuki managed to squeeze into 13th with championship leader Pedro Acosta taking the final Q2 place in 14th. Andrea Migno was the biggest disappointment in 15th so he has to go through Q1 later today.
Featured Image: MotoGP.com


Looking to update your website?
ThisWebDesign works with small and medium-sized companies from all over the globe. Our focus is on offering visually engaging websites, social media profiles that convert, and branding that creates a powerful and lasting image.
thomas@thiswebdesign.co.uk
---