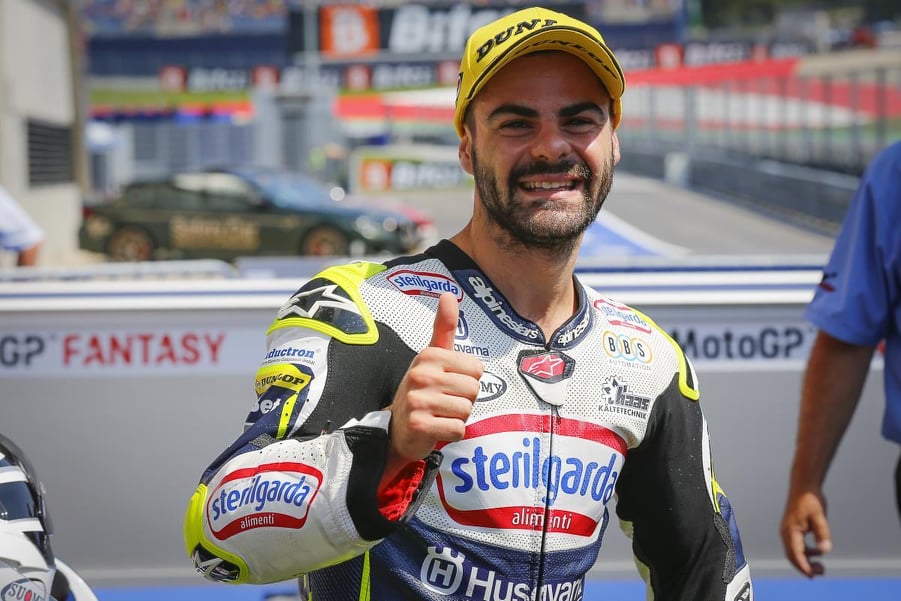 Romano Fenati takes pole in Austria after another action – packed session. Tatsuki Suzuki held onto second place after being wiped out by the very irresponsible riding of Gabriel Rodrigo.

A beautiful day in Austria for Moto3 Qualifying. Andrea Migno, Kaito Toba and Carlos Tatay were amongst the riders gunning for the top four positions to get through to Q2.

SIC58 Squadra Corse youngster, Lorenzo Fellon set the early quick lap, going top from Carlos Tatay and Andi Farid Izdahar. Rivacold Snipers replacement rider David Salvador went second and was followed over the lien by Carlos Tatay who went top.

Andrea Migno was given a message from his team on the dashboard. He was sat in P5 with six-minutes to go and not in the positions to be promoted to Q2. He put the hammer down and set a good time to get into third but five-minutes still remained of Q1. He pushed harder but ended up dragging Kaito Toba and Stefano Nepa into the Top four, and was knocked back to fifth.

Adrian Fernandez had a Crash at Turn one. The rear stepped out as he applied the throttle and was flicked over the high-side. He was a little beaten up by the bike but remounted. He was lucky not to be collected by the other riders. Andrea Migno on his last flyer ran a little wide at Turn three but was dragging Stefano Nepa and Riccardo Rossi around. Riccardo Rossi went top as the chequered flag came out. He was followed by Carlos Tatay, Stefano Nepa and Kaito Toba. They went through to Q2.

As we moved into Q2 riders were queuing at the end of pitlane to get out onto the track. Darryn Binder went out late with Dennis Foggia. Pedro Acosta and Jaume Masia both returned to the pitlane after their out lap.

As the first quick laps came in, Tatsuki Suzuki went top from Gabriel Rodrigo. Rodrigo was handed a pitlane start penalty for his dangerous riding with Ryusei Yamanaka in FP3. His QP session wasn't without drama. He's made another very silly mistake, diving up the inside of Tatsuki Suzuki at Turn nine when it wasn't even close to being on. He collided with the rear end of Suzuki at around 70mph which took them both down. Suzuki was very luck to get out of it unhurt, although he did have to go to the medical centre for a check-up.

Deniz Oncu had a moment out of Turn 11 and recovered but clearly wasn't happy with somebody or something. He was sat in fourth. Pedro Acosta went second with five-minutes to go. Masia was up to fourth. Sergio Garcia was down in 18th with three-minutes to go so was clearly struggling to get a lap together. Romano Fenati went top all on his own. He is proving he can set a very quick lap time on his own, without a tow almost every week.

Darryn Binder was sat in 18th, started his final lap and ran wide onto the green paint so his final lap was cancelled. He was also starting from pitlane for dawdling in FP3 so a bad qualifying wasn't the end of the world. At the end of the session, the top two didn't change. Romano Fenati was on pole for the Austrian Moto3 Grand Prix tomorrow followed by a very lucky Tatsuki Suzuki. Jeremy Alcoba popped up from nowhere to get onto the front row in third at the last gasp.

An all KTM second row with Jaume Masia, Deniz Oncu and Ayumu Sasaki occupying the positions respectively.

The sensational Pedro Acosta starts seventh from Dennis Foggia, Stefano Nepa and Izan Guevara. Gabri Rodrigo qualified eighth but was deleted from the timesheets because he is starting from pitlane as it stands. He could well be handed a stiffer penalty after his qualifying antics. Sergio Garcia is 13th ahead of John McPhee in 14th.

Tomorrow's race is set to be a good one with the potential of a big lead group, which always leads to great racing. Tomorrow's race is at 11:00 GMT+2
Featured Image: MotoGP.com



Looking to update your website?
ThisWebDesign works with small and medium-sized companies from all over the globe. Our focus is on offering visually engaging websites, social media profiles that convert, and branding that creates a powerful and lasting image.
thomas@thiswebdesign.co.uk
---