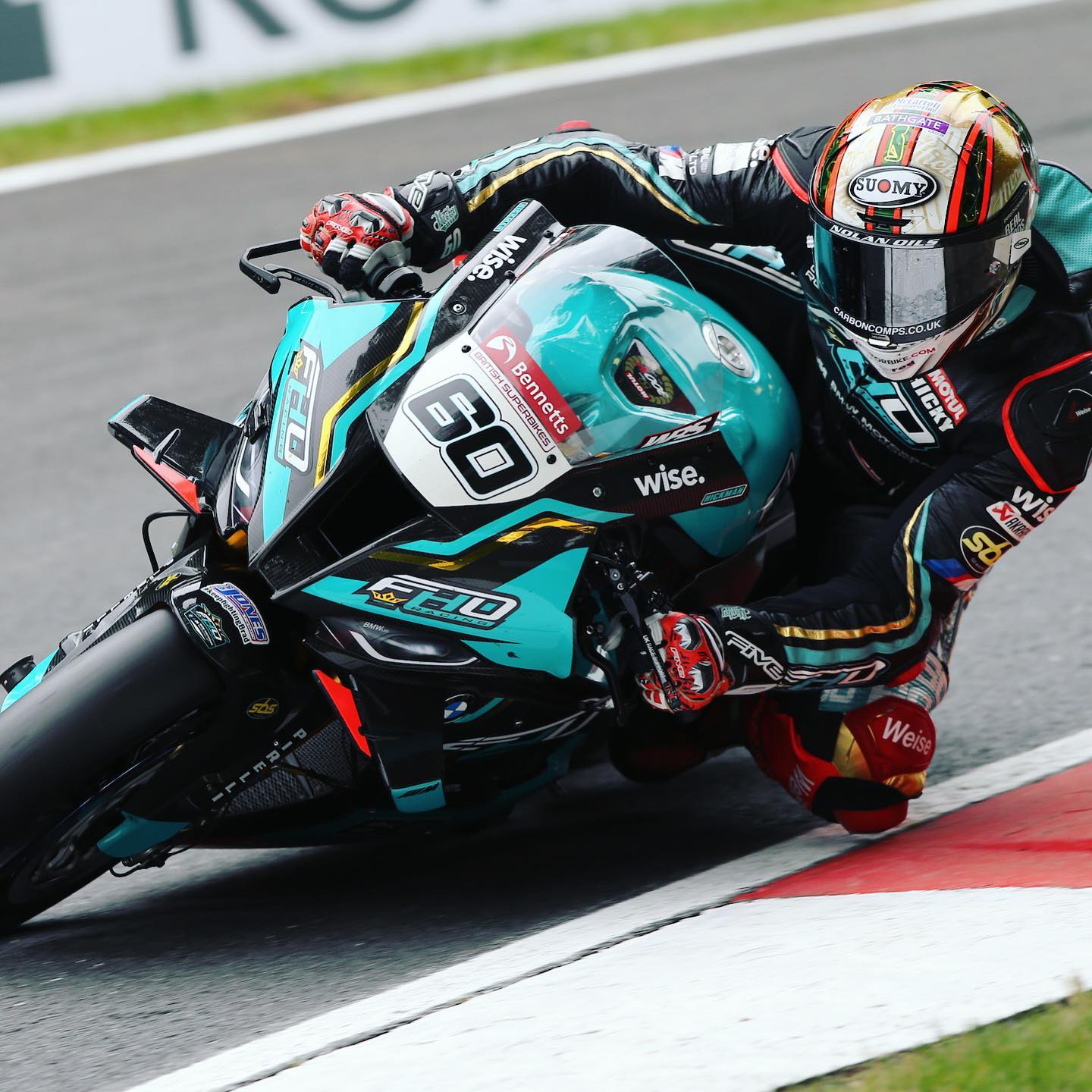 BSB: Peter Hickman Wins The Opening Race at Cadwell Park
Peter Hickman Took the first victory of the weekend at the Lincolnshire Circuit
It was very overcast conditions on the grid and the riders and teams were looking up to the sky in hopes that the predicted rain would not fall during the race after the multiple mixed weather races they've had this season.
It was who Glenn Irwin took the holeshot into turn one with Jason O'Halloran behind in second place, Peter Hickman was third with Andrew Irwin right behind in fourth and Lee Jackson in fifth.
At the end of lap one Glenn maintained his first place and extended his gap to over half a second over the championship leader and looked to try and get away from the chasing pack behind him. It was a five man train from second to sixth with sixth place man Tommy Bridewell being the fastest on track.
Christian Iddon after his poor qualifying had managed to get into seventh place after three laps with Ryan Vickers after his crash in qualifying behind in eighth. Tarran Mackenzie was still struggling as he was behind the Kawasaki of Storm Stacey in 12th. Gino Rea was running inside the top ten, but unfortunately crashed out of the race on lap 4 at the mountain.
Peter Hickman had made his way passed O'Halloran on lap four and set the fastest lap of the race as well as a new lap record, he was making his way towards Glenn Iwrin as he looked to get the BMW M1000RR's first victory of the season.
By lap seven Hickman was right on the back of the Honda and was looking for a way passed and Irwin made a mistake at the end of the Hall Bends and Hickman took advantage to take the lead of the race at the halfway stage of the race. O'Halloran was then putting pressure on Irwin for second place as Hickman started to make his way forward.
On lap eight Tarran Mackenzie was in tenth place holding off Josh Brookes, but then had a huge high-side into Barn corner having touched the grass. His team-mate Jason meanwhile had managed to make his way through on Irwin as he looked to take his ninth win of the season.
Glenn Irwin was starting to fall back as he seemed to be suffering from his injured shoulder which he dislocated in Race Two at Donington Park last Sunday. Lee Jackson pulled off a great move on Andrew Irwin into Charlies One, but then Irwin took him back and then Bridewell then overtook Lee into Park.
Glenn was holding off a five man train as Tommy Bridewell made his way passed Irwin into Coppice as he saw his chance of a podium come to light. Christian Iddon made an aggressive move on Lee Jackson in the same place as Bridewell on the previous lap as Christian could also sense a podium place.
Tommy Bridewell passed Glenn just as he did to Andrew into turn one on the penultimate lap of the race with Iddon also taking Andrew Irwin at Coppice also.
Peter Hickman started the final lap of the race in first place with a 1.8 second lead over O'Halloran in second with Tommy Bridewell in third. Irwin was fourth with Iddon right on his tail.
Peter Hickman took his first victory of the season, his first since Thurxton Race Two in 2017! It was also FHO BMW's first Superbike class win as well as the first victory for the BMW M1000RR. Jason O'Halloran came home in second securing three more crucial podium credits and Tommy Bridewell finishing in third.
Glenn Irwin held off Christian Iddon for fourth place with local boy Lee Jackson in sixth, Andrew Irwin finished in seventh, Ryan Vickers finished in eighth a great result after his crash in qualifying, Rory Skinner finished in ninth and champion Josh Brookes rounding out the top ten. Storm Stacey finished in 11th ahead of Dan Linfoot in 12th, Bradley Ray in 13th he'll be looking to find something in morning warm-up tomorrow after his podium at Donington last weekend. Xavi Fores finished in 14th and Tim Neave taking the final points finish in his debut race.
So with Hickman's victory, it means that no-one will be able to win the cash prize in the Milwuakee Tool Summer Grand Slam.
Featured Image: FHO Racing, Eurosport

Looking to update your website?
ThisWebDesign works with small and medium-sized companies from all over the globe. Our focus is on offering visually engaging websites, social media profiles that convert, and branding that creates a powerful and lasting image.
thomas@thiswebdesign.co.uk
---