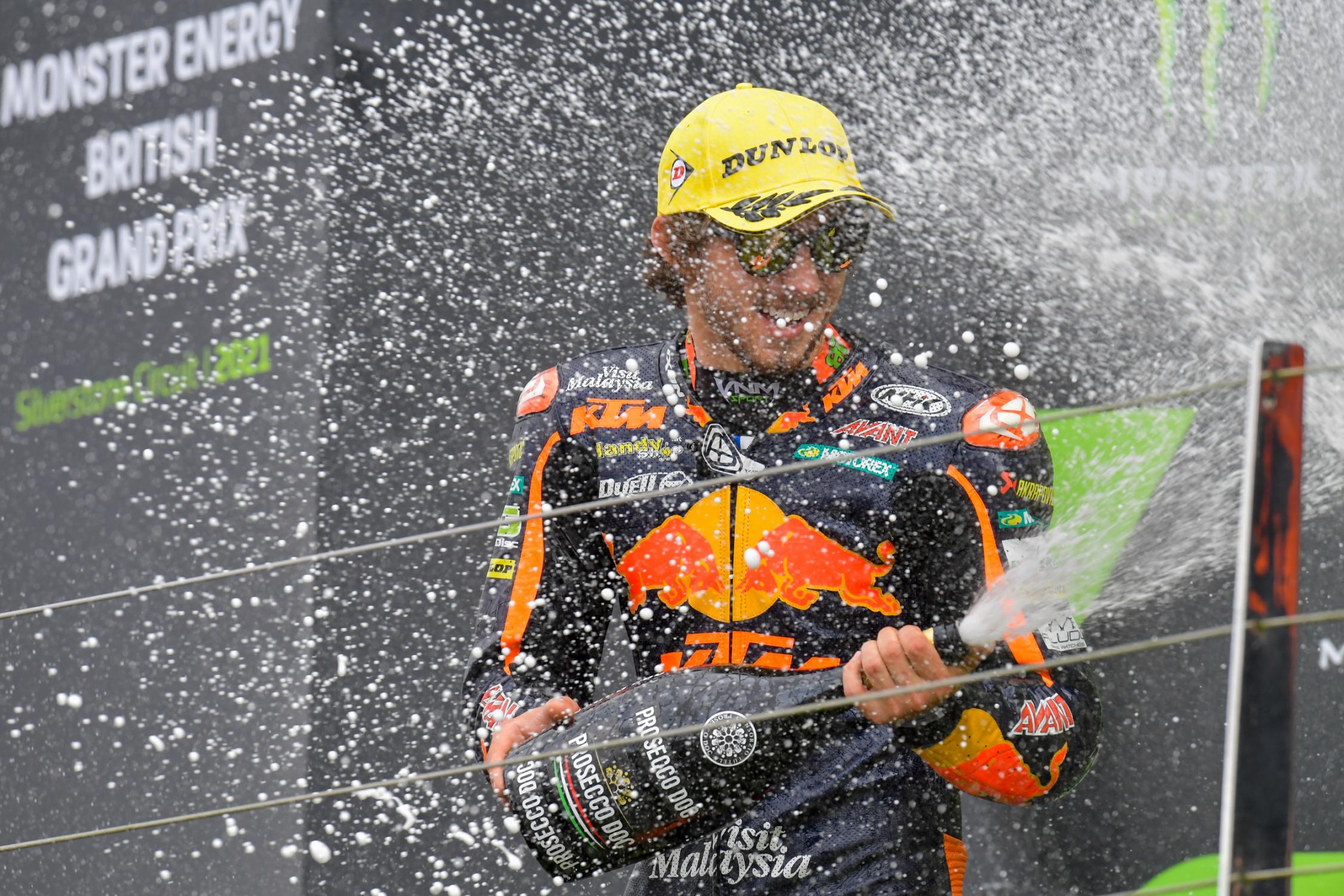 Moto 2: Remy Gardner Holds Off Marco Bezzecchi to Win the British Grand Prix
It was a brilliantly executed race by championship leader Remy Gardner as he now extends his championship lead to 44 points after Raul Fernandez's crash
It was cloudy cold conditions at Silverstone as they lined up to the grid, all the front runners had gone for the hard rear tyre except for poleman Marco Bezzecchi and after late race his grip woes this season, would it be a repeat result?
Marco Bezzecchi took the holeshot into turn one, Lowes entered second into Maggots then the lead around the outside at Becketts, Bezzecchi tried to get the place back into Stowe but ran wide and Sam retook the lead. Jorge Navarro was third, Raul Fernandez and Rey Gardner rounded out the top five with Fabio Di Giannantonio in sixth.
Sam ended lap one in first place, Remy Gardner made a pass on his team-mate Raul into Copse to go into fourth position and then into third at Stowe with Di Giannantonio replicating the move on Raul Fernandez to get into fifth. Bezzecchi lined up Lowes and took the lead back into Brooklands and led onto the lap three.
On lap four at the loop, Remy Gardner was able to get into second place going up the inside of Lowes as the championship leader set his sights at a fourth victory of the season. Then on lap five into Village Gardner took the lead from Bezzecchi, but Bezzecchi was determined to stay in-front as he tried a move into Brookland but Gardner held him off.
Lap five and Remy Gardner was leading, but Bezzecchi took the lead back at Stowe just able to out-brake the Australian and force him run a bit wide. Then out of the loop, Bezzecchi had a moment were the front started to lose grip then the rear come around and Gardner almost went into the back of him, but Gardner was able to get back in-front.
The British Grand Prix was not looking great for Raul Fernandez as he had dropped off the back of the top five and was then down to seventh at the loop when Augusto Fernandez was able to overtake him and with 11 laps to go, it was looking like the advantage he made at Austria was about to be reversed in Britain.
On lap nine Bezzecchi overtook Gardner again into Stowe, Bezzecchi was determined to stay in-front and control the pace. Jorge Navarro made his way into fourth at Abbey as he was able to go up the inside of Fabio Di Giannantonio.
On lap 11 Remy made a move at Village but Bezzecchi was able to accelerate out of the hairpin and retake the lead as Lowes remained behind with Navarro starting to close in on the Brit. On lap 12 Remy tried again and was successful this time and held the lead from the Italian as Bezzecchi's soft tyre choice would now be tested with six laps to go. Also Jorge Navarro had set the fastest lap of the race and was looking for his first podium of the season.
On lap fifteen Navarro passed Lowes for third place, but then Raul Fernandez crashed out of the race at Farm hitting the kerb and it could be a big factor in the championship. With three laps to go it was all the play for between Gardner and Bezzecchi, also there was a battle for fifth place between Fabio Di Giannantonio and Augusto Fernandez.
On the final lap Gardner was holding off Bezzecchi with Navarro secure in third and Lowes in fourth with Fernandez and Di Giannantonio fighting for fifth.
Remy Gardner crossed the line to win the British Grand Prix ahead of Marco Bezzecchi in second with Jorge Navarro taking his first podium finish of the season. Home hero Sam Lowes finished in fourth and not able to get the desired podium with Fabio Di Gianntonio taking fifth place ahead of Augusto Fernandez.
Aron Canet took a quiet seventh place with Xavi Vierge in eighth, Ai Ogura in ninth and Joe Roberts returning to the top ten in tenth place. Tom Luthi in his final British Grand Prix finished in 11th, Celestino Vietti was 12th with Marcel Schrotter in 13th. Nicolo Bulega was 14th and Bo Bendseyder took the last point in 15th.
Remy Gardner now has 231 points with a 44 point lead over team-mate Raul Fernandez in second with 187 points, Bezzecchi is third with 179 and Sam Lowes on 127 points and Aron Canet is tied with Augusto Fernandez for fifth place on 92 points.
Featured Images: MotoGP.com

Looking to update your website?
ThisWebDesign works with small and medium-sized companies from all over the globe. Our focus is on offering visually engaging websites, social media profiles that convert, and branding that creates a powerful and lasting image.
thomas@thiswebdesign.co.uk
---