BSB: Tarran Mackenzie Wins Race Three At Snetterton.
Tarran Mackenzie Takes the Final Victory Of The Weekend At Snetterton.
The grid line-up for the final Race of the weekend was Tarran Mackenzie on Pole Position, Rory Skinner in second place and Tommy Bridewell in third, Race Two winner Jason O'Halloran was in fourth place. It was perfect weather conditions for the final race of the weekend.
FHO Racing BMW's Peter Hickman stalled his BMW machinery as the race was about to start, so the race was slightly delayed and Peter Hickman had to start the race from the back of the grid. The race was reduced to 15 laps.
It was Tarran Mackenzie who led the pack of 25 riders into Riches Corner, Buildbase Suzuki's Gino Rea had a lightening start again and got into second place. Jason O'Halloran took first place from his team-mate Mackenzie at Brundle, on the second lap Tommy Bridewell made a pass on Mackenzie to claim second place. Rory Skinner had a massive moment on the start straight, how he stayed on and saved it was a miracle.
Josh Brookes was down in 14th place after being caught up in Rory Skinner's incident, Iddon was having a better race in sixth place. The leading duo of O'Halloran and Bridewell were pulling away from third placed man Mackenzie, Bridewell took the lead on lap five from O'Halloran. Tarran was yet again having a tussle with his team-mate for second place.
Danny Buchan had caught the leading trio in fourth place, closely followed by Gino Rea in fifth place. By lap eight Brookes was the fastest man on track whilst he was down in 12th place. There was a four-way battle for sixth place from Iddon to Ryan Vickers in ninth place.
Danny Buchan crashed out at Brundle due to his bike having a mechanical and spraying fluid on the BMW's rider's tyre, which also left fluid on the track causing Lee Jackson and Andrew Irwin to crash, the race was red Flagged.
The race re-started in the positions they were in on Lap eight, it was a five-lap Sprint Race. Both Danny Buchan and Lee Jackson were unable to make it back out for the re-start.
Mackenzie got the holeshot, O'Halloran was in second place, Bridewell was in third. Bridewell took second place from O'Halloran towards the end of lap one, Gino was catching the front trio in fourth place. Bridewell took first position from Mackenzie on the Bentley Straight. Peter Hickman was in sixth place and was on the move putting the fastest lap in. Mackenzie re-took the lead with one Lap to go.
Mackenzie took his second victory of the weekend, Bridewell was second, O'Halloran was third, Rea fourth and Iddon finished in fifth place, Brookes was sixth, Kyle Ryde finished in a well deserved tenth place.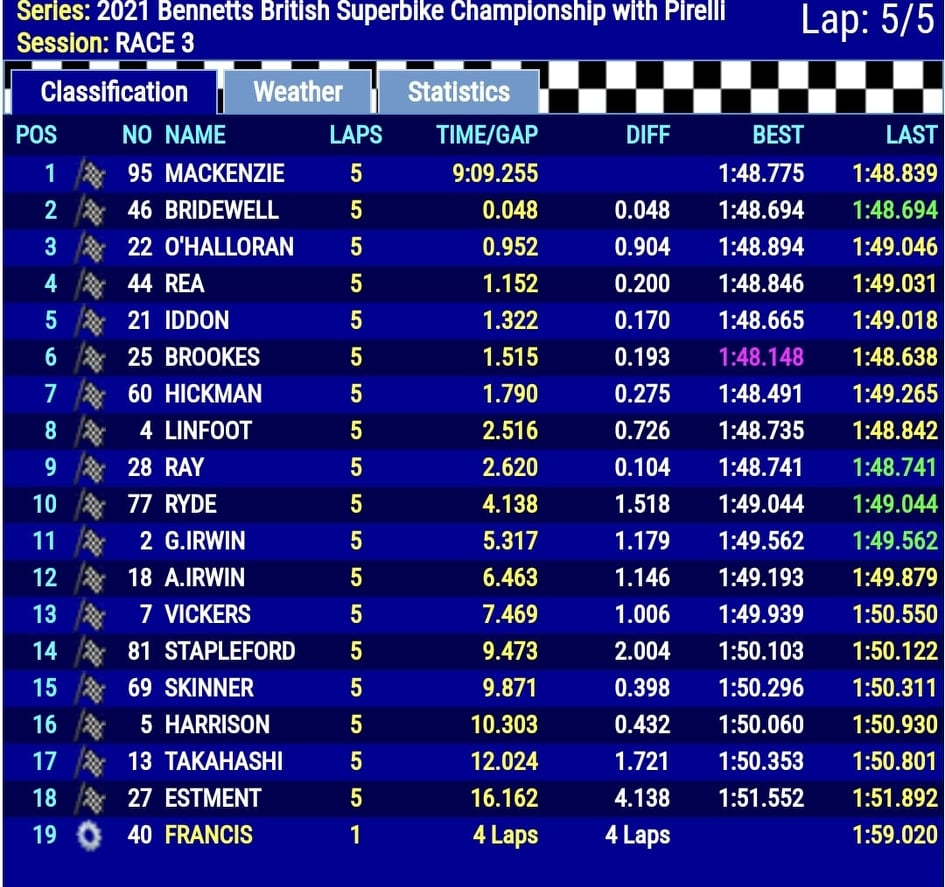 McAMS Yamaha's Tarran Mackenzie won the Race Of Aces Title, he is now confirmed for the Showdown too, along with Ducati's Tommy Bridewell and Christian Iddon.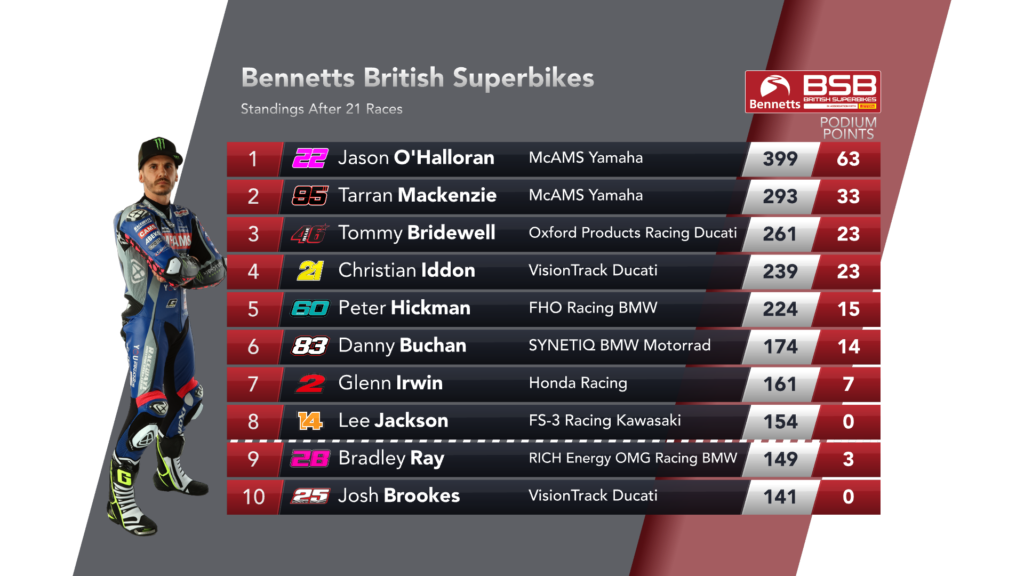 The Bennetts British Superbikes head to Silverstone for Round Eight of the championship next weekend 10/11/12 September.
Featured Images: Bennetts British Superbikes, McAMS Yamaha Racing Team.

Looking to update your website?
ThisWebDesign works with small and medium-sized companies from all over the globe. Our focus is on offering visually engaging websites, social media profiles that convert, and branding that creates a powerful and lasting image.
thomas@thiswebdesign.co.uk
---