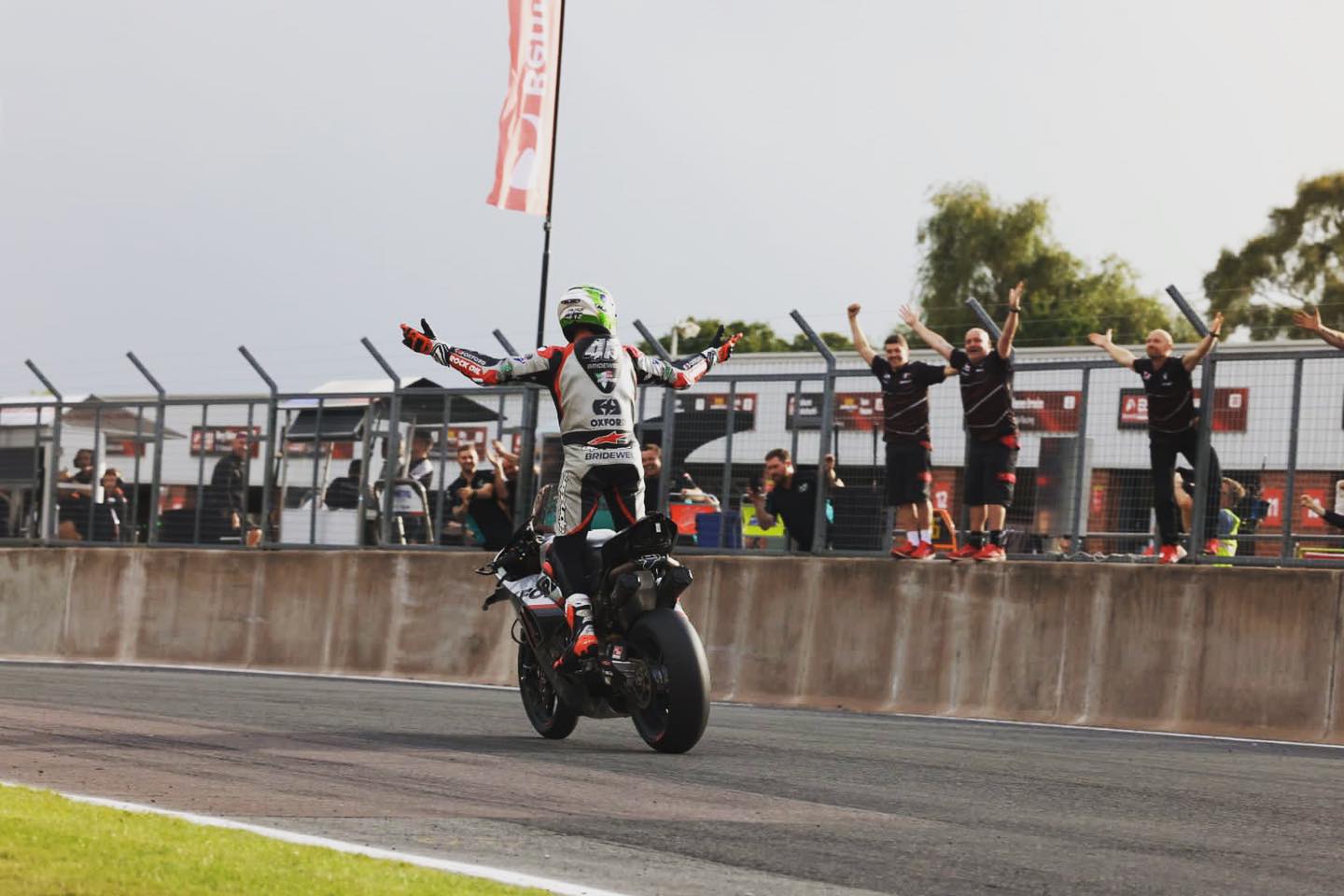 BSB: Tommy Bridewell Delivers A Master Class Win In Race Three At Oulton Park.
Tommy Bridewell Takes The Race Three Win At Oulton Park, As Championship Leader Jason O'Halloran Crashes Out.
It's all to play for in Race Three, Oulton Park has given us two thrilling races so far this weekend, would we see another different race winner on the top step of the podium? Ducati's Tommy Hill was on Pole Position with Honda's Glenn Irwin in second place and Ducati's Josh Brookes in third.
As the lights went out Tommy Bridewell was first into Old Hall Bend, Josh Brookes was second, BMW's Danny Buchan got up to third, Jason O'Halloran was down in ninth. Brooks and Buchan were dicing for second place which enabled Tommy to get a good two second gap at the front of the field.
Bridewell was flying, he set the fastest lap of the weekend on lap two. Showdown contender Tarran Mackenzie was in fourth place, Christian Iddon was in sixth place, Glenn Irwin was in seventh, Peter Hickman was down in 11th place.
By lap seven there was a six way train for second place from Brookes to BMW's Brad Ray. Jason O'Halloran was still lower down the field battling for eighth place with Glenn Irwin.
At the half-way point of the race the gap from Tommy to second place man Brookes was 6.7s. On lap 11 clouds were filling the Cheshire sky, just what the Wiltshire rider Bridewell didn't need, a rain flag was shown at Clay Hill. O'Halloran crashed out at Cascades on lap 12, the Australian will be glad to put this round nine behind him.
Brookes, Mackenzie and Lee Jackson were fighting for second place, Lee Jackson took third place from Mackenzie. Iddon went off track at Lodge Corner out of fourth place after battling with Mackenzie for the fourth place spot.
Mackenzie and Jackson bashed fairings at Old Hall Bend on lap 17, as a result Jackson crashed out, the Lincolnshire rider was furious! The Incident was under investigation by race control, which resulted in a long lap penalty for Mackenzie, which would put him back to fifth place.
Bridewell crossed the finish line with a 5.9s gap, what a ride from Tommy Bridewell! He earned the title Rock Oil rider of the day. Josh Brookes hung onto second, Brad Ray finished in third place, Hickman finished in fourth, Mackenzie finished in fifth. Iddon managed to get an 11th place finish after his off track excursion.
We now have a new leader in the Championship standings, Tarran Mackenzie leads just two points from his team-mate O'Halloran, Bridewell is in third place just nine points adrift from Mackenzie. It's fair to say the 2021 Bennetts British Superbike is now wide-open as we head to Donington Park GP Circuit for Round Ten of the championship.
Featured Image: Bennetts British Superbikes, Oxford Products Ducati, Moto Rapido Racing.

Looking to update your website?
ThisWebDesign works with small and medium-sized companies from all over the globe. Our focus is on offering visually engaging websites, social media profiles that convert, and branding that creates a powerful and lasting image.
thomas@thiswebdesign.co.uk
---