BSB: Danny Buchan Leads The Way In Free Practice One At The Penultimate Round Of The Bennetts British Superbike Championship.
Danny Buchan Tops The Time Sheet In Free Pracice One At Donington Park.
Round Ten Of The Bennetts British Superbikes is at the Iconic circuit of Donington Park. Going into the penultimate round of the Championship, we have a new championship leader McAMS Yamaha's Tarran Mackenzie. Joe Francis is debuting for FHO Racing BMW for round ten. TAG Racing Honda and Dan Linfoot have parted ways and won't be participating at Donington Park. Buildbase Suzuki have a new rider Naomichi Uramoto aboard their GSXR 1000 for round ten.
The first Free Practice Session of the day was under cloudy, drying conditions. In the first few minutes of the session it was FS-3 Racing's Lee Jackson leading the way followed by Danny Buchan and Suzuki's Gino Rea. Not all of the Superbike riders were out on track, the conditions weren't ideal at the Leicestershire circuit. There was a drying line forming after the morning rain.
Fifteen minutes into the session SYNETIQ BMW's Danny Buchan was leading from Rea and Jackson. Josh Brookes was in fourth place, team-mate Christian Iddon was in eighth place. McAMS duo Tarran Mackenzie and Jason O'Halloran were late coming out on track.
Kawasaki's Ryan Vickers crashed at Turn seven with 22 minutes remaining in the session. Oxford Products Racing Ducati's Tommy Bridewell was down the order due to not coming out of the pits until late on in the session.
Mackenzie topped the session with fifteen minutes remaining in the session, BMW's Andrew Irwin was in second place, Iddon was in third place. O'Halloran was down in 12th place, Tommy Bridewell was still down in 27th place having only completed three laps of the session.
FHO Racing's Peter Hickman crashed at Goddards with seven minutes remaining in the session, Hickman was in tenth place when he crashed. Bridewell was on the move in eighth place, Honda's Glenn Irwin was up-to third place. O'Halloran was the last placed Showdown contender down in 13th place.
Lee Jackson topped the session with three minutes to go, Rea put a flying lap in and took the top spot, that was short lived as Danny Buchan went first. Bridewell was up-to fourth place just in front of Mackenzie in fifth.
At the checkered flag it was Danny Buchan who topped the session, Jackson in second place, Rea in third, Bradley Ray in fourth place and Bridewell in fifth. O'Halloran finished in seventh place, Brookes in eighth place, team-mate Iddon finished in 11th place, Hickman finished in 13th place.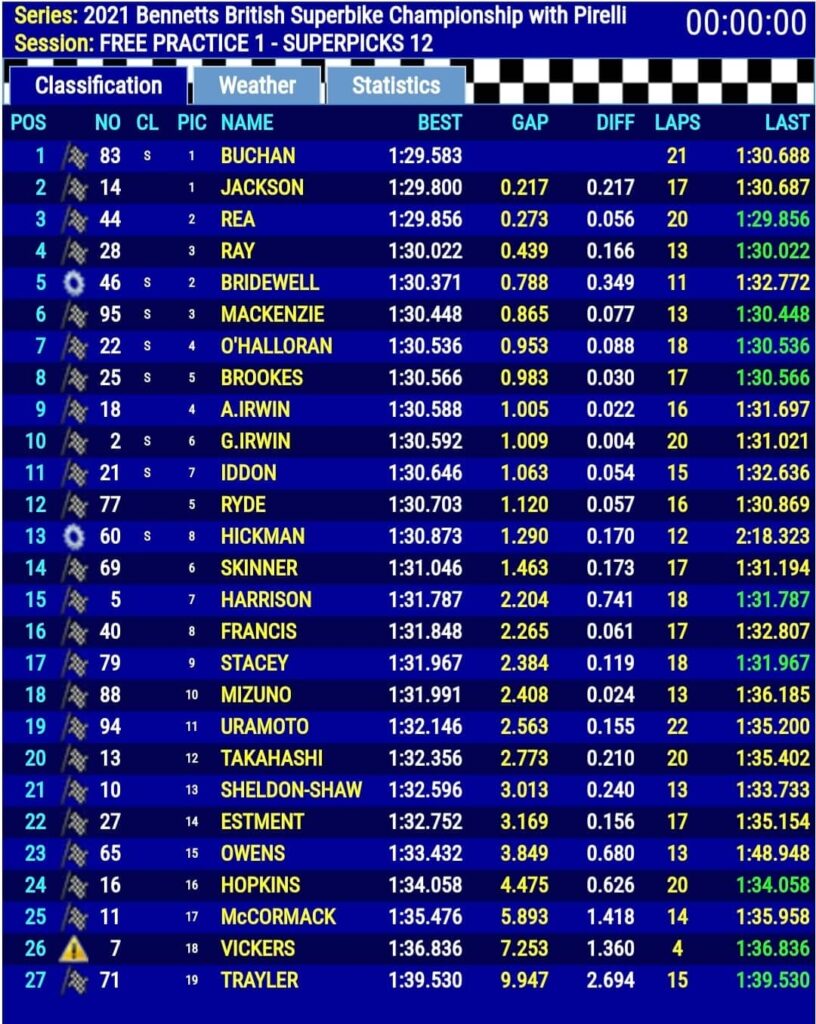 Free Practice Session Two is later this afternoon at 15:45, will Danny Buchan hold on to the number one spot?
Featured Images: Bennetts British Superbikes, Jade Goodison Photography.

Looking to update your website?
ThisWebDesign works with small and medium-sized companies from all over the globe. Our focus is on offering visually engaging websites, social media profiles that convert, and branding that creates a powerful and lasting image.
thomas@thiswebdesign.co.uk
---