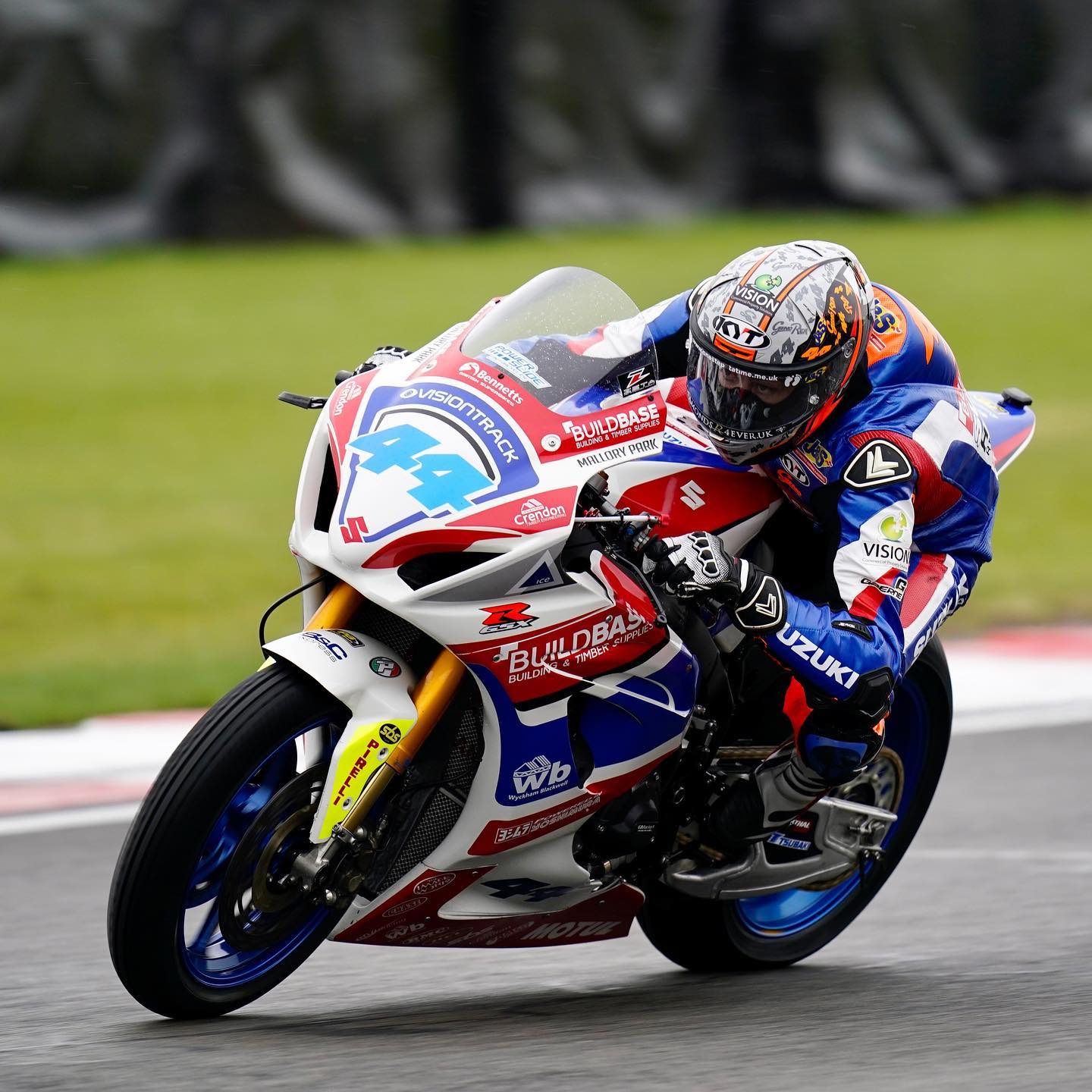 BSB: Gino Rea Wins a Tricky Race One At Donington Park.
Gino Rea coverts A Pole Position into A First Race Win.
Builbase Suzuki's Gino Rea was on Pole Position for Race One with Danny Buchan in second place and Honda's Glenn Irwin in third place. The race was declared a wet race. FS-3 Racing Kawasaki's Rory Skinner crashed during the sighting lap, he had to start the race from the back of the grid. Race One was set to be a race of attrition!
Gino Rea led the tentative pack of Superbike riders into Redgate, all the riders were very cautious around the first few corners. Storm Stacey was up-to seventh place, Danny Buchan took the lead at the Melbourne Loop. Glenn Irwin took third place from Josh Brookes at Goddards.
By the third lap the leading duo were getting away from the rest of the pack. Buchan ran wide at Redgate giving Gino the lead again. Peter Hickman and Glenn Irwin both crashed on lap three. Christian iddon was on the move in eighth place.
Tarran Mackenzie and Jason O'Halloran were dicing with one another for ninth place, Tommy Bridewell was in fourth place. Disaster for Danny Buchan on lap four, he crashed out at the Melbourne Loop. Brookes ran off track at Schwantz and crashed out on lap six, Bridewell then crashed out at Coppice on the same lap.
Gino was leading, Lee Jackson was in second, Storm Stacey was in third place, Kyle Ryde was fourth, Iddon in fifth. Gino had a 7.2 second lead from the rest of the field, O'Halloran was up-to sixth place, Mackenzie was in seventh place.
Stacey took second place at the Melbourne Loop on lap seven, Gino had a moment at Foggys but he managed to hold on to his Suzuki machinery. Stacey crashed out at Redgate on lap nine, the front end tucked and the young Shropshire rider was down.
There was a three way train for second place from Iddon, Jackson and Kyle Ryde. Joe Francis was having a solid ride in sixth place. Ryde took second place at the Melbourne loop on lap 12, Kyle then managed to put a slight gap between himself and Iddon until the Nottinghamshire had two close moments but still Kyle managed to hold on to the second place for two corners until Iddon took the second place spot. Kyle retook second place at the exit of Coppice with one lap remaining.
At the checkered flag it was Gino Rea in an outstanding first place, Kyle held onto second place, Iddon and Jackson had a fight to the finish line for third place, Iddon claimed third place, Jackson was fourth, O'Halloran was fifth, Joe Francis finished in sixth, Mackenzie was seventh.
Jason O'Halloran is now back in the lead of the Championship, the Australian is leading by zero points, but leads by count back with taking 11 victories so far this season, compared to Mackenzie's Five wins. The front row of the grid for tomorrow's race two is Gino on Pole, Storm Stacey in second and Josh Brookes in third place.
Featured Images: Bennetts British Superbikes, Builbase Suzuki Racing.

Looking to update your website?
ThisWebDesign works with small and medium-sized companies from all over the globe. Our focus is on offering visually engaging websites, social media profiles that convert, and branding that creates a powerful and lasting image.
thomas@thiswebdesign.co.uk
---