Gino Rea Wins His second Race Of The Weekend At Donington Park.
For the final installment of Round ten at Donington Park, Championship leader Tarran Mackenzie was on Pole Position, Danny Buchan lined-up in second place and Gino Rea was in third position. Jason O'Halloran was down in 13th place on the grid on the fifth row. The start was delayed due to rain starting to fall around the circuit. The race laps were reduced and it was declared a wet race. It was touch and go to whether there would be a Race Three as the riders and the Bennetts British Superbike race directors were debating if it would be too dangerous to run the race.
The race was given the go ahead, it was reduced to just 15 laps, with two warm-up laps.
Tarran Mackenzie got the holeshot into a sketchy Redgate, Brad Ray got a fast start and got up-to fourth place. Gino Rea took the lead at the Old Hairpin. At the end of the first lap Christian Iddon passed Mackenzie and got into second place. Josh Brookes crashed out at Craner Curves on lap two, that was Brookes's championship hopes dashed.
Mackenzie had a mechanical issue at Foggys on lap two and retired from the race.
After three laps it was Gino leading the way from Iddon in second and Lee Jackson in third, Jason O'Halloran was up-to fifth place just in front of his championship rival Tommy Bridewell. Danny Buchan was way down the order in 22nd place, a few laps later he retired from the race.
On lap eight Lee Jackson set the fastest lap, he was pushing to catch the front duo of Gino and Iddon. Bridewell was in fourth place whilst Jason O'Halloran was still down the order in eighth place.
By lap 11 Gino and Iddon managed to drop Jackson with a gap of 2.2 seconds between Iddon and Jackson. Ryan Vickers and Peter Hickman were having a dice with one another for sixth place, of which the young Thetford rider won. O'Halloran was stuck in eighth place just in front of Joe Francis.
At the checkered flag Gino brought his Suzuki GSXR 1000 home in another first position, Iddon was second, Lee Jackson got his first podium of the 2021 season finishing in third place, Bridewell was fourth, Andrew Irwin was fifth, Ryan Vickers sixth, Peter Hickman seventh, Jason O'Halloran finished eighth.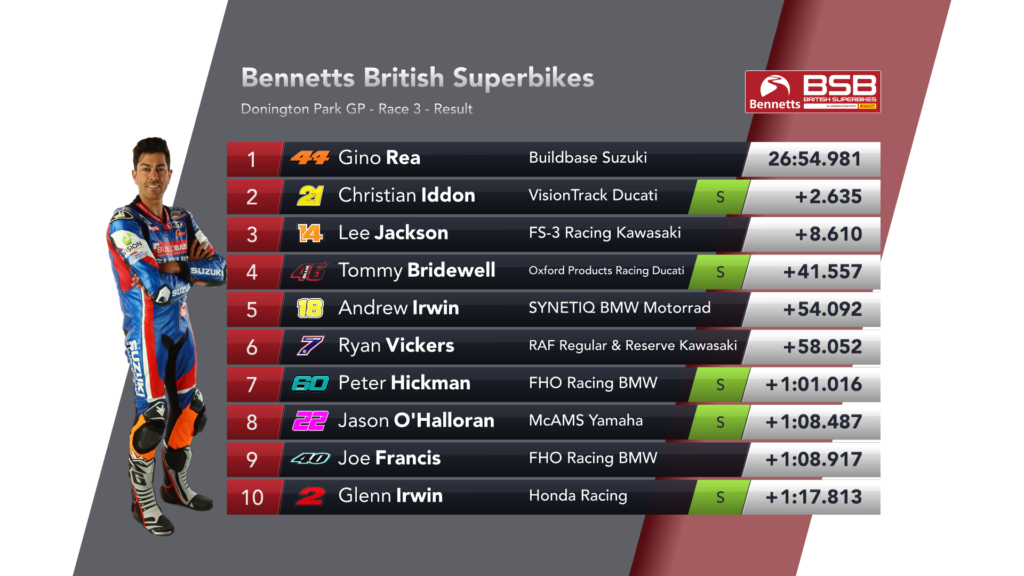 As the Bennetts British Superbike Championship heads to the final round of the championship at Brands Hatch, McAMS Yanaha's Tarran Mackenzie leads the championship standings by ten points from Jason O'Halloran. There is still six possible championship contenders, it will come down to the wire at the Kent circuit in three weeks time!
Featured Images: Bennetts British Superbikes.

Looking to update your website?
ThisWebDesign works with small and medium-sized companies from all over the globe. Our focus is on offering visually engaging websites, social media profiles that convert, and branding that creates a powerful and lasting image.
thomas@thiswebdesign.co.uk
---