BSB: Tarran Mackenzie Wins The Final Race Of the 2021 Bennetts British Superbike Championship.
Tarran Mackenzie Takes The Race Three Victory And Does The Treble At Brands Hatch.
With the 2021 Bennetts British Superbike Championship Title decided, it's now all-to-play for to see who becomes the Vice Champion and the Riders Cup Winner. Jason O'Halloran, Tommy Bridewell and Christian Iddon are all in with a chance of taking second place in the 2021 Championship. The Riders Cup is between Lee Jackson and Bradley Ray.
For the final time this season the front row of the grid was headed by Tommy Bridewell, Tarran Mackenzie in second place and Peter Hickman rounding out the front row in third place.
As the lights went out for the last time in 2021 Tarran Mackenzie led the pack of riders into Paddock Hill Bend, Bridewell was in second place, Jason O'Halloran was in third. Iddon made his way into second place on Lap two at Paddock Hill Bend.
Bridewell took second place from Iddon and then went into first place at Sterlings on Lap three, Peter Hickman was on the move and got into fourth place. Lee Jackson was in tenth place whilst his Riders Cup rival Bradley Ray was down in 14th place. Jason O'Halloran was being caught by Josh Brookes, the Australians were battling for fifth place.
At the half-way stage of the race it was Bridewell, Mackenzie, Iddon and Hickman. Mackenzie was hot on the heels of Bridewell, Iddon and Hickman were battling for the third podium place. O'Halloran was catching up with Hickman on Lap 14.
Tarran took the lead at Paddock Hill Bend on Lap 16, Bridewell snatched first placed back at Hawthornes. Further back O'Halloran got the better of Hickman taking fourth place from the Louth rider. Danny Buchan was up-to sixth place pushing Brookes back to seventh place.
Tarran took the lead again at Paddock Hill Bend again on the final lap, Iddon and Buchan had a coming together at Paddock Hill Bend, both riders crashed out of the race.
Mackenzie has done the treble at Brands Hatch and won the 2021 Bennetts British Superbike Championship in style. Bridewell finished in second place in the race and second in the Championship, Jason O'Halloran finished in third place and had to settle for third place in the Championship, Brookes was fourth, Hickman was fifth.
FS-3 Racing Kawasaki's Lee Jackson won the 2021 Riders Cup and finished in ninth place in the Championship Standings.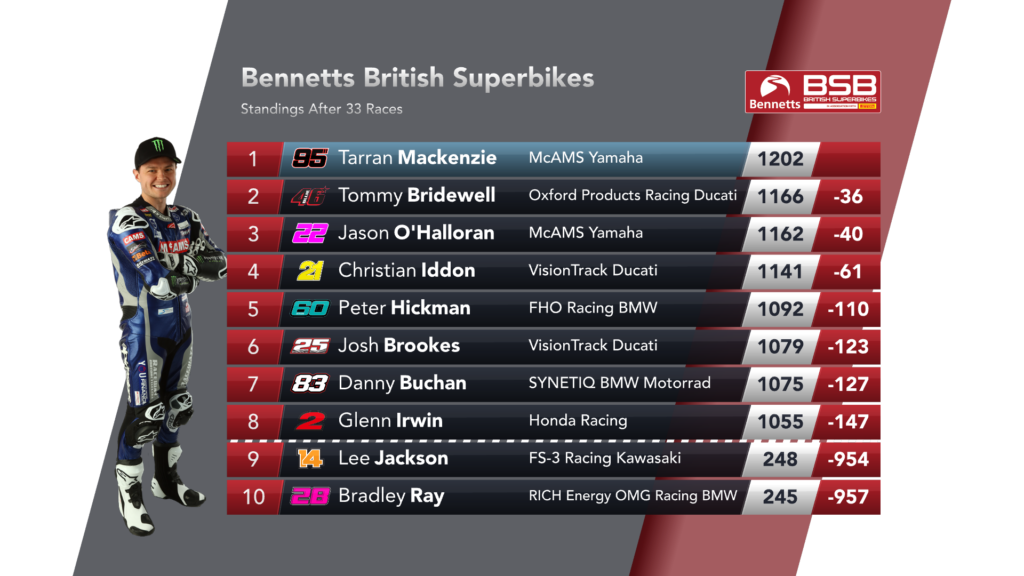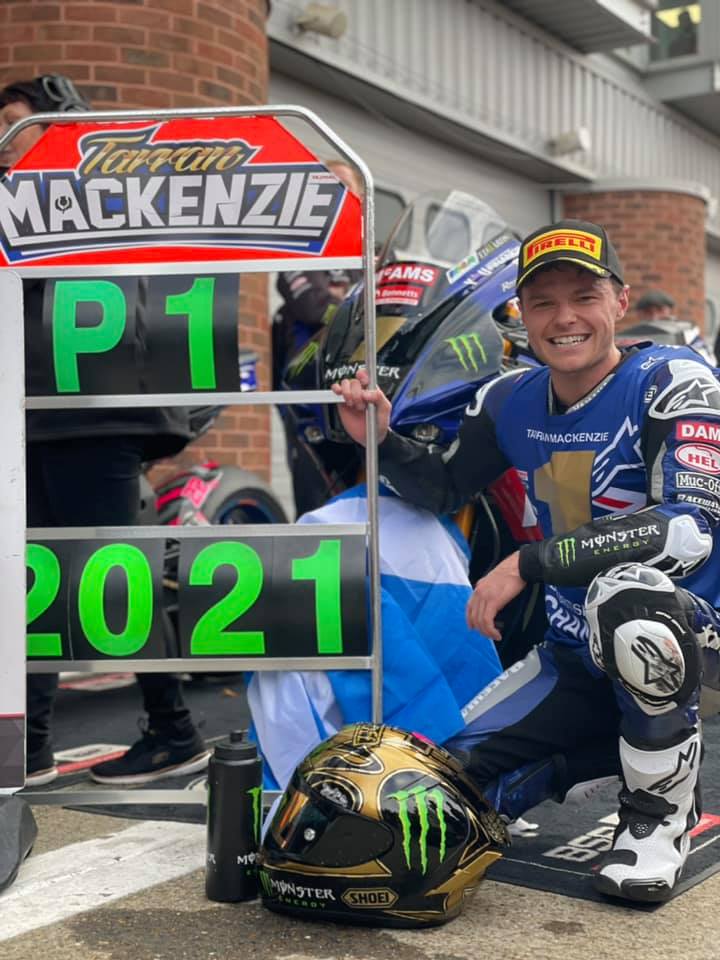 Featured Images: Bennetts British Superbikes, McAMS Yamaha.

Looking to update your website?
ThisWebDesign works with small and medium-sized companies from all over the globe. Our focus is on offering visually engaging websites, social media profiles that convert, and branding that creates a powerful and lasting image.
thomas@thiswebdesign.co.uk
---