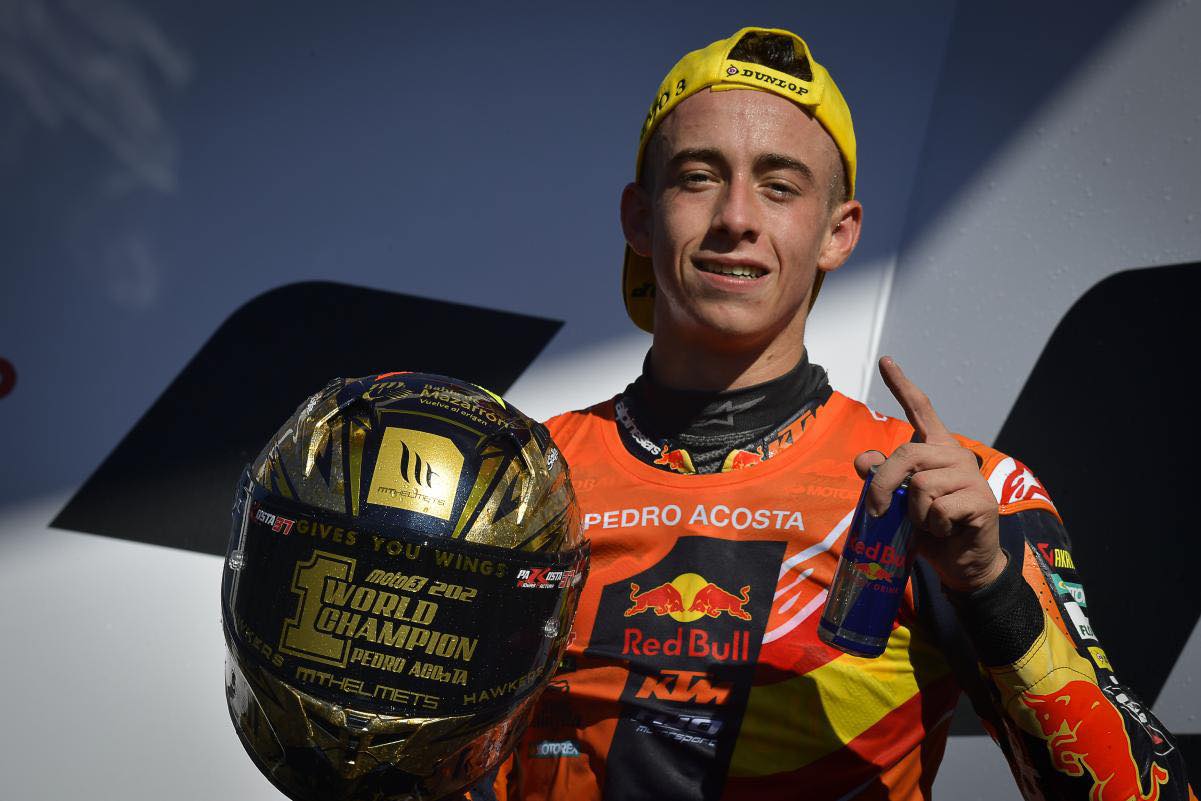 Pedro Acosta wins the race and the championship after a drama-filled race at the Autodromo do Algarve. Dennis Foggia was wiped out on the last lap by an ambitious Darryn Binder who ruined Foggia's brilliant race and year.
Pedro Acosta had another chance to claim the World Championship in his rookie season today. He had to beat Leopard Racing's Dennis Foggia by five or more points to become Moto3 World Champion 2021. He made it difficult for himself though, qualifying ten positions behind his rival. Acosta didn't look too phased though. The mind-games started in Warm-Up this morning as Acosta moved to the inside of Foggia on the out-lap, and gave him a little wave as Foggia looked across. A nice build up to the race.
As the revs built and the lights went green, there was a great start from the pole man Sergio Garcia as he went into Turn one in the lead. Adrian Fernandez went up one position into second with John McPhee in third. Foggia had dropped a position behind his team-mate Xavi Artigas, and was fifth. Acosta looked aggressive and was up into seventh by the end of the first lap after sailing around the outside into Turn three.
Into Turn one on Lap two, Dennis Foggia got an incredible slipstream and moved into the lead. Acosta moved up to a brilliant seventh and the scene was set for the race. Darryn Binder had a great first lap and was second by the beginning of the second lap.
On lap three, Dennis Foggia looked to be making a break for it. He was a half second clear of Darryn Binder by the end of the lap with Acosta sat in fifth, in a group with Fernandez, McPhee, Artigas and Binder.
Artigas moved into second on Lap five, but the group including Binder, and Acosta were now on the back of the two Leopard Racing Hondas at the front. John McPhee lost the front at Turn 13 and continued his less-than-ideal season. He's spent a lot of time in the gravel this year, and has to look towards next year. It will be his final year in Moto3 so needs to perform.
Artigas and Acosta were squabbling over third and fourth into the middle fast part of the lap. This was great for Foggia and Binder at the front but was allowing the next group led by Andrea Migno to latch on to the back of Pedro Acosta.
Lap seven was a holding station exercise with Foggia in the lead and Acosta looking safe in third. Acosta looked at making a move into Turn six on Lap eight on Binder but Binder was incredibly late on the brakes. Acosta looked happy to sit in third after his attempt.
Acosta attempted the same move again on Lap nine and this time it stuck. He set about chasing Foggia and started to pressure. The group started to bunch up and the lead train expanded to seven riders. At Turn one, Acosta moved into the lead but moved Foggia wide. Binder looked to slot into the lead at Turn three but was off-line. Foggia retained the lead. Acosta barged his way past Binder at Turn 13 to move back into second. The lead group was now thirteen riders. Binder made contact with Jaume Masia out of Turn two which allowed Niccolo Antonelli to join the party.

With 10 laps remaining, the racing started getting tasty. Acosta was tailed by his team-mate sat behind the leader Foggia. Masia looked to be blocking Acosta's inside line, until he sat Acosta up into Turn one. Masia then made a beeline for Foggia and lifted him up into Turn three. This allowed Acosta past. Then Masia moved aside into Turn six to allow Acosta through.
Acosta looked to be making a break for it with nine laps left but Masia passed his championship leading team-mate on the front straight. Acosta had a really long look over his shoulder on the back straight and lost five positions into Turn six. It all got a bit close in Turn 11 and 12 as Acosta was in the middle of Binder and Migno. Foggia used the speed of his Honda and moved back into the lead at the beginning of Lap 15.
With six laps remaining, Sergio Garcia came back to the front group. He tried to take both of the Ajo KTMs into Turn six but went a little wide. Acosta moved back underneath Garcia but Masia was left hung out to dry.
Five laps to go, and Acosta moved up the inside of Binder into Turn one. He then looked at the inside of Foggia into Turn three but had to abort due to being pinned on the apex. The race was becoming very tense.
Binder got moved aside by Andrea Migno at Turn 13 on Lap 18, so there was a four-rider battle for the podium positions. With three-laps left, Acosta moved Foggia aside into Turn three, but Foggia tucked back underneath. This compromised his line onto the straight and Acosta was back in the lead by Turn six. Garcia barged his way through on Foggia. Masia rode up the rear wheels of Migno and Binder at the same time and went down.
Acosta looked to have a gap from Foggia at the end of Lap 19. Foggia looked to be pushing very hard to get back onto the rear of Acosta and rode alongside the young Spaniard at the beginning of the penultimate lap. Acosta ran wide onto the green paint out of Turn five and needed to compose himself. Foggia moved up the inside of Acosta out of Craig Jones Corner to retake the lead.
Last lap with five-riders in with a chance. Garcia moved into second with a late move into Turn one on Acosta. Garcia ran wide to allow Acosta to move back underneath the GASGAS rider. Into Turn three, Acosta moved past Foggia into the lead but everything went terribly wrong. Darryn Binder looked like he hardly even applied the brakes from fourth position and wiped Dennis Foggia out, and Foggia's bike took down Sergio Garcia. That was the championship over.
Pedro Acosta crossed the line in first position to be the first ever Moto3 Rookie World Champion. Dennis Foggia looked understandably gutted as he was carted back to the paddock. Andrea Migno finished in second with Niccolo Antonelli in third. Darryn Binder was fourth but later disqualified for his silly move which took out two lead riders. That meant Jeremy Alcoba came fourth with Izan Guevara in fifth.
Romano Fenati greeted Dennis Foggia in the garage to console the rider who has put everything into chasing the World Championship. Binder also went to apologize but he wasn't welcome in the Leopard garage and was justifiably thrown out. Foggia looked very unhappy with the South African who needs to change how he rides if he's to make a career in MotoGP.
But nothing can be taken away from Pedro Acosta. He has put a spectacular season together. Winning from pitlane, picking his way through the field and has barely made a mistake all year. A very mature season from a very promising youngster.
Featured Images: MotoGP.com


Looking to update your website?
ThisWebDesign works with small and medium-sized companies from all over the globe. Our focus is on offering visually engaging websites, social media profiles that convert, and branding that creates a powerful and lasting image.
thomas@thiswebdesign.co.uk
---