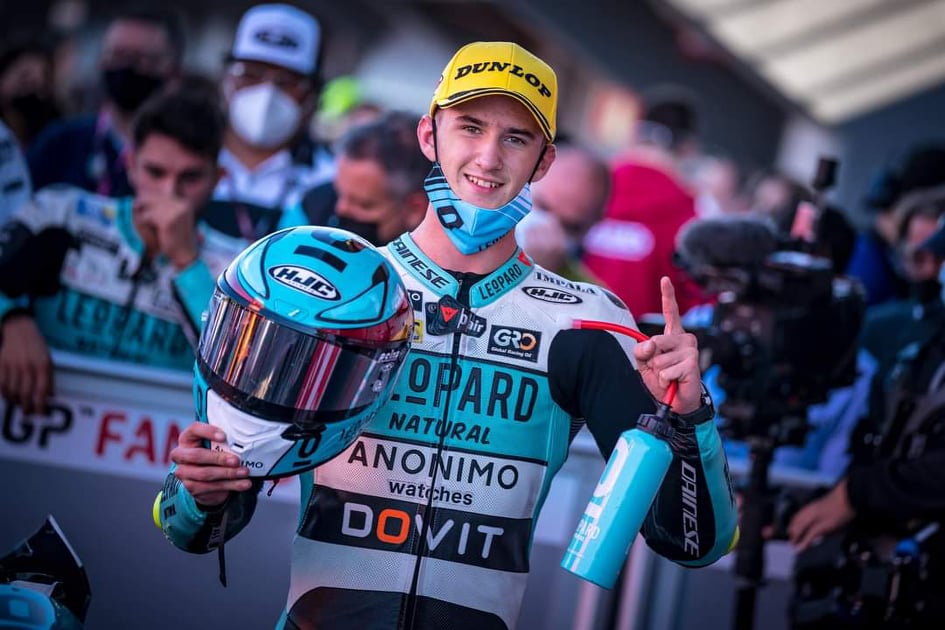 Moto3: Xavi Artigas victorious As Foggia and Acosta clash In Valencia.
Xavi Artigas claims his first ever Moto3 World Championship victory in Valencia as Dennis Foggia and Pedro Acosta clash, sending the Red Bull Ajo KTM man into the gravel.
The time had come for the final round of the season, at the stadium-esque circuit in Valencia. Champion Pedro Acosta started from his first ever pole position in the class just before his final race in Moto3 before he moves to Moto2. He started just in front of Tatsuki Suzuki and Izan Guevara.
At the start, Acosta got a great start as everybody slotted into his slipstream. Into Turn two, Guevara moved into second. Out of Turn four, there was a huge crash after Lorenzo Fellon and Darryn Binder high-sided. Fellon went off into the gravel, and Binder into the middle of the track. Ryusei Yamanaka aborted mission in order to miss Binder. Everybody miraculously got away unscathed. On lap two, Acosta lost the front out of Turn three, both feet off the foot pegs and went wide to allow Guevara into the lead.
Adrian Fernandez was awarded a double-long lap penalty on lap four, but he was well down the order in 21st position. The big Czech, Filip Salac was battling at the front, and was briefly looking at the lead but went wide. Deniz Oncu ruffled the Czech into Turn 13, and went onto the green to make the over-take. This bunched the four or five riders into Turn 14.
Joel Kelso and Jose Rueda had a collision at Turn two. Kelso had a high-side and Rueda had nowhere to go and rode over the top of the CIP Green Machine KTM. Both looked a little bit groggy as they got to their feet. Kelso was in for Max Kofler and Rueda was in for Gabri Rodrigo.
Oncu was given a track-limits warning on lap six after being all over the green paint on the exit of corners for a couple of laps as he tried to make his way to the front of the field.
Lap seven saw the field settle down a bit and there was a lead group of 12 riders that stretched back to Romano Fenati. John McPhee wasn't far off the rear of the group in 13th with Ayumu Sasaki and Carlos Tatay.
Deniz Oncu moved into the lead with a very tidy manoeuvre into Turn one on Lap nine. Acosta was back to second with a very menacing Filip Salac in third. Guevara looked strong and always went well here in the Junior World Championship, but Jaume Masia and Sergio Garcia got the better of him at the beginning of Lap 10 to shuffle him down the order to sixth.
Yuki Kunii lost the front and went down at Turn 14, but he was down the order. He re-joined the race.
It all got a bit tight between Acosta, Oncu and Masia into Turn one at the beginning of lap 12. As they all broke out of the slipstream, they went three-wide into the fast first turn and Masia came out of it in front. Masia went a little wide into the final turn and got swamped onto the straight. Sergio Garcia came from nowhere, to barge his way into the lead, but this was short-lived as Xavi Artigas moved into first at Turn two. Acosta regained the lead into Turn four and it settled down for a few corners. As they approached the final turn, Artigas sailed around the outside past two riders but this compromised his exit. Salac was nerfed onto the kerbs and it bunched down the straight again. Oncu was in the lead into Turn one.
Deniz Oncu slipped to third and he was slapped with a long-lap penalty on Lap 15 for exceeding track limits. It felt like something that was a foregone conclusion with all of his corner-exit antics.
On lap 16, Izan Guevara was elbowed wide by is team-mate on the exit of turn four, then had a moment at Turn five which moved him to the back of the pack. Oncu took his long-lap and was followed by Filip Salac. Oncu's was very tidy but Salac used the green on the exit of the long-lap loop.
With six-laps to go, Acosta was in the lead, with his team-mate in second, Garcia in third and Artigas in fourth. Tatsuki Suzuki went down at speed at Turn one. Rider OK and he will be looking for a better 2022 after a mixed season this year.
Into the final five laps, Garcia stealthily moved into the lead but he was quickly displaced by Jaume Masia. Dennis Foggia joined the scrap after putting a nice race together and was leading as they began lap 20. Pedro Acosta levered him aside at Turn eight. Out of Turn 12, Pedro Acosta had a long look over his shoulder and it was greeted by a little wave from Foggia. Foggia looked at the inside of Acosta at Turn 14 but aborted the move in the early phase.
The Leopard bikes were very quick down the straights and went 1-2 into the final two laps. But Acosta split them into Turn two. It was Acosta vs Foggia again Into the final lap, Foggia led, but Acosta dived down the inside into Turn 1 to take the lead. Foggia set up Acosta to retake the lead into Turn two, went up the inside of the Champion, made contact with his handlebar and Acosta went down. Foggia was well wide and Garcia took the lead. Artigas looked threatening and lunged down the inside of Garcia into the final corner. Oncu came from miles back and went wide. Artigas and Garcia sprinted for the line but the Leopard rookie held on to take his first win in the Moto3 class. Jaume Masia clung to third with Filip Salac in fourth and the ambitious Deniz Oncu in fifth. Dennis Foggia was sixth but was penalized three seconds which put him 13th.
What an incredible finale to a very entertaining season. Pedro Acosta comes away the champion and moves to Moto2 next year, so there will be a new champion in 2022.
Featured Image: Motogp.com


Looking to update your website?
ThisWebDesign works with small and medium-sized companies from all over the globe. Our focus is on offering visually engaging websites, social media profiles that convert, and branding that creates a powerful and lasting image.
thomas@thiswebdesign.co.uk
---