As we await the season opener in Bahrain for one more month, let's take a quick look at the career history of the only rookie in our current F1 grid.
The 2022 Formula 1 season as been awaited by the motorsports world with incredible excitement for a long time, as we witness a complete overhaul taking place within the cars' regulations. Aside from the new cars, some people are also excited to see what 2022's Rookie of the Year Guanyu Zhou has to offer, who will be making his F1 debut with Alfa Romeo partnering Valtteri Bottas. Having a successful record in Formula 2, Zhou spent his three seasons in the class racing under the Alpine Driver Academy banner, before eventually parting ways with the camp to finalize his deal with Alfa Romeo. Zhou was the first Chinese driver to test an F1 car since Ma Qinghua in 2013, and will become China's first ever driver to race in Formula 1.
Born in Shanghai, Zhou began karting at the age of eight in his home land. By 2012 he was prepared to race competitively, and moved to Sheffield to seek a more competitive racing environment. He won the Super 1 National Rotax Max Junior Championship and Rotax Max Euro Challenge the following year, driving for the Sheffield-based Strawberry Racing Team. He raced another year in karting, this time finishing runner-up in the Rotax Max Senior Euro Challenge. He also made an appearance at the Karting World Championship, driving for Ricky Flynn Racing alongside Lando Norris and Jehan Daruvala.
In 2015 he competed in the Italian F4 Championship with Prema Powerteam, where he took three wins (all in the Monza round) and six more podiums finishing as the season's runner-up and rookie of the year, albeit over 100 points behind series champion Ralf Aron.
Zhou stepped up to the Formula 3 European Championship for the 2016 season with Motopark Academy, starting strong with two podiums in the opening two rounds. However, he struggled to replicate his strong pace for the remainder of the season, finishing 13th overall in his rookie year. He returned to Prema for the following season, this time improving and collecting five podiums throughout the season, finishing 8th overall in the standings. Despite some speculation of an F2 move, he remained in F3 for a final year. He significantly improved his pace and took his maiden win at Pau, a podium in Budapest, and three successive podiums in Zandvoort. He sat as high as 2nd in the standings at the time, trailing points leader Marcus Armstrong by a single point. However, 4 consecutive retirements from collisions and punctures dropped him down the order, and he would struggle with pace for the remainder of the season, despite taking one more victory at Hockenheim. He finished his final F3 season 8th once again, this time with three poles and two wins.
He finally graduated to Formula 2 in 2019, joining the newly-formed UNI-Virtuosi Racing team alongside series veteran Luca Ghiotto, as well as being recruited to the Renault Driver Academy. Starting with two points-scoring finishes in the first round and scoring none in the second, he took his maiden F2 podium at the third round in Catalunya, followed by a 4th place finish in the next day's sprint race. Zhou managed to show much promise throughout his rookie season, consistently finishing in the top six in the next eight races, which included three additional podiums and a maiden pole position at Silverstone. He then took 9th place finishes in both Hungaroring rounds, although only earning points in the feature race. He scored points in the final six races (except for a retirement in Monza) and took his final podium of the season in the Abu Dhabi feature race. He ended the season 7th overall with five podiums and a pole, winning the rookie of the year award in the process.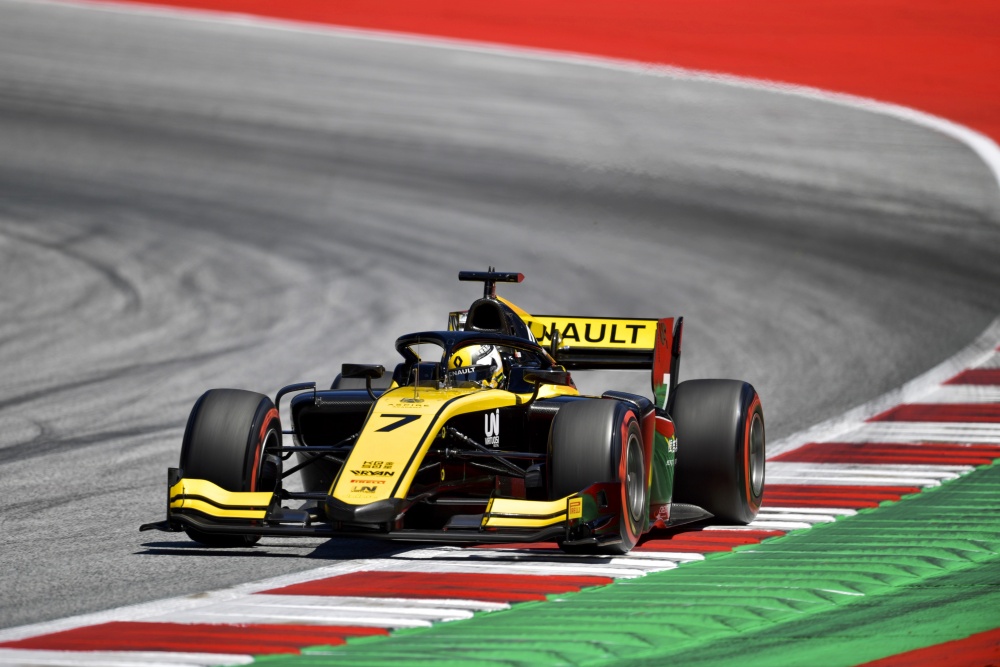 After a promising rookie campaign, Zhou remained with UNI-Virtuosi and was paired with Callum Ilott. He was a title favorite for the 2020 season, and made an immediate impact by taking pole in the season opening Austrian weekend, as well as leading the feature race comfortably before an electronics issue dropped him to 17th, effectively handing the win to Ilott. Throughout the season Zhou showed blistering pace compared to the year prior, earning six podiums and a race win, but still suffered from inconsistency combined with some bad luck, as he had golden opportunities to win slip away from him two more times. On both occasions, he had benefitted from well-timed pitstops during safety car periods – in the Silverstone 1 sprint race, he spun out on his own while pushing too hard on fresh tyres, finishing the race out of the points, while in the Mugello feature race, he faultlessly got tangled in a collision with Jack Aitken and Mick Schumacher while battling his way to the front, and was forced to retire with a broken suspension. His maiden victory in Sochi was also not the way he wanted his first win either, as the race was cut short after a heavy accident involving Jack Aitken and Luca Ghiotto, and the drivers were only awarded half points. Zhou took his final podium of the season at the final round in Bahrain, and he finished 6th overall in the final standings with 151.5 points, over sixty points behind Mick Schumacher, the season's champion. Although Zhou did not qualify for a superlicense once again, he was still praised for his strong pace throughout the season, with many acknowledging that the victory chances he lost out of his control ultimately cost him a chance for the title.
During the winter break, he signed up for the F3 Asian Championship alongside fellow F2 drivers Jehan Daruvala and Roy Nissany, in order to keep himself active and collect more superlicense points while possible. Racing for Abu Dhabi Racing by Prema, Zhou took the championship victory with 11 podiums and 4 wins, finishing every race except for one.
Zhou re-signed with Virtuosi Racing for the 2021 season, which saw F2 introducing a new race weekend format consisting of two sprint races, with the feature race being the last of the weekend. Zhou started the season strong with two wins and two 3rd-place finishes in the first seven races, building a title lead to a significant gap. The big lead would be short-lived as he failed to score any points in the next four races; after the 3rd place finish in the first Baku sprint race, he crashed out of the next sprint and failed to finish in the points in the feature race. In the following weekend at Silverstone, he spun out of the first sprint by himself, compromising his second sprint with a back row start where he also finished out of the points. By this point, he had lost the championship lead to series rookie and fellow Alpine Academy driver Oscar Piastri. Zhou managed to rebound with the feature race victory in Silverstone followed by two podiums in Monza, although Piastri's win in the feature race did not help his chances at all, as the Aussie extended his title lead from five points to fifteen. Zhou's fortunes turned even worse in Sochi, where he spun out of the sighting lap of the first sprint race and was unable to start the race. Coincidentally, his teammate Felipe Drugovich had also spun out in a different part of the track, resulting in a heavy shunt and unable to finish the weekend. It was the start of Zhou's second slump as he would finish off the podium in the next five races, while the resurgence of Piastri's teammate Robert Shwartzman eventually demoted the Chinese to third in the standings. Despite taking a final victory and a podium in the last two races, Zhou finished the season 3rd overall behind the Prema pair, nearly 70 points off Piastri and 9 behind Shwartzman.
Despite finally qualifying for a superlicense in a successful season with nine podiums including four wins, Zhou's 2021 was plagued with far more errors compared to the previous year, leading to increased criticism by fans and pundits throughout the season. It has also sparked debates on whether he still deserved a chance in Formula 1, especially after Piastri's F2 triumph at first attempt. It is fair to argue that Piastri deserved the last remaining seat more, as he had replicated the performances of Charles Leclerc and George Russell by winning the third and second tier championships back-to-back. His incredible performances, however, ultimately made him the priority driver within Alpine's Academy, meaning that he likely would have had to leave the academy if he wanted the Alfa Romeo drive, as well as seek the financial backing similar to what Zhou's sponsors were offering to the Swiss squad. It was clear that Zhou was bringing a lot of sponsorship money into the team, which was one of the main reasons why Alfa Romeo chose him at the end, and it is understandable considering the recent financial struggles the Sauber group have endured. Was it solely about the money though? Absolutely not, as Zhou had still shown incredible speed and talent in the junior ranks, while teams and talent spotters still speak very highly on the young Chinese star.
Another factor would be his F1 testing experience. He was officially signed as Renault's test driver in 2020 (prior to their Alpine rebranding) and has tested their car numerous times since, and made his free practice debut in the 2021 Austrian Grand Prix, where he finished 14th just three tenths behind his teammate Esteban Ocon. It was a performance Alpine were satisfied with, so the positive feedback was definitely another factor that Alfa Romeo looked into.
At the end, any driver who qualifies to participate in a Formula 1 season definitely deserves a chance to prove themselves, even if there are drivers that may deserve it more. We can be mad about Piastri having to sit out the year after such a phenomenal junior career. However, we shouldn't vent the anger towards Zhou for accepting the opportunity that was given to him, a social media issue that Piastri had spoken out against, in support of his former academy teammate and rival. And lastly, it would not be fair to judge his place in Formula 1 until he has driven a full season in the sport. His struggles with consistency is definitely something to work on, and with a seasoned teammate like Valtteri Bottas – who has won numerous grands prix and has plenty of podiums to his name – Zhou is in the perfect position to learn and make the improvements that he needs in order to excel in Formula 1.
Featured Image – Formula One Management, Alfa Romeo F1 Team Orlen

Looking to update your website?
ThisWebDesign works with small and medium-sized companies from all over the globe. Our focus is on offering visually engaging websites, social media profiles that convert, and branding that creates a powerful and lasting image.
thomas@thiswebdesign.co.uk
---