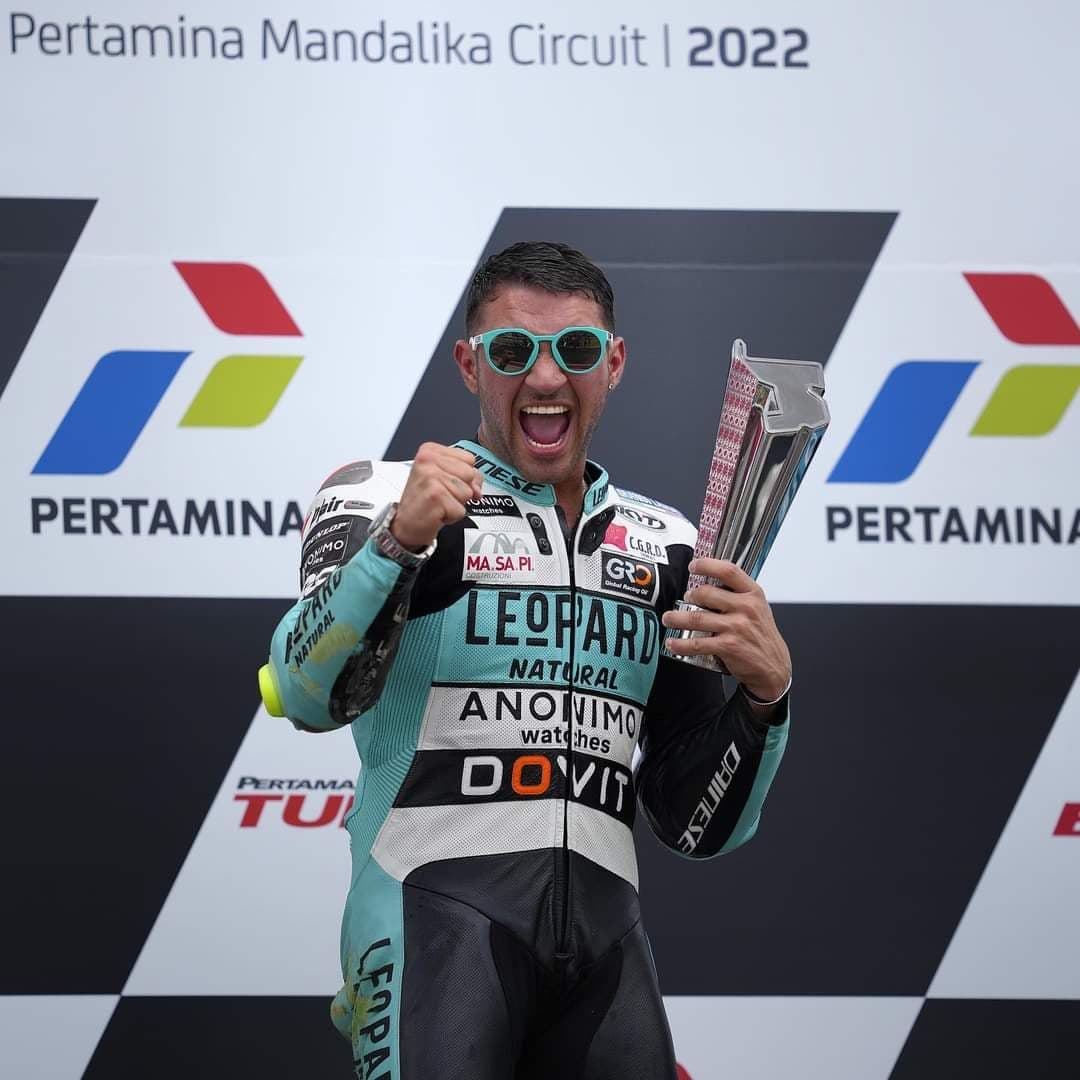 Dennis Foggia trounces the opposition to become the first ever Moto3 winner of an Indonesian Grand Prix, finishing Five-seconds ahead of the rest of the field.

Carlos Tatay is started Pole Position for the Indonesian Grand Prix. Championship favorite, Dennis Foggia started in sixth with a couple of rookies in front of him.
As the flag dropped, Carlos Tatay got away well but Sergio Garcia steamed into the lead. Foggia moved into third and Andrea Migno barged his way into second. Migno then pulled a move on the leader into Turn six to move into first. Tatay had dropped to fifth position just in front of Ayumu Sasaki. Foggia used the speed of his Leopard Racing bike down the front straight into Lap two to breeze past Sergio Garcia. Izan Guevara also joined the party to move into the lead on lap two.
Albero Surra and Ivan Ortola were the first fallers in separate incidents on lap two. There was a breakaway group of nine riders all the way back to Deniz Oncu early on, headed by Izan Guevara and Andrea Migno.
Dennis Foggia moved back into second on Lap three, tapping the tail of his Honda to get Migno to follow him. Carlos Tatay had re-composed himself to start scrapping for third. Dennis Foggia moved into the lead in the middle of the lap and looked to try and break from the pack. Even with a slipstream, Migno couldn't keep with the Leopard bike down the start/finish.
Dennis Foggia continued to push on to stear clear of Izan Guevara on lap six. Andrea Migno had a front-end moment into the final turn which sent him wide and allowed both the GASGAS bikes through as he was demoted to fourth.
Jaume Masia started to look strong on Lap seven. His front brake guard was bent upwards from some earlier contact, and he looked aggressive in the pack pulling some rather firm moves. The two GASGAS riders were squabbling over second, allowing Foggia to break further clear. He had a three-second lead at the end of Lap nine.
Carlos Tatay was awarded a long-lap penalty for cutting Turn nine on Lap nine. That looked to be his race over and done with. Andrea Migno got a little close to back of Garcia in the group, and clipped the rear tyre of the Spaniard, but all were unscathed.
The man who qualified second, rookie Diogo Moreira retired on Lap nine with a technical issue and looked understandably despondent as he moped back to the back of his garage. He looks to have a bright future ahead of him.
Adrian Fernandez retired his Tech3 KTM on Lap 11, so his season hasn't gotten off to the best start.
At half-race distance, Dennis Foggia was gone. He was four seconds clear of the two GASGAS team-mates. The squabbling probably didn't help the Aspar riders so it was now a race for second.
With eight-laps remaining, Jaume Masia finally split Garcia and Guevara, but it was very short-lived as Guevara moved him aside to get back in front. Deniz Oncu started making moves as well as he sailed into Turn one a little too fast, ran wide on the exit and Migno re-took the position.
Migno then split the two Aspar riders and this time made it stick. The battle for second was hotting up with bikes all over the place at the end of Lap 17. The home hero and third – placed qualifier Mario Aji was awarded a long-lap penalty for a shortcut at Turn nine, six laps before the end of the race.
With three-laps to go, Deniz Oncu went three-abreast with Masia and Tatay into Turn 14. He went wide and allowed Masia to slip back through into third. Guevara had broken away in second position so the battle was now for third on the penultimate lap. Oncu made contact with Masia into the final lap. Tatay looked to be pushing on but Sergio Garcia was in hot pursuit. Tatay went wide into Turn 10 and allowed Garcia to easily pass on the inside. Sasaki and Migno both went down together. Sasaki rear ended the Rivacold Snipers rider sending him skyward and both of them into the gravel.
Tatay passed Garcia back into Turn 13. Garcia repassed into Turn 15 as they were side-by-side. There were more crashes as Joel Kelso and Stefano Nepa were together in the gravel. But nobody could touch last year vice-champion, Dennis Foggia. He finished over five-seconds clear of Izan Guevara. Next across the line was Carlos Tatay in his sprint with Sergio Garcia. Deniz Oncu crossed the line in fifth followed by Xavi Artigas and Jaume Masia. Elia Bartolini finished in a brilliant eighth with rookie Dani Hogado in ninth and Tatsuki Suzuki rounding out the top 10.
Not the close race for the lead we are used to in Moto3 but fantastic racing for the other podium positions. Dennis Foggia was miles ahead of the rest today.
Featured Images: MotoGP.com



Looking to update your website?
ThisWebDesign works with small and medium-sized companies from all over the globe. Our focus is on offering visually engaging websites, social media profiles that convert, and branding that creates a powerful and lasting image.
thomas@thiswebdesign.co.uk
---