BSB: Jason O'Halloran Tops The Time Sheets At The End Of Day Two At Snetterton.
Jason O'Halloran Ends Day Two On A High After Putting In The Fastest Lap Time Of The Day.
Another perfect sunny day at Snetterton Circuit for day two of the first Bennetts British Superbike testing schedule. All classes were out on track testing today, the British Superbike class had three thirty minute sessions throughout the day.
Session one got under-way with FHO Racing's Peter Hickman leading the way. Just seven minutes into the session it was Red Flagged due to NP Motorcycle's Joe Sheldon-Shaw crashing at Palmers. The session was resumed with the top three riders of Hickman, SYNETIQ BMW's Andrew Irwin and FHO Racing's Ryan Vickers in third place.
With ten minutes remaining to the session RICH Energy OMG's Bradley Ray was at the top of the timing sheets followed by BMW's Danny Buchan, Ducati's Tommy Bridewell was in third place. McAMS Yamaha riders Tarran Mackenzie and Jason O'Halloran were in 19th and third place respectively. MCE Ducati riders Brookes and Sykes were both inside the top ten. Yamaha's OMG rider Kyle Ryde was on the move up-to seventh place.
At the end of the first session BMW's Danny Buchan finished in first place, Brad Ray was in second place, Christian Iddon put his Suzuki machinery in third place, with his team-mate Danny Kent finishing in eighth place. Brookes and Sykes finished in fifth and sixth place respectively.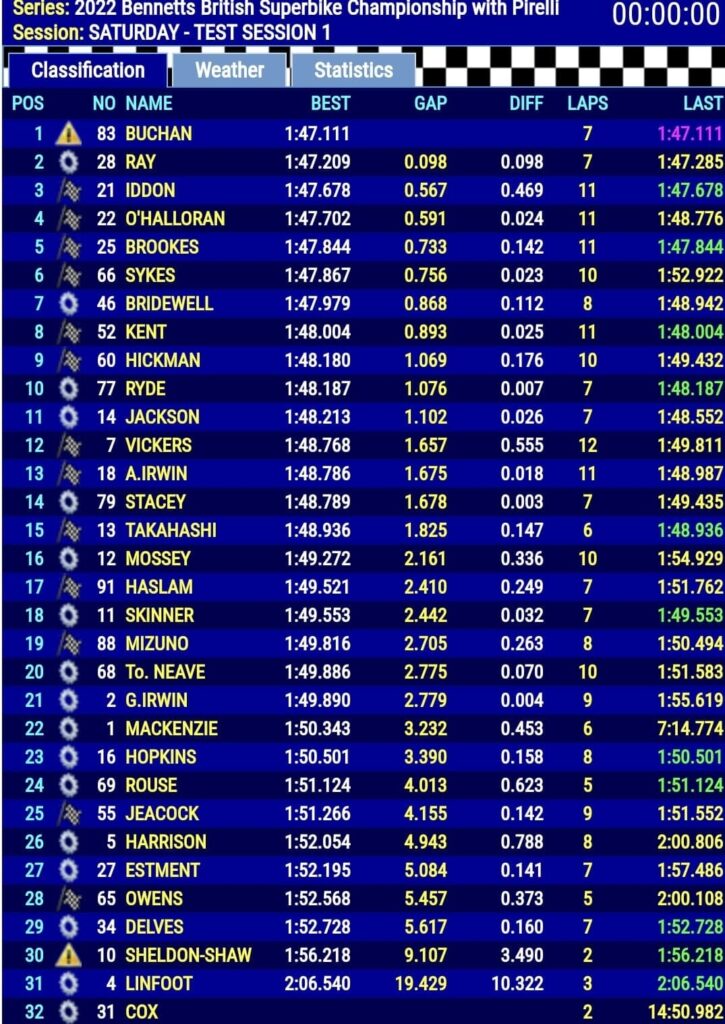 Session two was a slightly longer session due to the Red Flag being out in the previous session. After five laps in was Oxford Products Ducati's Tommy Bridewell leading the way at the top of the timing sheets. The Red Flag was brought out after just ten minutes due to debris clearance on the track at Palmer.
MCE Ducati's Josh Brookes took the top spot after completing seven laps, team-mate Tom Sykes was in seventh place. The McAMS duo of O'Halloran and Mackenzie were in ninth and tenth place. FS-3 Racing's Rory Skinner was charging up the order in fifth place, his team-mate Lee Jackson was in eighth place.
With just eight minutes to go Josh Brookes put a flying lap in to take first place, Buildbase Suzuki's Danny Kent was in second place, with team-mate Iddon in fourth place just behind Tommy Bridewell. Rookie Tom Neave was the highest placed Honda rider in 12th place.
Josh Brookes crossed the line in first place at the end of the second session of the day, Danny Kent was second, Bridewell was third, O'Halloran finished in fourth place, with Iddon in fifth place. Glenn Irwin got inside the top ten to finish in seventh place just in front of Kawasaki's Leon Haslam.
For the final testing session of the day the British Superbike riders had an extended session of 45 minutes. Rory Skinner topped the time sheets from the off, followed by Ryan Vickers. Tom Neave had an early crash at Agostini, he was taken to the Medical Centre for a check up.
RICH Energy OMG riders Ray and Kyle Ryde were both in the top three after completing four laps. Brookes made his way up-to second place after seven laps, followed by Bridewell in third place, from Skinner and Buchan, pushing Ryde back to sixth place.
Brookes put a hot lap time in of 1:46.880 putting him at the top of the timing sheets once again. Iddon was 0.687s behind Josh in third place, team-mate Kent was down in ninth place. Third place was short lived for Iddon as Jason O'Halloran claimed the third place, Mackenzie was in tenth place.
With ten minutes to go the Red Flag came out due to debris on the track again at Palmers. The riders came back out on track for an eight minute dash to put the fastest lap time in. The Red Flag came out again after just a few minutes due to barrier damage from Danny Kent crashing out at Palmer, fortunately Danny was ok.
At the chequered flag Jason O'Halloran ends the day at the top of the timing sheets, Tom Sykes finished in second place, with Brookes in third, Brad Ray finished in fourth, Skinner claimed fifth place just in front of Peter Hickman.
O'Halloran, Sykes, Brookes, Ray and Buchan had all gone under the lap record over the three sessions on Day Two at the Norfolk circuit; O'Halloran setting the out-right fastest with a 1:46.575.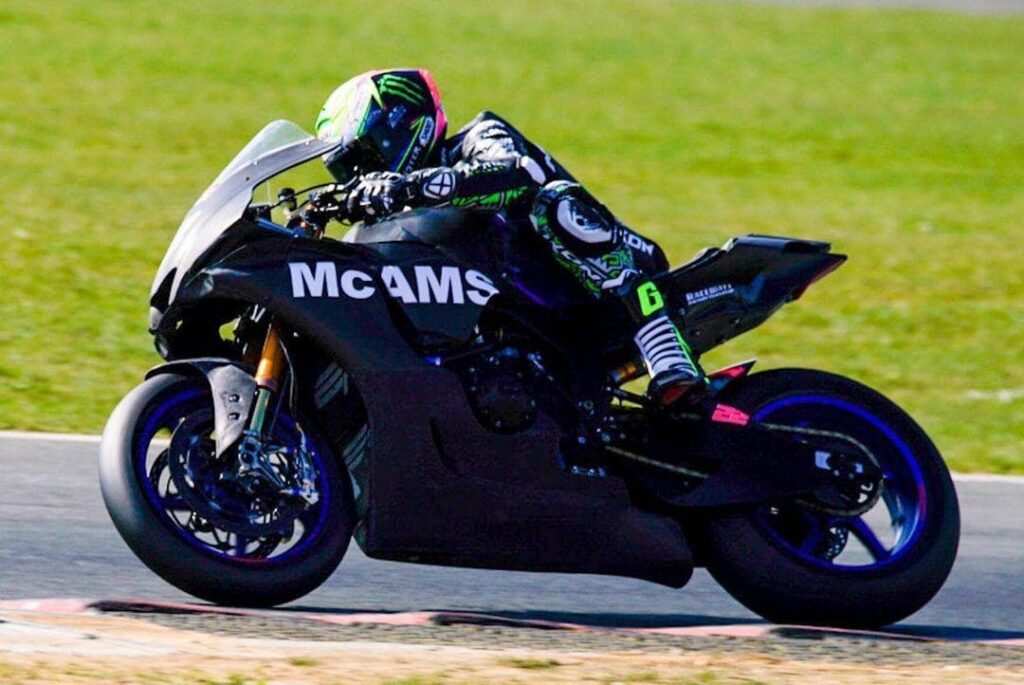 Featured Images: Olithephoto.

Looking to update your website?
ThisWebDesign works with small and medium-sized companies from all over the globe. Our focus is on offering visually engaging websites, social media profiles that convert, and branding that creates a powerful and lasting image.
thomas@thiswebdesign.co.uk
---