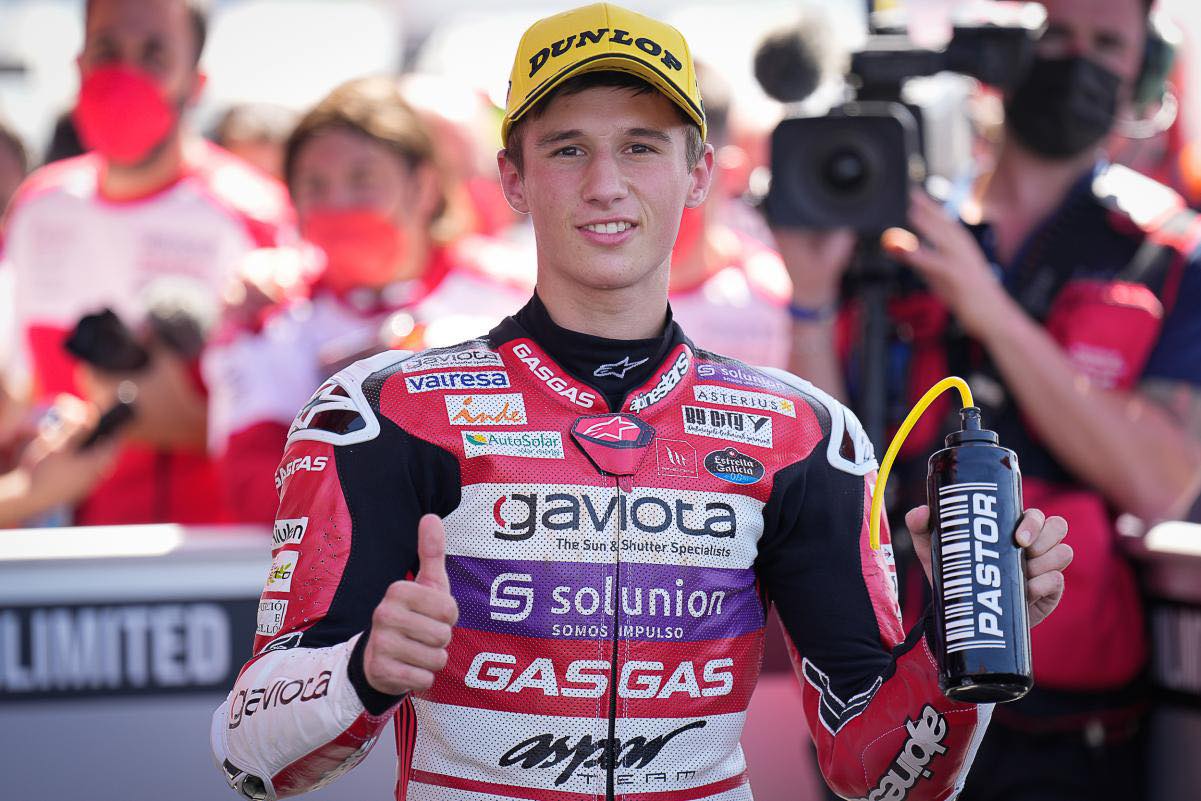 Sergio Garcia wins a phenomenal race in Argentina. Garcia spent most of the race in front but managed to get himself in a last-lap, last corner tussle with Dennis Foggia in a very exciting finale.
Warm, sunny conditions for the Moto3 race this week after a slightly unpredictable one weather-wise last time out in Mandalika. Sergio Garcia started on pole with Ayumu Sasaki in second – who had a long lap penalty for irresponsible riding in Indonesia – and the other GASGAS of Izan Guevara.
As the lights went out, Garcia got a great start from Sasaki and Riccardo Rossi into Turn one. As they streamed onto the back straight the slipstream was in full flow. Xavi Artigas was a good gainer off the start and he was in fifth. Diogo Moreira had made up four positions in the first half lap into sixth. Ana Carrasco was moving slowly at the back of the field but she managed to get going again. She fell on lap seven.
Izan Guevara moved into the lead on lap two so it was a GASGAS one-two at the front. Diogo Moreira was now in fourth and really looks to be finding his feet in Moto3. Jaume Masia looked aggressive in third and looked to be trying to bridge the gap to the lead two, who looked to be breaking clear.
Another rookie was at the sharp end in Dani Holgado. He was fighting for sixth with Andrea Migno and Tatsuki Suzuki.
On lap six, Xavi Artigas was in the gravel looking a bit sad after having a spill after a great start. Masia managed to get across the gap to the lead two, and bought Migno and Moreira with him. So on lap eight we had a lead group of five very enthusiastic Moto3 riders. Dani Holgado was the next one along to get to the front runners.
Adrian Fernandez was given a long lap penalty on lap 10 for a shortcut at Turn nine, but he was out of the points in 17th. Izan Guevara had a technical issue in the middle of Turn three and had to pull off the racing line to get out of the way of the quick moving chasing pack.
With 10 laps to go, Dennis Foggia was in the group. He looks to have fantastic race craft at the moment and could potentially run away with this championship. Sergio Garcia was leading but wasn't breaking free of the riders behind. Rookie Brazilian had dropped back to seventh and into the second group.
Brit, Scott Ogden retired on lap 14 after having a strong weekend, so that was unfortunate for the youngster.
Jaume Masia was putting some hard moves on Dennis Foggia to unnerve the Italian as he barged into second. Tatsuki Suzuki and Riccardo Rossi were both handed track limits warnings so had to go steady for the remaining seven laps.
On Lap 15, Andrea Migno went for the inside line at Turn 13 of Jaume Masia, and the Italian rode up the back wheel of the KTM. That gave Garcia room to breathe, from Foggia and Tatsuki Suzuki. Andrea Migno trudged off with his visor down, clearly not wanting any contact with anybody. The incident is to be reviewed after the race. Andrea Migno walked down to Jaume Masia's garage. Masia had already gone so he had a word with Aki Ajo.
With four laps left, Garcia was half of a second clear of the two Leopard bikes. He looked comfortable at the front while the following group scrapped for position.
With two laps left, Foggia and Suzuki hadn't given up on chasing Garcia as the gap narrowed. The two Leopard riders seemed to be working very well together. Foggia made his move very early at the end of the penultimate lap. The group had closed up. Garcia got in the slipstream of Foggia down the back straight, but Foggia's bike is very quick. Suzuki sailed past Garcia into Turn five and they rolled through the corner very close togther. Garcia barged his way past Suzuki into Turn nine to get to Foggia. Into Turn 13, Garcia made his move up the inside of Foggia. Foggia tried to close the door but was levered out of the way by Garcia and he crossed the line in the lead.
An incredible move from the Spaniard. Ayumu Sasaki was third with a great move on Tatsuki Suzuki into Turn 13. He rode around the outside to give him the inside line at the final turn to grab an excellent podium finish. Riccardo Rossi finished a brilliant fifth with rookie Diogo Moreira in sixth. The next rookie was seventh in Dani Holgado with Carlos Tatay in eighth and the two CIP riders, Kaito Toba and Joel Kelso rounded out the top 10.
Tatsuki Suzuki was demoted a position for exceeding track limits on the final corner, so Rossi was promoted to fourth.
A great race from the Moto3 riders yet again. Dennis Foggia made his move early and must have thought he could go and run away with it, but Sergio Garcia fought hard to win a fantastic race.
Featured Image: MotoGP.com.


Looking to update your website?
ThisWebDesign works with small and medium-sized companies from all over the globe. Our focus is on offering visually engaging websites, social media profiles that convert, and branding that creates a powerful and lasting image.
thomas@thiswebdesign.co.uk
---