Kyle Ryde Takes A Photo Finish Victory With Jason O'Halloran To Take His First Race Win Of The 2022 Season.
For race one of round three at Donington Park National Jason O'Halloran was on pole position, his first pole position of the 2022 season so far. It was an all Yamaha front row as Bradley Ray was in second place on the grid with his team-mate Kyle Ryde in third place.
O'Halloran lead the pack of 27 riders in to Red Gate, Skinner had a lightening start passing three riders! O'Halloran was in second place until he slid up the inside of Skinner for first place. Brad Ray was in third place just in front of his team-mate Kyle Ryde.
Ryan Vickers lost the front end at Roberts Chicane at the end of lap one. A five-way train was forming at the front from O'Halloran to Kyle Ryde. Storm Stacey crashed out at Red Gate after completing four laps.
Honda's Glenn Irwin was catching the leading group of five riders, the Northern Irish rider has good form at the Midlands circuit. Brad Ray snatched the lead from O'Halloran at Red Gate on lap six, Ryde followed his team-mate and got in to third place, Kyle then slipped underneath O'Halloran for second place.
Leon Haslam pulled in to the pits on lap seven, the home town rider was suffering from an electrical problem.
Kyle took first place from Ray at Roberts Chicane, Lee Jackson was up to third place, O'Halloran was fighting back, meanwhile the battling enabled Glenn Irwin to catch the pair and take advantage of the situation. The leading duo of Ryde and Ray made a gap of 1.2s from O'Halloran in third place.
Tarran Mackenzie was having a steady ride in 10th place, Tommy Bridewell was in ninth place, MCE Ducati riders Sykes and Brookes were in 11th and 13th position respectively.
With three laps remaining in the race Jason O'Halloran caught the leading pair, O'Halloran made a move on Ray for second place at Red Gate and the Australian made it stick. Had Jason got enough in the tank to catch Ryde with just one lap remaining?
At the checkered flag it was a photo finish between Ryde and O'Halloran! Kyle got the win by just 0.038s. Ray was third, Jackson just missed out on a podium finish in fourth place, Glenn Irwin was fifth.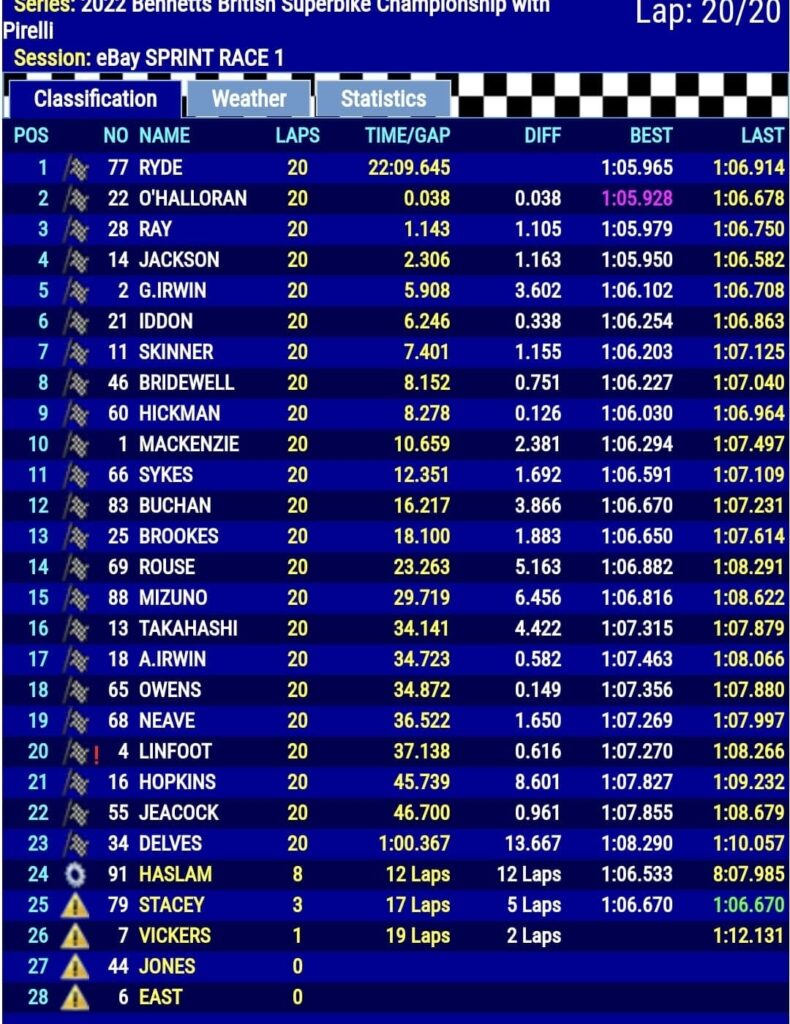 Brad Ray is leading the championship on 118 points, 11 points ahead of Honda's Glenn Irwin.
Featured Images: Olithephoto, Bennetts British Superbikes.

Looking to update your website?
ThisWebDesign works with small and medium-sized companies from all over the globe. Our focus is on offering visually engaging websites, social media profiles that convert, and branding that creates a powerful and lasting image.
thomas@thiswebdesign.co.uk
---