BSB: Jason O'Halloran Wins A Tough Fought Race Two At Knockhill.
McCAMS Yamaha's Jason O'Halloran Wins His Third Victory Of The 2022 Season, After A Four-Way Battle For The Win.
RICH Energy OMG Racing's Bradley Ray was on pole position for race two at the Fife circuit of Knockhill, FS-3 Racing's Lee Jackson was in second place, with Kyle Ryde rounding out the front row in third position. The weather conditions at the Scottish circuit were perfect, less windy than yesterday.
Buildbase Suzuki's Christian Iddon is taking no further part in round four proceedings due to fracturing his humorous in his sighting lap crash yesterday in the Ebay Sprint race.
Bradley Ray got yet another perfect start; leading the pack of 30 riders into Duffus Dip, Kyle Ryde made a place up getting in to second place. Skinner took the lead at the Taylors Hairpin, Brad Ray was demoted to third place.
On lap two at Taylors Hairpin Peter Hickman and Andrew Irwin had an incident, both riders crashed out. Skinner was leading from Ray in second place, Jason O'Halloran was in third place, Kyle Ryde was in fourth place. Storm Stacey was inside the top ten in ninth place. Tommy Bridewell was the leading Ducati in sixth place.
At the half-way point of the race Skinner and Ray put a gap between themselves and the rest of the field. Storm Stacey and Leon Haslam had a coming together which brought out the safety car, Leon took a bit of time to get up on his feet.
The lights went out out on the safety car and racing resumed, Jason O'Halloran took second place from Ray as the Kent rider went wide at Taylors Hairpin, Ray retook the position at turn three. Tarran Mackenzie had made up some positions, he was in 13th place. Skinner was leading with Ray right on the Scottish rider's back wheel!
With ten laps to go it was a four-way train for first place; from Skinner to Lee Jackson. Jason O'Halloran was late on the breaks in to Taylors Hairpin and managed to take second place from Ray. The leading quartet were 1.2s ahead of Bridewell in fifth place, Jackson took third place at turn three.
O'Halloran took the lead on the start finish straight with just four laps to go, Jackson was lining-up a move on his team-mate, Skinner wasn't giving up the second place position. The battling team-mates gave O'Halloran a bit of gap at the front. Jackson made the move stick at turn three for second place!
O'Halloran took the victory, the Australian's third win of the 2022 season. Jackson held onto second place with his team-mate Skinner finishing in third place, Brad Ray was fourth just ahead of Tommy Bridewell in fifth.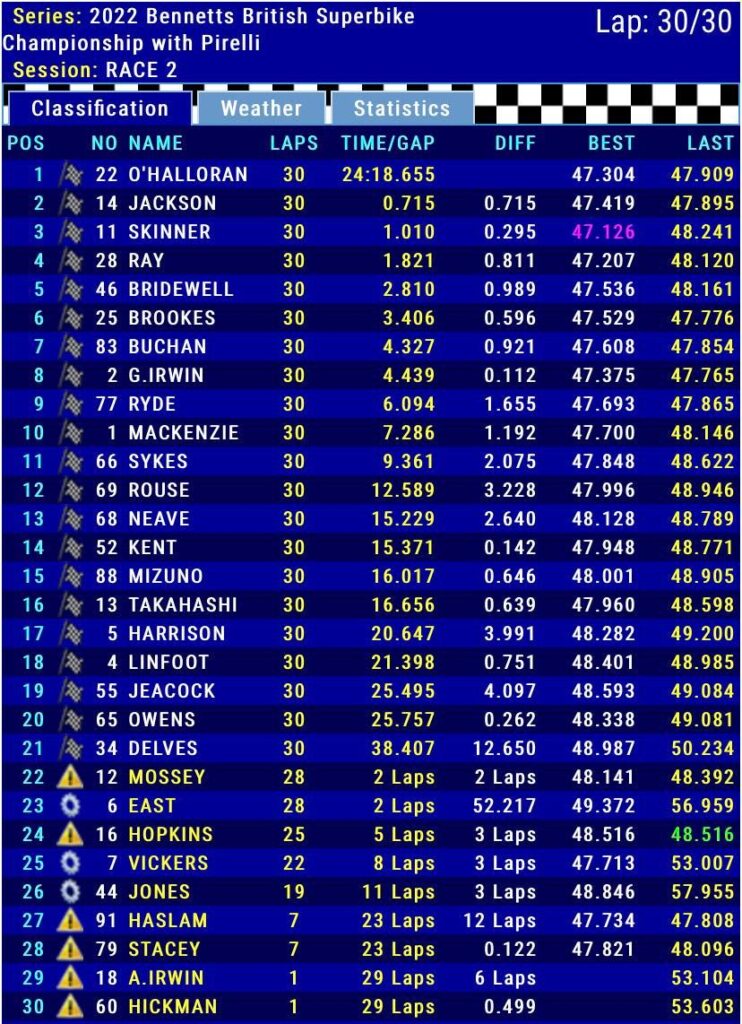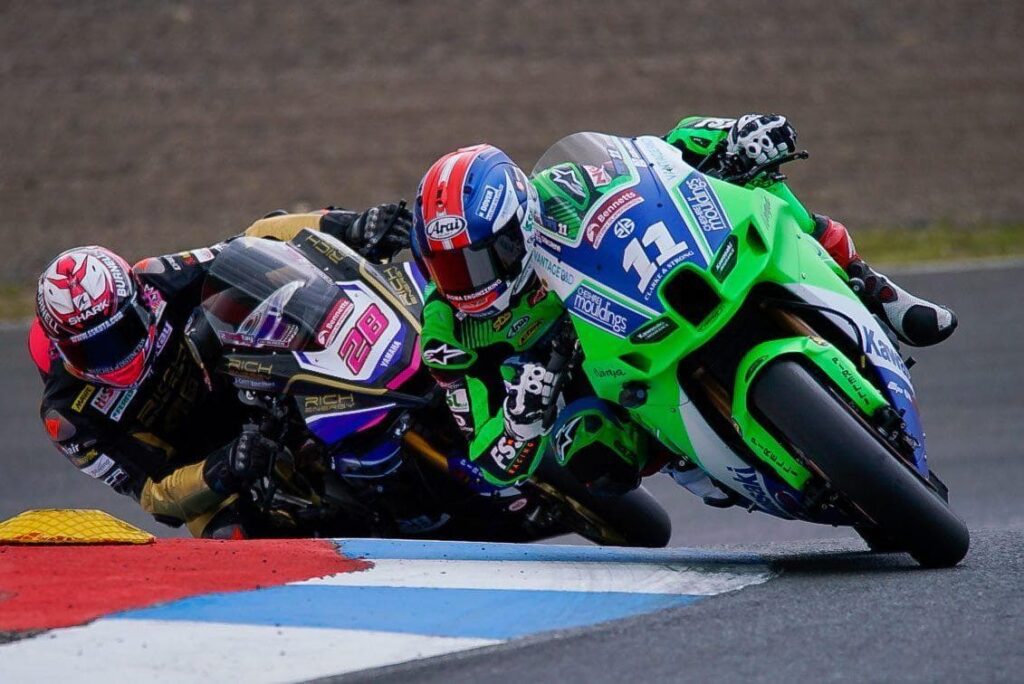 Bradley Ray still leads the championship by 21 points ahead of Jason O'Halloran. Lee Jackson is in third place just in front of his team-mate Rory Skinner.
Featured Images: Olithephoto, Bennetts British Superbikes.

Looking to update your website?
ThisWebDesign works with small and medium-sized companies from all over the globe. Our focus is on offering visually engaging websites, social media profiles that convert, and branding that creates a powerful and lasting image.
thomas@thiswebdesign.co.uk
---