BSB: Tarran Mackenzie Is Crowned The Monster Energy King Of Brands As He Takes The Win Ahead Of Jason O'Halloran.
Tarran Mackenzie Gets His Title Defense Underway With Two Out Of Three Victories At Brands Hatch.
For the final installment of racing action for round five at Brands Hatch Tarran Mackenzie was on pole position, Bradley Ray was in second place on the grid with McAMS Yamaha's Jason O'Halloran rounding out the front row of the grid. FHO Racing's Ryan Vickers was not competing in race three due to sustaining a small fracture in his hand after crashing in race two earlier. Tom Sykes left the grid before the warm up lap due to smoke coming from underneath his Ducati V4R.
Tarran Mackenzie was first through Paddock Hill Bend, Glenn Irwin got a strong start and was in third place. Brad Ray wasn't letting Mackenzie get away. Josh Brookes crashed out at Westfield, a poor Sunday for the two-time BSB Champion.
Glenn Irwin passed Ray for second place, Danny Kent was up to seventh place. Glenn made his move on Mackenzie a lap later to lead the race. Tommy Bridewell was in fifth place just on the back of the leading quartet. Ray also made a move Mackenzie to take second place, Jason O'Halloran was in fourth place eyeing up the third place spot from his team-mate.
Jason got through on Mackenzie for the third place position at Paddock Hill bend on lap six. Jason was closing in on Ray and took the second place from the Kent rider; Ray re-took the position at Hawthorns. Jason didn't waist any time and slipped his R1 underneath Ray for second place. With 11 laps to go in the race Mackenzie got back into third place pushing Ray to fourth place.
The pace started to slow down at the sharp end enabling Bridewell and Leon Haslam to catch the leading group. At the half-way stage of the race Glenn was just about holding off the two McAMS riders, Bridewell passed Ray and was in fourth place, the OMG racing rider seamed to be losing pace.
O'Halloran slipped underneath Glenn at Surtees to take the lead, team-mate Mackenzie followed and took second place from Glenn. Ray found some momentum and took fourth place back from Bridewell. Mackenzie took the lead from Jason with five laps remaining to the race, Tarran just had a little bit more corner speed than his team-mate.
With two laps remaining the McAMS duo made a break from the rest of the pack, Mackenzie's R1 was twitching, both riders were pushing to the limits! At the checkered flag Tarran crossed the line in first place, Jason O'Halloran finished in a very close second place, Glenn held on to third place, Ray finished in fourth place, Bridewell was fifth.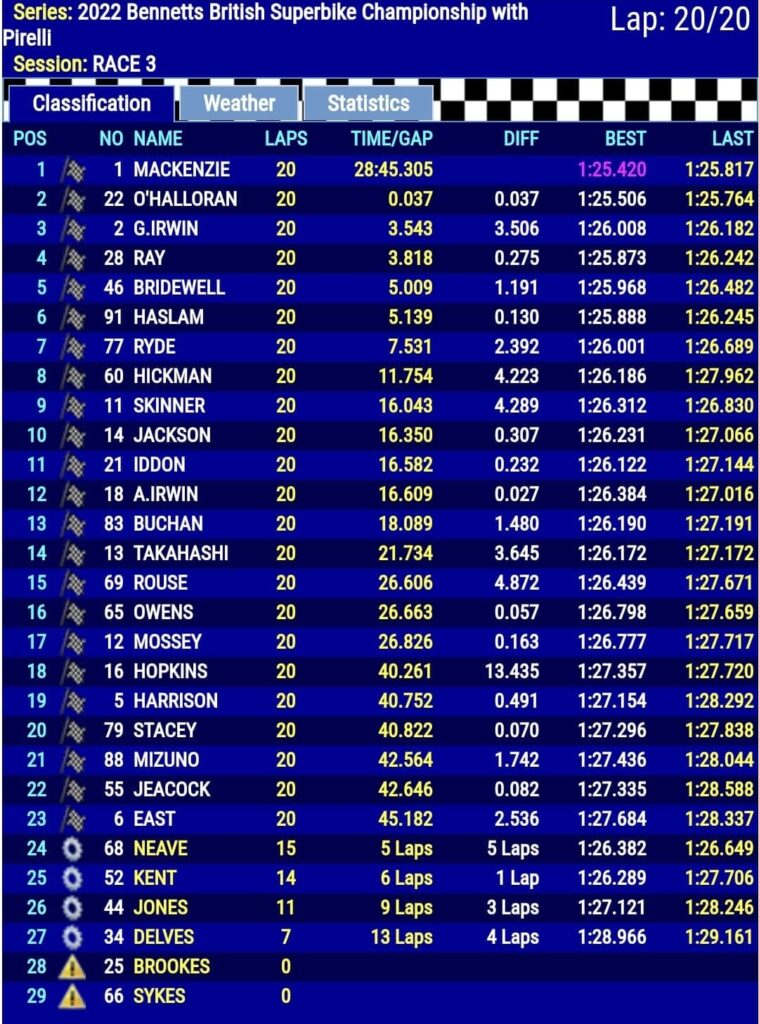 Mackenzie was crowned The Monster Energy King Of Brands, Jason O'Halloran is leading the championship by 10 points from Brad Ray. Mackenzie is now into the showdown places in eighth place.
Round six is up next for the Bennetts British Superbike championship at Thruxton on 12-14 August.
Featured Images: Olithephoto, Bennetts British Superbikes.

Looking to update your website?
ThisWebDesign works with small and medium-sized companies from all over the globe. Our focus is on offering visually engaging websites, social media profiles that convert, and branding that creates a powerful and lasting image.
thomas@thiswebdesign.co.uk
---