BSB: Peter Hickman Wins Race Two at Brands Hatch to Take His First Victory of 2022.
Peter Hickman is the Tenth Different Race Winner of 2022 as the Championship Title Holder Brad Ray Crashes Out on Lap Two.
Yesterday we saw the Bennetts British Superbike Champion being crowned after race one, Bradley Ray takes his first British Superbike championship title after having a very strong and consistent season with taking nine victories throughout the 2022 season up to date.
For race two Honda's Glenn Irwin was on pole position, Tommy Bridewell lined up in second place, with Peter Hickman rounding out the front row of the grid in third place. The weather at the Kent circuit was fine but the track conditions were sketchy, with thin dry lines around the circuit, the back part of the circuit was particularly damp.
Tommy Bridewell had a problem on the grid and his Ducati machinery had to be wheeled off the grid for the start of race two. Lee Jackson has broken his wrist after his crash in race one yesterday and is out of action today.
Glenn Irwin lead the pack into Paddock Hill Bend, Andrew Irwin got into second place. There was a leading group of five riders at the front from Glenn Irwin to Brad Ray. Bradley Ray crashed out at Paddock Hill Bend on the start of lap two, it was a fast crash, but the champion was up and on his feet.
Peter Hickman took second place from Andrew Irwin; Hickman was looking to make a pass on Glenn for first place. Danny Buchan was in fourth place; Danny was having a few moments on his BMW machinery. Leon Haslam had to pull in the pits due to a technical problem.
Peter Hickman took the lead at Paddock Hill Bend, Hickman managed to set a slight gap out at the front from Glenn who was coming under pressure from his brother Andrew. There was a battle going on for sixth place between Christian Iddon, Kyle Ryde and Danny Kent.
Tommy Bridewell had to start from pit lane, by lap seven he was in 17th place. Josh Owens was having another strong ride in 12th place; newcomer Jack Kennedy was in 13th place. Charlie Nesbitt was the highest place newcomer in 11th place.
At the halfway stage of the race Glenn was catching Hickman, Buchan was on the back wheel of his team-mate Andrew Irwin. further down the order Kyle was winning the battle for sixth place, Bridewell was in 13th place.
Andrew Irwin took second place from Glenn, Hickman looked to be losing traction from his rear tyre. Jason O'Halloran was catching the leading quartet in fifth place. Buchan got into third place pushing Glenn back into the clutches of O'Halloran.
Buchan and Andrew Irwin had a dice for second place at Druids, Buchan held on to the second place. A lap later Andrew and Glenn were now in a battle for third place, Glenn was holding on to the third place. Hickman was out at the front with Buchan in second place. Jason passed Andrew for fourth place with two laps remaining to the race.
On the final lap O'Halloran and Andrew Irwin made contact with each other and unfortunately Jason went down, yet another DNF for the unlucky Australian.
Peter Hickman crossed the finish line to take his first victory of the season and to be the tenth different BSB race winner, Danny Buchan finished in second place, Glenn Irwin took the final podium spot in third place, Kyle Ryde finished in fourth place, Bridewell finished in fifth place; great finish for the Ducati rider after having to start from pit lane.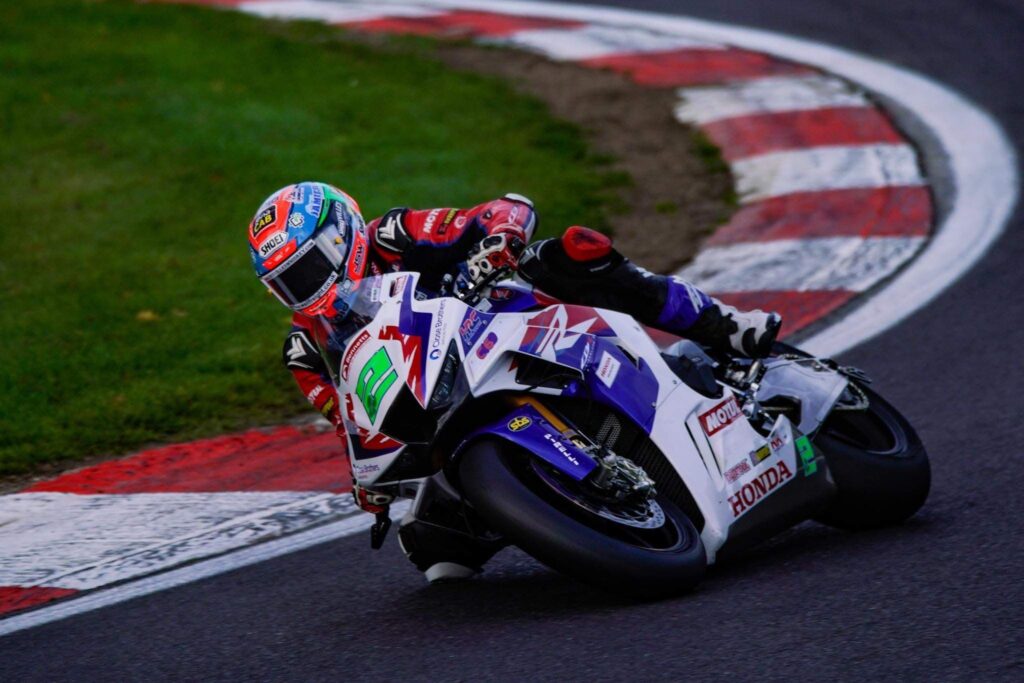 Featured Images: Olithephoto.

Looking to update your website?
ThisWebDesign works with small and medium-sized companies from all over the globe. Our focus is on offering visually engaging websites, social media profiles that convert, and branding that creates a powerful and lasting image.
thomas@thiswebdesign.co.uk
---