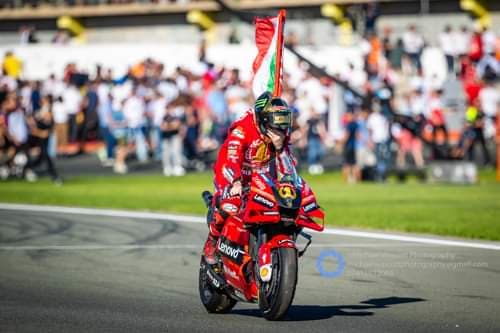 MotoGP: Alex Rins Wins Suzuki's Final Race as Francesco Bagnaia Becomes The 2022 World Champion
Suzuki's Time in MotoGP rounds off in a perfect way as Alex Rins takes a lights to flag win as Francesco Bagnaia wins the MotoGP World Championship
The tension was palpable on the grid, people could hardly move anywhere as the Circuit Ricardo Tormo Circuit in Valencia was sold out. It was all about the two title protagonists: Francesco Bagnaia and Fabio Quartararo. Bagnaia had a 23-point lead over the Frenchman so it was a must win situation for Fabio. Quartararo started in fourth while Pecco was in eighth. The front row was Jorge Martin, Marc Marquez and Jack Miller who were all hoping to end their season in style and in Martin and Miller's case; prevent Fabio from winning the title. Everybody was running the Hard front and Medium rear tyres.
The lights went out and it was Alex Rins who took the holeshot into turn one, Quartararo and Pecco were fifth and sixth. Marquez passed Miller into turn six, Quartararo put a really aggressive move on Miller into turn eight were there was hardly any room.
Miller passed Quartararo into turn one, but Fabio cut back, the Australian blocked passed Fabio and that allowed Pecco through and they touched! A piece of the Ducati's aerodynamic fairing came off, he then attcked Pecco in turns four, six and eight with the Italian retaking the place every time.
On lap four Quartararo made his move on Pecco stick into turn six, he had a 1.6 second gap to close on Miller in fourth place. Meanwhile Rins and Martin were first and second.
Thriller Miller passed Marquez into turn one on lap six to move into the podium places. Aleix Espargaro retired from the race and that put his third place in the championship at great risk.
Red Bull KTM's Brad Binder was all over the back of Bagnaia but couldn't out-brake the Ducati rider.
On lap nine Pecco ran wide at turn one and that finally allowed the South African to move into sixth place, Joan Mir was behind and was looking to progress to end Suzuki's last race on a high.
On lap ten Marc Marquez lost the front at turn eight and was out of the race, Quartararo was promoted to fourth and Pecco to sixth.
On lap 14 Binder was the fastest rider on the track setting the fastest lap of the race and was 0.4 seconds faster than the leaders. Mir was starting to take looks at Bagnaia with his Suzuki having better entry speed which he used into turn 14.
With 11 laps to go Quartararo and Binder had caught up to the front three, also Miguel Oliveira had passed Pecco into turn four and the Italian was demoted to eighth. Binder was the man on the move, passing Quartararo for fourth place on lap 18.
Luca Marini passed Pecco into turn four and Pecco was now in ninth with threat coming from his future team-mate Enea Bastianini. On lap 22 Pecco sat the bike up into turn two which allowed The Beast to move into ninth.
Binder moved into the podium places, block passing his 2023 team-mate Miller into turn two, he was on the back of Martin with Rins having a 0.7 second lead. Miller went down at turn 11 to put a disappointing end to his Ducati career.
With two laps to go Binder slipped up the inside of the Martinator into turn four and looked to try and have a last lap dash for the win.
Alex Rins crossed the line to win the final race of the season and Suzuki's final race in MotoGP a stunning way to end Suzuki's time in MotoGP. Brad Binder was second and Martin was third. Fabio Quartararo crossed the line in fourth which meant that as he crossed the finish line, Francesco Bagnaia was the 2022 MotoGP World Champion!
2022 Championship Standings:
1st Pecco Bagnaia
2nd Fabio Quartararo
3rd Enea Bastanini
4th Aleix Espargaro
5th Jack Miller
6th Brad Binder
7th Alex Rins
8th Johann Zarco
9th Jorge Martin
10th Miguel Oliveira
After 15 long years the Bologna Factory had finally managed to recapture the MotoGP World Championship, completing the Grand Slam with their team and manufacturer's titles. He's the first Italian MotoGP World Champion since Valentino Rossi in 2009 and first Italian rider and factory win in 50 years with Giacomo Agostini.
Featured Images: MotoGP.com, Michael Wincott Photography.

Looking to update your website?
ThisWebDesign works with small and medium-sized companies from all over the globe. Our focus is on offering visually engaging websites, social media profiles that convert, and branding that creates a powerful and lasting image.
thomas@thiswebdesign.co.uk
---