Marco Bezzecchi closes in on the championship and wins the French Grand Prix in Le Mans
Francesco Bagnaia started the 1000th Grand Prix from pole position ahead of Marc Marquez and Luca Marini. Jack Miller looked to try and avenge his crash from the sprint race. Brad Binder chose a hard front tyre, a big change for the South African, but could be the difference to give him his first Grand Prix win of the season. Jorge Martin fresh off his sprint victory was one of the favourites to win again. French riders Johann Zarco and Fabio Quartararo had strong race pace but had to start from ninth and 13th on the grid.
The lights went out and it was Marquez who took the holeshot into turn one, Pecco Bagnaia dropped down to fifth place, Binder ran very wide at turn six and was down in 18th place!
Marquez lead Jack Miller over the line ahead of Marini, Pecco and Martin. Zarco and Quartararo were in tenth and 12th.
Miller sent it up the inside into turn seven and held it around the outside but Marquez undercut him into turn eight. Marti outbraked himself into turn eight and was down to tenth behind his teammate.
Miller chose turn three for his next attack on Marquez and made the move stick with a perfect block pass and now Pecco was looking for a way through on the Spaniard.
Maverick Vinales went around the inside of Marini at turn three to move up the inside of turn four down to five and six and passed the Italian for fourth place.
Vinales then passed Pecco into turn 11, into 12 there was contact between the two and they were both down! Marini then had a moment out of turn three and collided with Alex Marquez and they went down also. Thankfully all riders looked be to ok.
The three riders out in front were Miller, Marquez and Marco Bezzecchi with Martin charging up to them and it was just eight laps into the race.
Bezzecchi made a very aggressive move at turn eight, forcing Marquez and himself off the track and Martin was gifted two places for free and was then able to set his sights on Miller. Bez then passed Martin at turn three.
The Mooney VR46 rider was then told to drop back one place and did it in a safe manner at turn 11 and slotted behind Martin and ahead of Marquez.
Zarco was the rider to keep and eye on as the Frenchman was setting a hot pace as the riders in front of him were battling. Dropping from three seconds to 1.6 in just three laps.
Marquez passed Martin at turn seven. On lap 11 Bez attacked Miller at turn three to take the lead for the first time, Marc tried to also go through with Bez but just wasn't close enough.
The Spaniard made the overtake at turn nine and tried to close down the 0.8 second gap that Bez had opened up since passing Miller.
Bez set the fastest lap of the race, the first 1:31, Martin sent it up the inside of the RC16 of Miller to move into third and the Australian was dropping pace and falling into the clutches of the riders behind him.
Augusto Fernandez was running a fantastic race in sixth place, the highest the rookie has been all season with Team Boss Herve Poncheral watching on in delight.
Zarco forced his way passed Miller at turn three and Fernandez followed suit into the top five, Binder after falling to 18th on the opening lap was on the back of the group for fourth in eighth place on lap 15.
Joan Mir and Alex Rins both crashed out at turn eight and nine, the Honda still not working for the Spaniards on European soil.
Binder had to take a long lap penalty for cutting turns nine and ten. Martin made his move on Marquez at turn 11, but ran just a little bit and it allowed Marquez back into second place, but Zarco was slowing approaching. Martin tried at turn eight but Marc once again undercut his fellow Spaniard.
Martin pulled out of the slipstream and passed Marquez into turn one, but Marquez instantly attacked back into turn three and held the position, but they both lost a lot of time and Zarco was then on the back of the two riders. Miller crashed out at turn four and lap 25.
Martin tried once again at turn seven and looked to have made it stick, Marquez once again looked for a cutback but lost the front and crashed out of third place! A heroic effort from the eight time world champion. That promoted home hero Zarco onto the podium
Marco Bezzecchi put in a brilliant performance to win the 1000th Grand Prix for Mooney VR46 Ducati, the Prima Pramac Racing Ducati's rounded out the podium for an all Ducati podium.
Augusto Fernandez finished in a very impressive fourth place! A great ride from the rookie, finishing just six seconds off the win in just his fifth Grand Prix.
Pecco Bagnaia held onto the lead of the championship by one point ahead of Bezzecchi, Binder was third and Martin was fourth in the standings.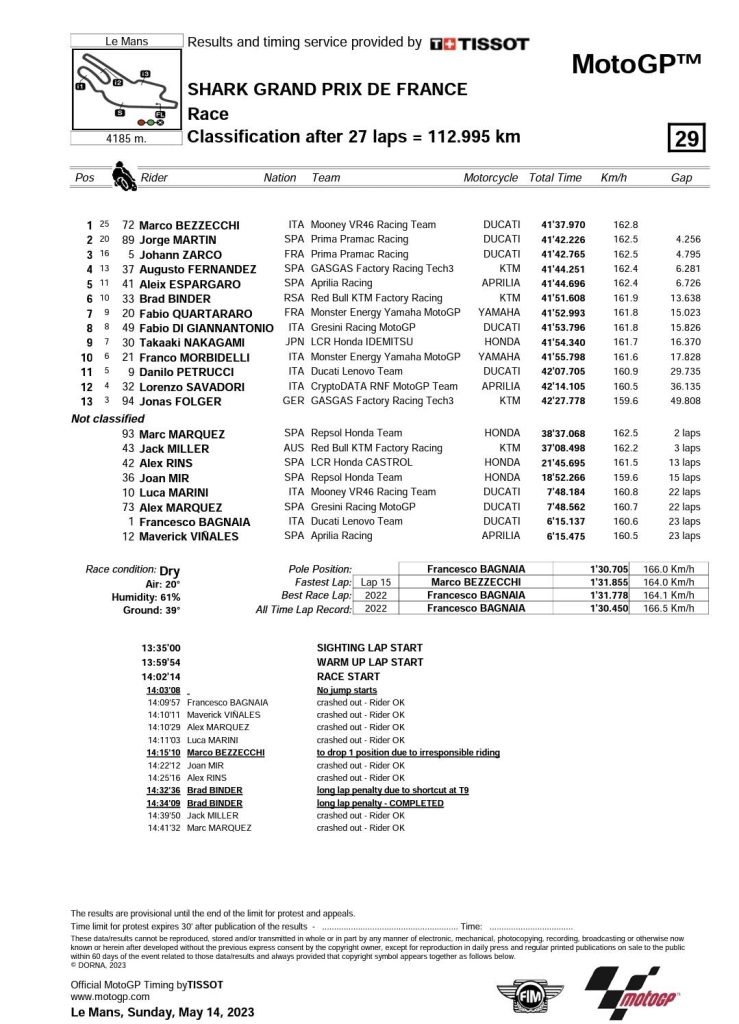 Featured Image: MotoGP.com

Looking to update your website?
ThisWebDesign works with small and medium-sized companies from all over the globe. Our focus is on offering visually engaging websites, social media profiles that convert, and branding that creates a powerful and lasting image.
thomas@thiswebdesign.co.uk
---