BTC: A Look Ahead to this Weekend's R&G British Talent Cup Action at the Iconic Donington Park.
The R&G British Talent Cup Heads To the Midlands for Round Two of the Championship.
By Ed Lewis.
A five week break in the 2023 R&G BTC brings us to what will hopefully be a sunny Donington park this weekend. As most of our readers will already be aware of our popular reigning champion Johnny Garness was involved in an incident during the final day of testing in Estoril at the end of April. Now back in the UK Johnny has been admitted to the Bristol Royal Children's Hospital where he continues his recovery, Short Shift News sends Johnny and his family all our best wishes – we hope to see you all soon.
Other off track Short Shift News, title contender Rhys Stevenson has amicably parted ways with his new team RS Racing after just one round at Silverstone. He travelled to Lemans last weekend for the second round of the Red Bull Rookies Cup where his season just got worse with a disastrous crash in race one, proceeded with a subsequent technical DNF in Race 2 in front of an estimated 275,000 MotoGP fans. Rhys has reformed his successful 2022 Rocket Racing team for this event and will be looking to regain confidence after his race one crash at Silverstone.
Championship leader, Spanish based Amanuel Brinton is a non-starter for round two due to European Talent Cup commitments, leaving team mate Evan Belford looking to gain maximum points after his impressive rides at Silverstone, Clayton Edmonds also RS racing will be hoping to make his stamp on the championship after an unusually quiet round one.
Fan favourite Harrison Dessoy will be the man to watch out for, currently brimming with confidence the young Essex lad will be the one to watch on his Microlise Creswell Honda.  Another Spanish based Brit Ryan Frost will be looking to add to his very impressive debut at Silverstone, Ryan's first ever ride on the Honda NSF certainly turned heads, he's sure to be demanding more reliability from the Talentum Motorsport team boss Bradley Wilson this weekend.
By far the most improved rider this term Charlie Huntingford on the Opteven Mototechniks machine, the Suffolk teenager impressed last year at this circuit and I predict the podium will soon be awaiting Charlie. 
Let's see what round two of the R&G BTC brings us, it's sure to be entertaining!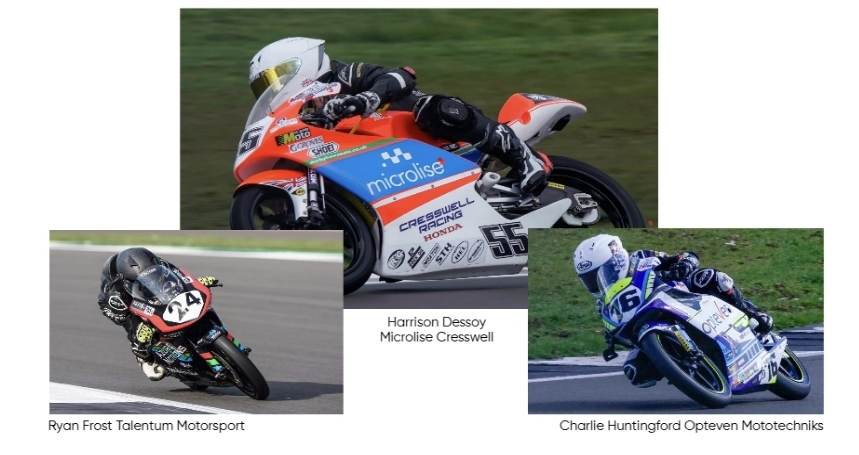 Featured Images: Olithephoto.

Looking to update your website?
ThisWebDesign works with small and medium-sized companies from all over the globe. Our focus is on offering visually engaging websites, social media profiles that convert, and branding that creates a powerful and lasting image.
thomas@thiswebdesign.co.uk
---