BTC: Sullivan Mounsey: "Now we are at a much closer point than we were preseason"
We caught up with Wilson Racing's Sullivan Mounsey at Round Two of the R&G British Talent Cup at Donington Park.
ShortShift News spoke to Wilson Racing's R&G British Talent Cup rider Sullivan Mounsey prior to race one at the Midlands circuit of Donington Park.
Sullivan first reflected on his opening round at Silverstone where he crashed in Race One, but finished in fifth place in Race Two. He said: "[Race One] it was a good race start until I ran off the track, it was just a silly mistake then I got caught up in Rhys' crash.
"Race Two, that was a good race, but the last lap I could have gone for a move for the win and ended up making a mistake; just a complete rookie mistake of just not seeing the last lap board and ended up not doing any moves. Then it was like 'oh let me get slipstream' then I got slipstreamed to the chequered flag and just lost it all."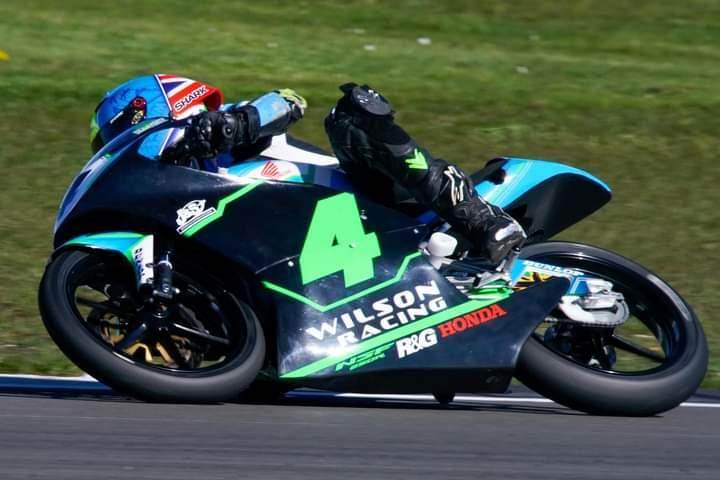 Sullivan has a couple of favourite British circuits, they are Silverstone National or Donington Park National. He then spoke about the experience at the Silverstone British Grand Prix round, he said: "Being a part of the British MotoGP round is a good round, I get to see a couple of my mates that are there, it's nice to see the English boys for instance Scott Ogden and Josh Whatley, Jake Dixon is always welcoming to me and helps me out which is really nice".
Training is now a big part of motorcycle racing with riders having to push to the limits every single lap. Sullivan has a wide range of training exercises such as: cycling, running, the gym for everything, swimming, rock climbing and also a bit of fast boxing.
The 2023 season sees Sullivan being part of a three-rider team, this is the first time he has been part of a team with multiple riders. He said: "I've never had a team mate until this point, so it is different but it's good especially the last couple of rounds now we are at a much closer point than we were preseason, it is different because it's just not me, and it's much more helpful for when for instance when we were in Spain, we had a lot of time testing, we were all much closer at the end, it has got its positives but it also has it's negatives but I do like my team mates, they are really good".
Finally we asked Sullivan to pick a superpole song that he would choose, if he was given the opportunity to do so, his reply was: "I have a very different genre of music, I've got one that's more straight headed, one for getting in the zone for racing, I've got a play list called everything racing, 90's hip hop 2Pac and Biggie, I've got friends who make music too, I'd find it very hard to pick an exact song".
Sullivan and Wilson Racing went on to win Race One at Donington Park, unfortunately Race Two didn't go to plan, Sullivan highsided out of the last corner from a podium position, he is currently running in sixth place in the championship standings.
Featured Images: Olithephoto & R&G British Talent Cup.