BTC: Harrison Dessoy: " I know our race pace is good, I know I can control the race, we will just have to wait and see"
ShortShift News Interviewed Microlise Cresswell Racing's Harrison Dessoy at Round Two of the R&G British Talent Cup at Donington Park.
This is Harrison Dessoy's second season riding for Microlise Cresswell Racing, the young R&G British Talent Cup rider got his first BTC win last season and started the 2023 season with a victory. We interviewed Harrison in the paddock prior to Race One.
What did it feel like to win the first race of the 2023 season?
"I was ecstatic, it's such a great feeling, it was my second win but it felt just as good as the first one. I hope to repeat it this weekend".
You took round one's victory under a Red Flag, did that change the feeling of the victory in any way?
"I was very strong coming out of the left hander at the national circuit at Silverstone, so I know if I was to lead out of that corner to the finish line, no matter what the lap was I knew I was going to win so that was the main goal for the race really, just to control it and to lead as much as possible, the Red Flag was just one of those things and it came in my favour".
Did you feel any pressure for Race Two having won the first race?
"There was a little bit, I have to say yes, obviously each time I go out I try to stay as relaxed as possible as I know when I'm most relaxed I ride my best, so yes there was a bit of pressure but then again everyone else was feeling the pressure too".
How's your weekend going so far?
"Free Practice was really good yesterday, I was on top of the combined times and for Qualifying to day I'm in fourth place, which is a good place to start on the grid, that's where we wanted to be; inside the top six, really happy we achieved that today. I know our race pace is good, I know I can control the race, we will just have to wait and see".
What's your favourite circuit?
"Has to be Oulton Park, I do like Oulton, up and down and very technical, definitely one of my favorites".
If you could do a superpole qualifying lap which song would you choose?
"I think Rocket Man by Elton John, because if I end up flying through the air and falling off or something it suits its quite well".
Harrison unfortunately crashed in Race One but went on to take the victory in Race Two, he is currently in second place in the R&G British Talent Cup championship standings.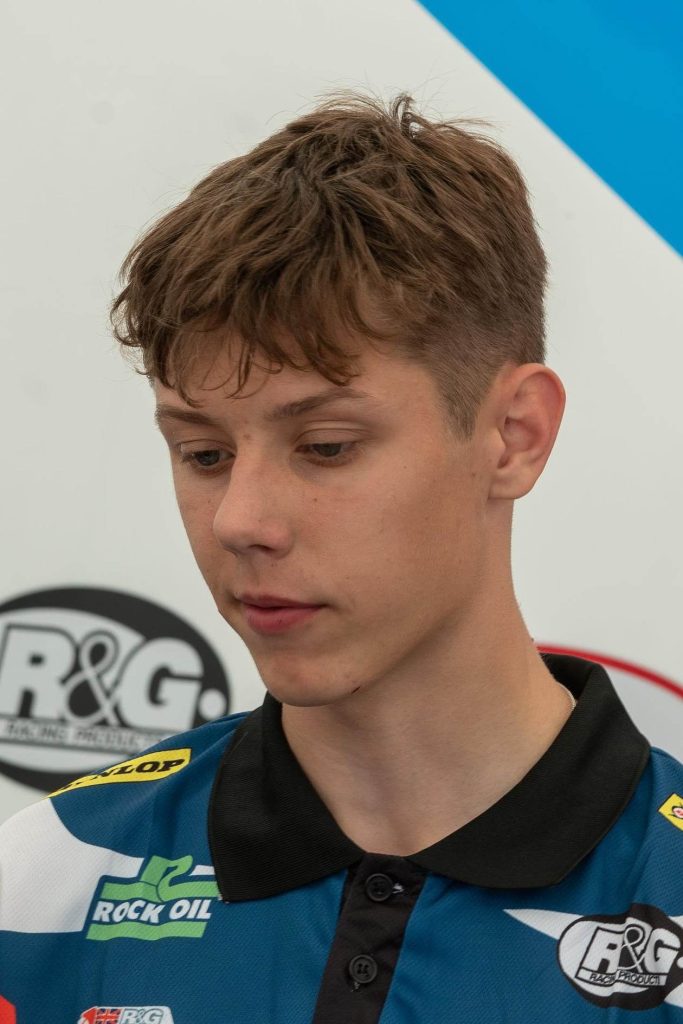 Featured Images: Olithephoto.

Looking to update your website?
ThisWebDesign works with small and medium-sized companies from all over the globe. Our focus is on offering visually engaging websites, social media profiles that convert, and branding that creates a powerful and lasting image.
thomas@thiswebdesign.co.uk
---