BSB: Tommy Bridewell Wins the BikeSocial Sprint Race at Snetterton in a Last Lap Battle
BeerMonster PBM Ducati's Tommy Bridewell takes his first victory at Snetterton
Jason O'Halloran started from pole position ahead of BeerMonster Ducati's Glenn Irwin and new team-mate Tito Rabat. Tommy Bridewell headed the second row ahead of Josh Brookes and Leon Haslam. Kyle Ryde had a disastrous qualifying in 16th place.
The lights went out and it was O'Halloran who took the holeshot into turn one ahead of Irwin and Rabat. The Australian ran wide at turn two and fell behind Iwrin and Rabat. Danny Kent jumped four places up to fourth ahead of Brookes, Bridewell was down in ninth.
The O'Show wanted to get back into the lead and he overtook Irwin into Brundle and then went underneath Irwin into Coram, but the Ducati was able to retake the lead down the straight.
Bridewell was charging his way through the order, moving up to fifth place by lap three. He overtook Kent into Brundle but made contact with Rabat at the bomb hole and Rabat lost place down to seventh, Bridewell was now in third. Danny Buchan's luckless season continued as he lost the front at Agostini.
Leon Haslam had his first DNF of the season with a technical problem! Christian Iddon was having another solid performance on the Oxford Products Ducati in fourth place. On lap six Bridewell overtook O'Halloran down the home straight and was the fastest rider on track by over a second. Brookes moved into the top five, overtaking Kent.
Bridewell took the lead of the race, overtaking his team-mate Irwin at Murrays. Iddon and Brookes were on the move closing in on Irwin and O'Halloran. Brookes made a late lunge up the inside of Iddon at Oggies and made it stick, Iddon lost a lot of time.
Home rider Ryan Vickers showed some promise early on in the weekend but had to retire from race one with a technical problem.
Brookes was the fastest rider on circuit, half a second faster than the three riders ahead. The Aussie from Bringelly out-dragged the Aussie from Wollongong and set his sights on his former team PBM.
Irwin overtook Bridewell into Brundle, this allowed the FHO BMW to close in, O'Halloran hadn't been dropped either.
Tommy Bridewell set up the pass for Brundle on the last lap and did it perfect, Irwin lost momentum, Brookes overtook Irwin into Murray with O'Halloran out-driving the Ducati for third.
Bridewell took the race victory at the Norfolk circuit, his first victory at Snetterton and also a circuit which was not at a park. Brookes had great late race pace and could be a dark horse for tomorrow's races with O'Halloran taking another third place.
Kyle Ryde finished in 13th place with Peter Hickman in 20th! Terrible races for those two, not what they would have hoped for.
Bridewell will start Race Two from pole position ahead of Brookes and Irwin.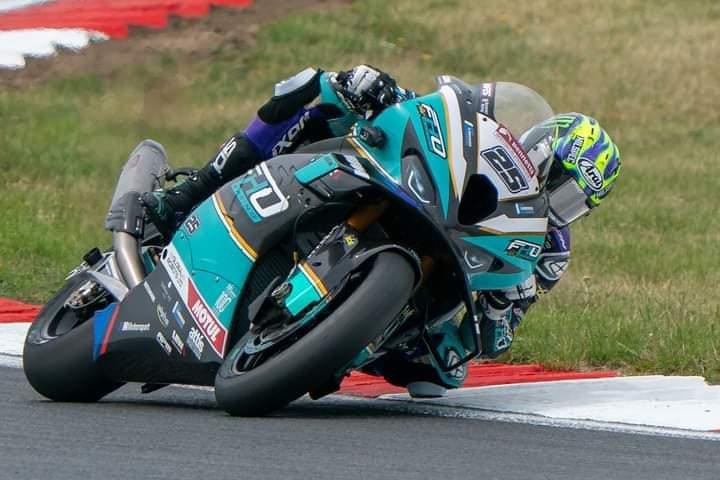 Featured Images: Olithephoto.

Looking to update your website?
ThisWebDesign works with small and medium-sized companies from all over the globe. Our focus is on offering visually engaging websites, social media profiles that convert, and branding that creates a powerful and lasting image.
thomas@thiswebdesign.co.uk
---