BSB: BeerMonster Ducati's Tommy Bridewell Wins Race Three at Brands Hatch.
Tommy Bridewell holds off his team-mate to take his second win of the day and take the King of Brands trophy.
For the final installment of round six of the Bennetts British Superbikes at Brands Hatch, Tommy Bridewell was on pole position, Danny Kent was in second place with Oxford Products Ducati's Christian Iddon lining-up in third place.
Danny Kent lead the field into Paddock Hill Bend, Josh Brookes crashed out! Kent was leading the way, Kyle Ryde got into third place. Danny Buchan was in seventh place, much better start for the BMW rider.
Iddon took control of the race after two laps, Kent was in second place, Kyle Ryde was in third place. Bridewell was in fourth place just in front of Leon Haslam. The field was pretty much closed together after three laps.
Kyle slowed up as he had a mechanical issue and was now out of the race. BeerMonster Ducati's Glenn Irwin was the fastest man on track whilst in fourth place, just behind his team-mate Bridewell. There was a six way battle for sixth place from O'Halloran to Jack Kennedy.
On lap seven Bridewell was in second place on the tail of fellow Ducati man Iddon. Glenn took third place from Kent, the Northern Irish rider is desperate for a race win! The leading trio were just making a slight break from fourth placed man Vickers, the OMG rider didn't give up and caught the leading group, he then went on to pass Glenn to take third place.
Peter Hickman entered the pits on lap 11, not a good day for the FHO Racing Team. Glenn and Vickers were dueling for third place. Bridewell passed Iddon at Hawthorne to take the lead, Glenn was holding the third place and was lining up a move on Iddon for second place. The leading five riders had a 1.8s lead from the rest of the field.
Glenn made his move for second place, Iddon lost momentum and was passed by Vickers. Glenn was riding the wheels off his Ducati machinery to try and pass his team-mate. Iddon gathered himself and past Vickers for third place, Vickers retook the place a lap later.
Bridewell crossed the line to take his second victory of the day, Glenn had to settle for second place, he was so close but just didn't have chance to pass Bridewell, Vickers finished in third place, Iddon was just off the podium in fourth place, Danny Kent finished in fifth place.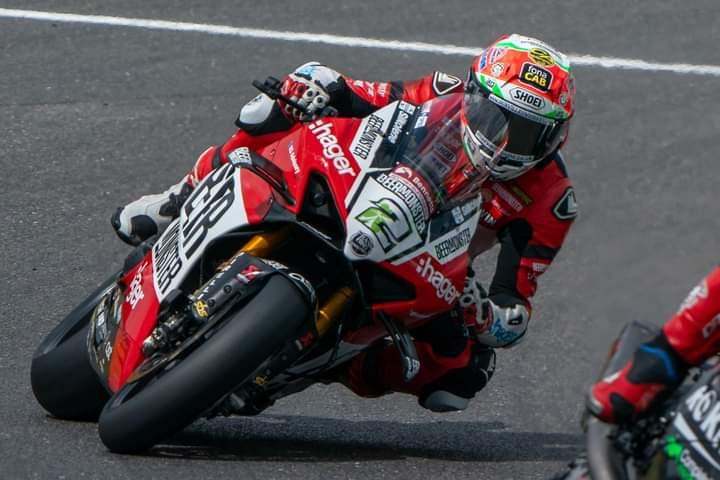 Featured Images: Olithephoto

Looking to update your website?
ThisWebDesign works with small and medium-sized companies from all over the globe. Our focus is on offering visually engaging websites, social media profiles that convert, and branding that creates a powerful and lasting image.
thomas@thiswebdesign.co.uk
---