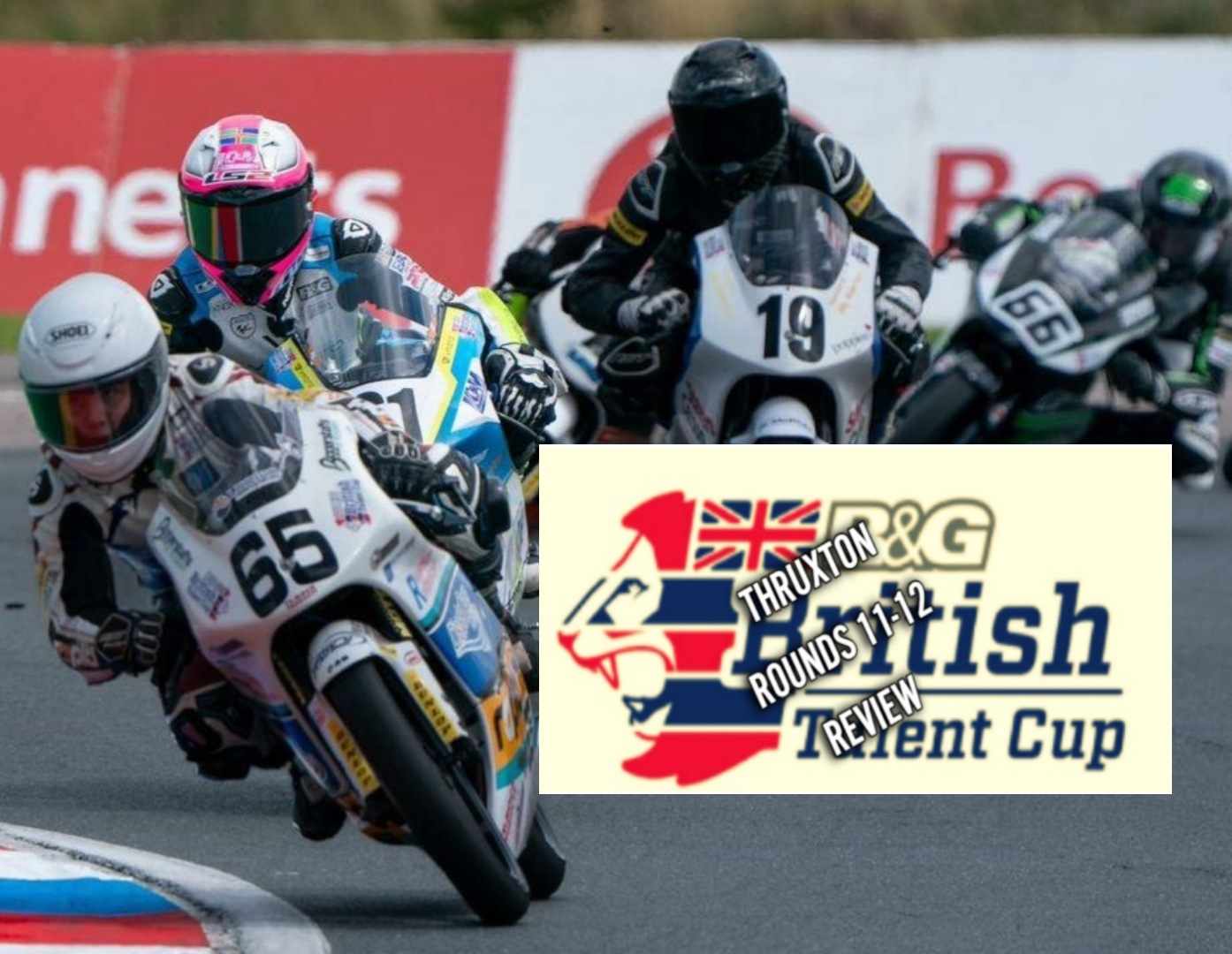 BTC: The R&G British Talent Cup Headed to the Popular Hampshire Venue of Thruxton.
Thruxton the fastest circuit on the BSB calendar provided three days of unmissable action.
By Ed Lewis.
Free Practice & Qualifying:
Changeable weather caused havoc during FP1, slicks were the popular option after pre-session rain and wind drenched the airfield style 2.4 mile circuit which dried up rapidly minutes prior to the off. Those keeping an eye on the weather radar took full advantage and posted quick laps before the red flag came out as some close contact by the start / finish straight caused Alexander Rowen (Mortimer Racing) to take to the grass and was unlucky enough to hit the safety barriers – rider ok. The restart came with the rain, ensuing a mad wheel change for all in the tight Thruxton pit lane. The then drying surface gave us a glimpse of what was to come with Even Belford (RS Racing) top of the class but the top five separated by one second. Better conditions for FP2 where Sullivan Mounsey headed the pack with Belford and Lucas Brown (SP125) in hot pursuit. On day two again Belford was in charge of qualifying, Mounsey second and Amanuel Brinton (RS Racing) joining the party on his second visit to Thruxton. Notably American Eli Banish (VisionTrack Racing) posted his first ever top ten qualifying spot.
Race 1:
A race long three way scrap went wheel to wheel with Mounsey, Brinton and Belford after Lucas brown took to the grass on lap one. The 67 of George Bowes (Creswell racing) spectacularly high siding at turn three destroying his chances and his machine, rider shaken not stirred. The final corner it was Mounsey who clinched victory after a superb change of direction mid chicane that gave him the drag over the line from Brinton, Belford in home third with a seemingly race long power issue.
Race 2:
Seemed like a repeat of race one until Ollie Walker (VisionTrack Racing) caught the fighting trio at half race distance, taking the lead on several occasions with some lovely clean mature moves. But it was Brinton who showed class on the final laps, Walker a very credible second and Mounsey third. Just 0.384 covered the top four with Belford just of the final podium spot collecting vital championship points retaining a 45 point advantage as we head to Oulton Park in September for the penultimate round. Good points went to Harrison Mackay with his best ever finish in fifth after being in the doldrums for most of 2023, Eli Banish grabbed a creditable seventh also his best finish by far and within a second off Brinton's best lap time. Ever impressing Charlie Huntingford (Opteven Mototechniks) also celebrated his first top 10 finish in ninth – great to see some new names at the top of the score sheet.
Short Shift News Rider Award: A close call between Kentucky's popular Eli Banish and Harrison Mackay but with two strong top ten finishes the panel favoured the Lincolnshire teenager by a whisker.
Evan Belford leads the championship standings on 241 points, Amanuel Brinton is in second place on 196 points, Sullivan Mounsey is in third place on 192 points. Next up for the R&G British Talent Cup Oulton Park 15-17 September.
Featured Images: Olithephoto.


Looking to update your website?
ThisWebDesign works with small and medium-sized companies from all over the globe. Our focus is on offering visually engaging websites, social media profiles that convert, and branding that creates a powerful and lasting image.
thomas@thiswebdesign.co.uk
---