Moto3: Colin Veijer Wins the PETRONAS Grand Prix of Malaysia.
Moto3 Rookie Colin Veijer holds off his team-mate Ayumu Sasaki to take the Moto3 victory in Sepang.
Leopard Racing's Jaume Masia was on pole position for the PETRONAS Grand Prix of Malaysia, Liqui Moly's Colin Veijer strong form continues as the Netherland rider lined-up in second place on the grid, Italian Matteo Bertelle rounded out the front row in third place.
Ivan Ortola lead the field of Moto3 riders into turn one, Colin Veijer was leading at the next corner with Jaume Masia for company.
A lap later Masia and Ayumu Sasaki were taking control of the race, KTM rider Deniz Oncu was in fourth place. The field was still pretty much bunched up at the Sepang circuit.
Sasaki, Masia and Colin Veijer were trading places to lead the race. Deniz Oncu was making harsh moves to get into third place. After five laps David Munoz was joining the party in fifth place, the leading group consisted of 15 riders.
David Alonso was making sharp progress through the field and was in ninth place. Daniel Holgado was riding just outside the top ten in 12th place.
On lap five it was chaos in sector two as David Alonso, Daniel Holgado, Riccardo Rossi, Taiyo Furusato and Diogo Moreira all crashed out of the race, fortunately all the riders were up and ok.
At the half-way stage of the race it was an Intact Racing one-two with Colin Veijer leading from his team-mate Sasaki.
With five laps remaining to the race the leading group consisted of six riders; from Masia to Moto3 rookie Jose Rueda. Oncu was in third place and looking eager to make his way to the front of the leading pack.
Disaster struck for Rueda and Deniz Oncu as they both crashed out together at turn 15 with just two laps to go! There was now a three-way battle for the victory between Masia, Sasaki and Veijer.
Veijer took the lead on the final lap, Sasaki passed his team-mate a few corners later. Veijer was on limit and yet again passed Sasaki, Veijer held his nerve and crossed the finish line to take his first Moto3 victory, Sasaki was second, Masia was third, Ortola finished in fourth place with David Munoz finishing in fifth place.
Masia is leading the championship standings by 13 points from Sasaki, it's all to play for in the final two rounds!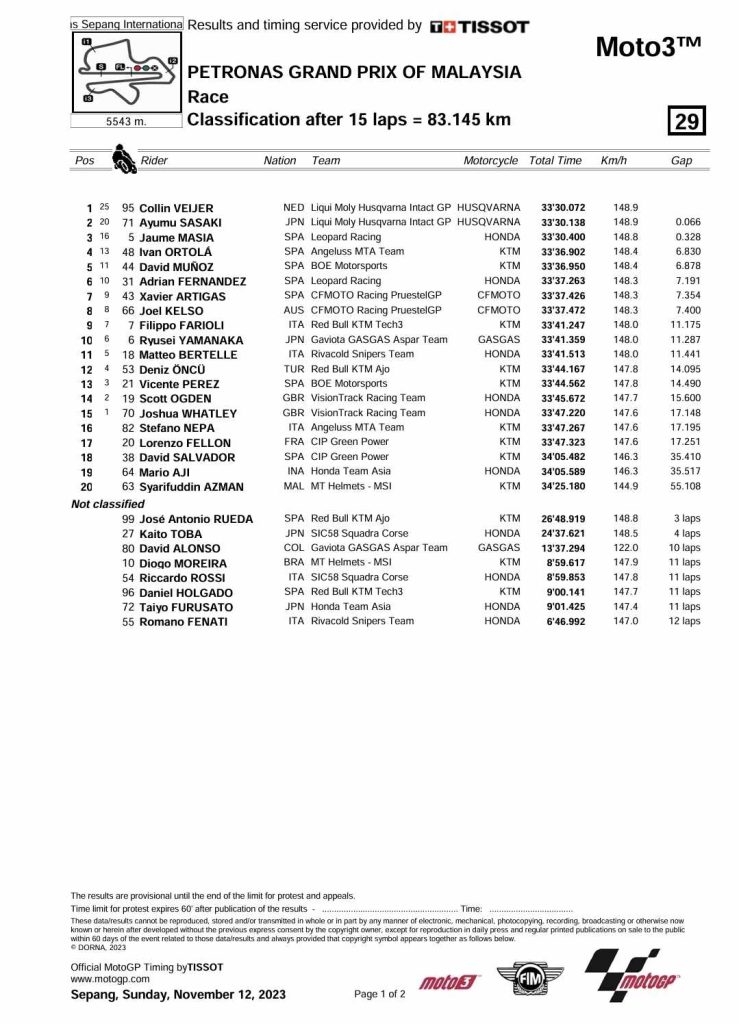 Featured Image: Intact GP

Looking to update your website?
ThisWebDesign works with small and medium-sized companies from all over the globe. Our focus is on offering visually engaging websites, social media profiles that convert, and branding that creates a powerful and lasting image.
thomas@thiswebdesign.co.uk
---