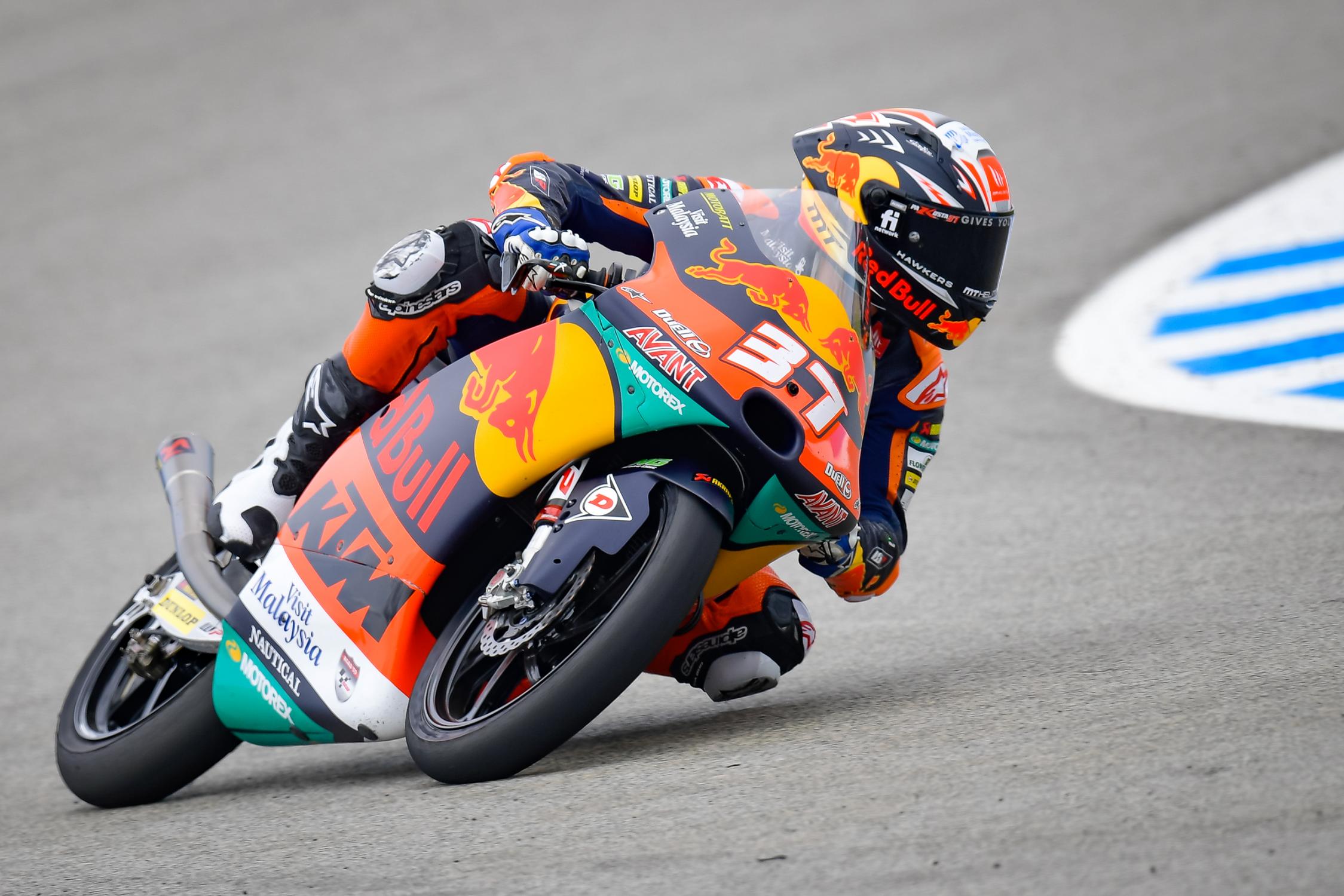 Pedro Acosta wins again in an action-packed race in Jerez.
There's no doubting this young Spaniard's talent, as he fought hard with almost everybody in the field but stayed out of trouble to win and stretch his championship lead.

The race start saw Tatsuki Suzuki getting the hole-shot from pole as all the riders safely filtered through the first couple of tricky corners. Romano Fenati had a great start, storming down the inside into Turn 1.

Petronas Sprinta Racing rider John McPhee went down at Turn 7. The Brit had a massive high-side all on his own, but left unhurt. He looked very disgruntled back in his pit box as his terrible season continues.

Jeremy Alcoba took the first of his long lap penalties on lap 2 from the leading group and re-joined in 12th. The early breakaway group was 7 riders as Suzuki, Migno, Sasaki, Binder, Fenati and Oncu followed Rodrigo. A battered Darryn Binder looked racy after his huge crash yesterday, staying with the leaders hovering around 2nd or 3rd place.

Gabriel Rodrigo fell from the lead at Turn 7 with 18 laps to go. Turn 7 has claimed plenty of victims this weekend. He had a massive high-side mid-corner, heels smacked the tarmac and went off into the gravel. He looked very groggy as he walked down the side of the air fence. He was taken to the medical centre for a check-up.

In all the drama, Deniz Oncu moved into the lead but more amazingly, from absolutely nowhere, Pedro Acosta moved into 2nd – until Darryn Binder barged him to one side at Turn 6 to demote him to 4th. With 15 laps to go, Acosta worked his way back to the front as the leading group of 14 trailed him.

Romano Fenati looked more like his old aggressive self at the sharp end of the leading group, putting some quite hard but fair moves on Ayumu Sasaki and Andrea Migno. They repaid the favour numerous times throughout the race.

Tatsuki Suzuki, Sergio Garcia and Jeremy Alcoba were given track limit warnings with 12 laps to go, after spending too much time out on the green beyond the curbs. Suzuki went down a lap later at the off-camber Turn 2, washing the front out on entry. This split the lead group into two groups of 7 riders.

Deniz Oncu started to show what he is good at – racing at the front. It's been a long time coming for the Turkish rider, and looked to be putting a really good race together, leading lots of it with various scraps going on behind him.
With 7 laps to go, the four Red Bull KTMs (Ajo and Tech3) battled through Turn 5 onto the back straight. As they approach Turn 6, five riders wide, Romano Fenati calmly breezed past the lot of them into the lead.
Sasaki and Migno collided at the last corner. How they managed to stay upright is a mystery. Unbelievable save from Andrea Migno as his bike regained grip and flicked him out of the seat.
Deniz Oncu was given a track limits warning with 5 laps to go as he was sat in the lead so had to be careful as they headed into the business end of the race.
Carlos Tatay took his long-lap penalty with 4 laps to go. He dropped out of 5th and rejoined at the back of the leading group.

As they moved into the last 3 laps, there was a very busy leading group of 13, which included the young Swiss rider, Jason Dupasquier. He's had a very good weekend and has been there or there abouts throughout.

Dennis Foggia had a crash at Turn 9 after a miserable race. The Leopard Racing rider trudged away and looked as though he was going to walk out of the gate and head home.

With 2 laps to go Acosta lost the rear at Turn 6 and put a gap in the group. It was a brilliant save, as he looked almost certain to get launched into orbit.

Deniz Oncu led into the last lap, closely followed by Masia and Acosta and 11 other riders. Acosta got a good run out of Turn 5 and sent it into Turn 6 taking Oncu and Masia in one go. He led into the last corner and as they all fanned out, Deniz Oncu sailed up the inside in a last-ditch attempt to win the race, but lost the front and wiped out Jaume Masia and Darryn Binder who both put in excellent races together. This left Championship Leader Acosta to ride to the line with nobody around him to take yet another win after a calculated, but far from easy race.

Romano Fenati came 2nd with a long-awaited podium and the brilliant Jeremy Alcoba was 3rd, after having to take two long-lap penalties in the race. Andrea Migno came 4th after another solid weekend with Ayumu Sasaki in 5th. Carlos Tatay has to be a contender for rider of the day with a brilliant 6th after a couple of long-lap penalties.

What a race! It doesn't get better than that, and was an excellent watch. Pedro Acosta is something special. There is no doubt about it. He still leads the championship in his rookie year and looks to be unbeatable.
Let's see what he can do next time out in Le Mans on May 14th.
Feature Image: MotoGP.com


Looking to update your website?
ThisWebDesign works with small and medium-sized companies from all over the globe. Our focus is on offering visually engaging websites, social media profiles that convert, and branding that creates a powerful and lasting image.
thomas@thiswebdesign.co.uk
---