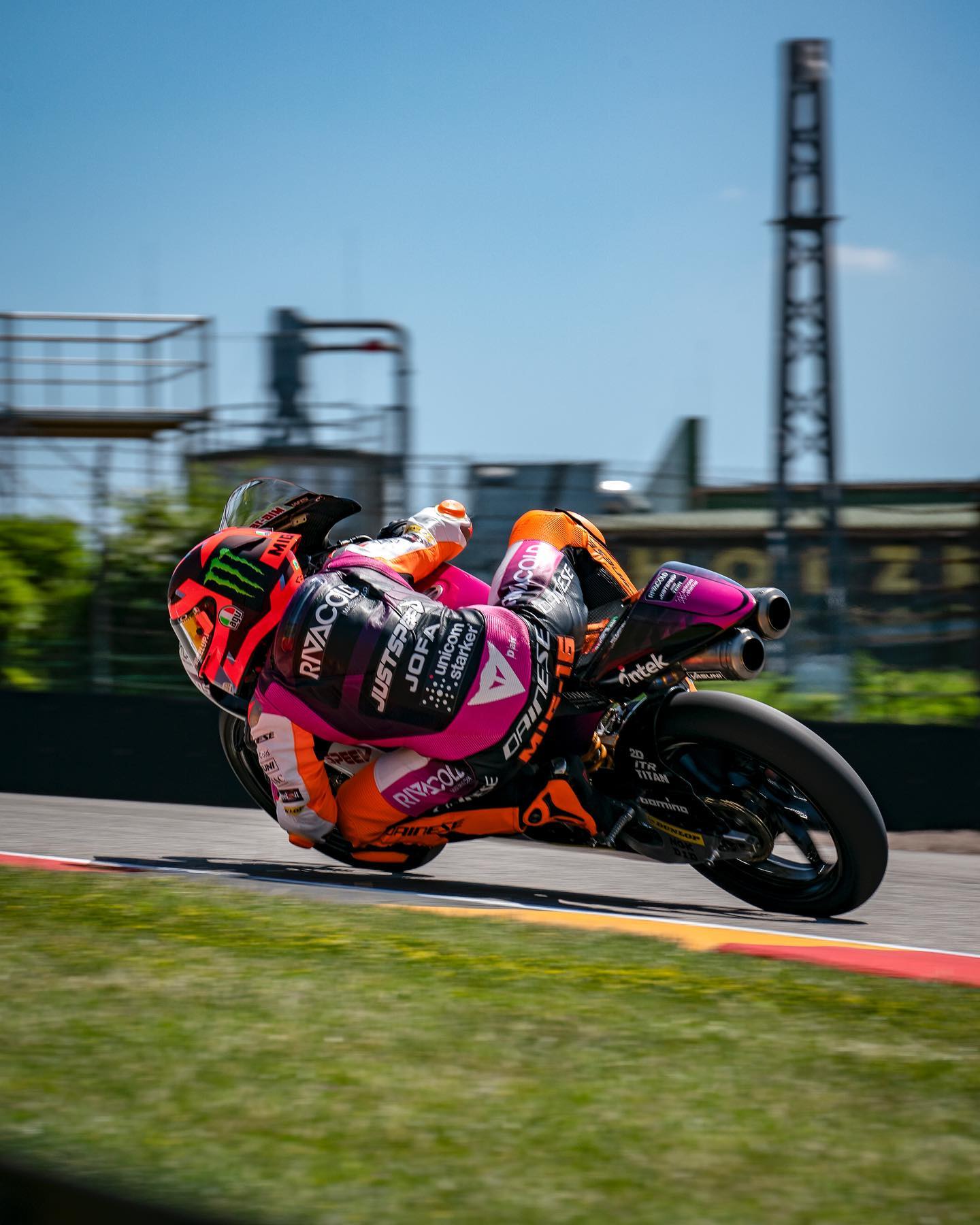 Andrea Migno is the fastest man on a Moto3 bike so far this weekend, and tops the timesheets, as Pedro Acosta gets through to Q2 by the skin of his teeth.

A beautiful morning in Saxony, Germany. Coming into the session, John McPhee was fastest on combined times. The heavily left-handed track looks to be favouring the British rider early in the weekend. He was followed by SIC58 Squadra Corse rider, Tatsuki Suzuki. Championship Leader, Pedro Acosta looked more like the competitive rider we know this weekend in 3rd.

Esponsorama Avintia Moto3 rider, Carlos Tatay is still out with a broken foot, and so has been replaced with Italian youngster, Elia Bartolini. CIP Team rider Max Kofler is also out this weekend, and has been replaced by Australian Joel Kelso, riding the #66 bike.

The first bit of action in the session was Gabriel Rodrigo and Andrea Migno bumping bars at 130mph down "the waterfall", and it looked like a race as they bumped into each other again on entry to Turn 13. Migno wasn't too happy and slowed to create a gap. Two minutes later, Rodrigo had a huge high-side out of Turn 3. He hobbled away, but looked very uncomfortable as he made his way to the barrier. He was taken to the Medical Centre for a check-up.

With 17-minutes to go, the whole field were sat on their bikes in pitlane waiting for the first person to go. As the clock ticked to 16 minutes, they all went out together. Pedro Acosta managed to get some space and started to string quick laps together.

Kaito Toba set the pace on the first run of flying laps, with Tatsuki Suzuki following him through in 2nd. John McPhee went 3rd, with Sergio Garcia in 4th. Impressive rookie Izan Guevara was laying in 5th. After a couple of laps, the field came back into the pits to prepare for the last minute of chaos.

With 4-minutes of the session remaining, the field streamed out onto the circuit. As they broke up into their groups, Adrian Fernandez went down at Turn 3, therefore creating a yellow flag zone. Andrea Migno had already passed the crash and went top with a great lap. He was followed by Stefano Nepa in a brilliant 2nd. The 16-year-old Frenchman Lorenzo Fellon set a strong lap in the group, to get himself into Q2 for the very first time.

Pedro Acosta squeaked his way into Q2 in 14th position on combined times. He doesn't seem to get on well in the FP3 session and leaves himself in some questionable positions. John McPhee ended up in 9th, but looks to be able to set a lap on his own accord.

Niccolo Antonelli, on-form Deniz Oncu, Jeremy Alcoba and Darryn Binder all have to go through Q1 later today, but Andrea Migno looks very fast again as he tops the timesheets. Can he convert it to pole? Find out later today.
Moto3 QP1 session begins at 12:35 Local Time (GMT +2).
Feature Image: VR46 Riders Academy
FP3 Top 5 Result:
Andrea Migno
Stefano Nepa
Kaito Toba
Tatsuki Suzuki
Filip Salac


Looking to update your website?
ThisWebDesign works with small and medium-sized companies from all over the globe. Our focus is on offering visually engaging websites, social media profiles that convert, and branding that creates a powerful and lasting image.
thomas@thiswebdesign.co.uk
---