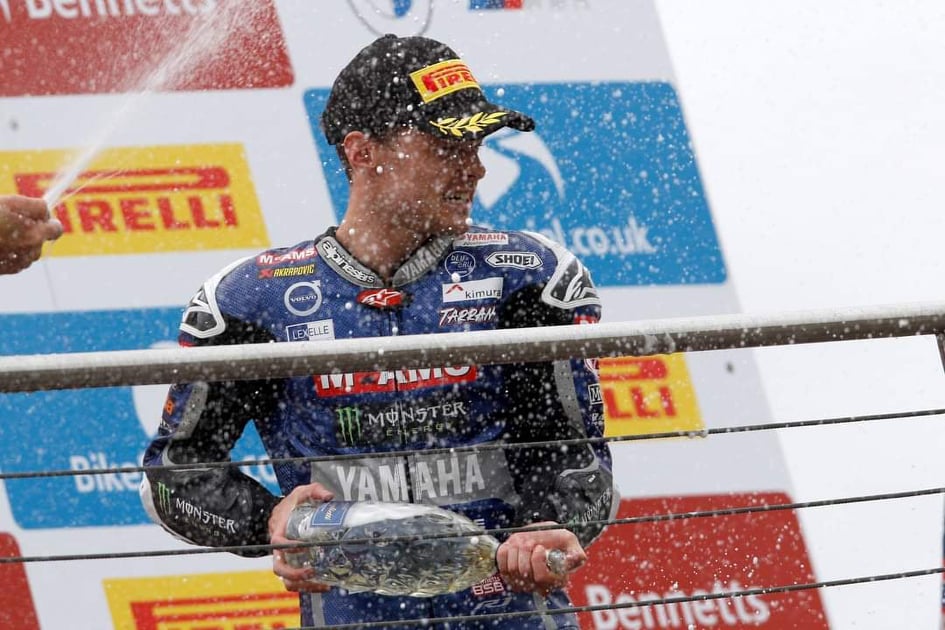 BSB: Tarran Mackenzie Puts A Halt On His Team-mates Winning Streak By Taking The Race Two Victory At Donington Park.
McAMS Yamaha's Tarran Mackenzie Takes His second Win Of The 2021 Season At Donington Park.
It was perfect conditions for Race Two at the famous circuit of Leicestershire's Donington Park. McAMS Yamaha's Jason O'Halloran was in Pole Position for the second race of the weekend.
As the lights went out it was Tarran Mackenzie who led the Superbike riders into Redgate, with team-mate O'Halloran in second place. FHO Racing BMW's Peter Hickman hustled himself into third place, until SYNETIQ BMW's Andrew Irwin was on the charge and took the third place from Hickman.
Andrew Irwin got into second place, followed by VisionTrack Ducati's Christian Iddon who also pushed O'Halloran back a place, leaving the Australian rider in fourth place. Kawasaki's Ryan Vickers got up-to 12th place after having to start the race from the back of the grid due to being late on the grid due to having to change the fuel tank. Iddon passed Andrew Irwin at the Roberts Chicane hot on the heels of first place man Mackenzie.
On lap seven Andrew Irwin slid his BMW machinery up the inside of Iddon, resulting in contact between the two riders, Iddon was now down in the gravel at Redgate and out of the race! Race control were investigating the incident. Andrew Irwin and Glenn Irwin were in second and third place respectively. On lap 10 Buildbase Suzuki's Danny Kent crashed at Coppice, meanwhile the lead had changed as Glenn Irwin put himself in first place.
Andrew Irwin received a two second penalty for his move on Christian Iddon. On lap 12 Mackenzie re-took first place at Redgate, Peter Hickman and Andrew Irwin had a tussle with each other at Roberts Chicane of which Hickman won taking second place.
RICH Energy OMG Racing BMW's riders Brad Ray and Kyle Ryde were running in fifth and sixth place, chasing the front quartet. On lap 17 Glenn Irwin crashed out at Mcleans which was caused by FS-3 Racing's Rorry Skinner clipping the back of Glenn's bike. At the sharp end Mackenzie was leading from Hickman, with O'Halloran in third place.
Powerslide/Catfoss Suzuki's Bjorn Estment had a mechanical issue on lap 20. O'Halloran eased back Hickman and took second place off the BMW rider. Danny Buchan had a big crash on lap 22 just before the The Old Hairpin causing the safety car to come out on track. The Safety car came in on lap 26, all the riders were compressed and raring to go.
Brad Ray snatched third place from Hickman as they entered Redgate on lap 27, O'Halloran was itching to get past his team-mate but he just couldn't make the move stick! Brad Ray was right on the heels of O'Halloran, the Ashford rider slid his BMW machinery up the inside of the R1 Yamaha of O'Halloran and crossed the finish line in second place.
Tarran Mackenzie took his second win of the 2021 season, Brad Ray claimed his first podium finish of the season in second place, O'Halloran had to settle for third place, Hickman was fourth, Bridewell finished in fifth, Kyle Ryde finished sixth. Visiontrack Ducati's Josh Brookes rounded out the top 10, a better finish for the reigning champion.
Will Race Two be as action packed! Will we see a new race winner on the top step of the podium?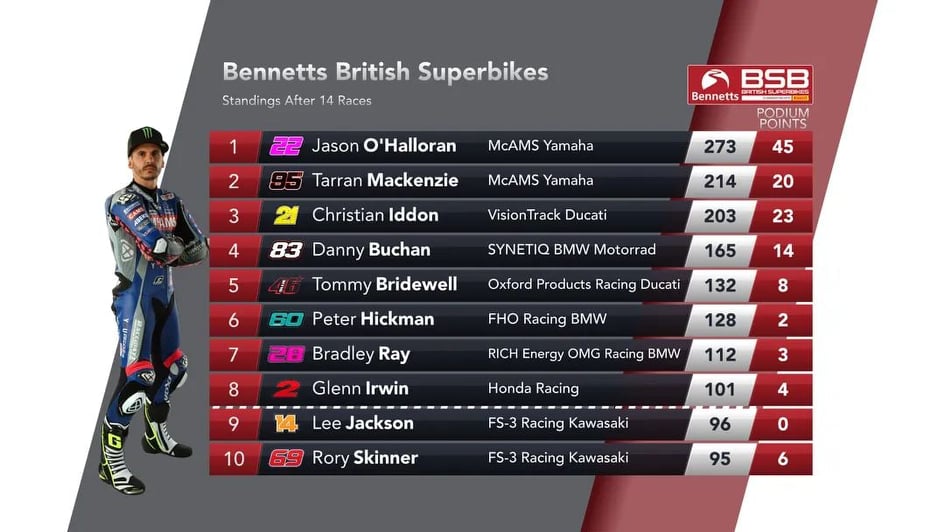 Featured Images: Bennetts British Superbikes, Mike Petch.

Looking to update your website?
ThisWebDesign works with small and medium-sized companies from all over the globe. Our focus is on offering visually engaging websites, social media profiles that convert, and branding that creates a powerful and lasting image.
thomas@thiswebdesign.co.uk
---